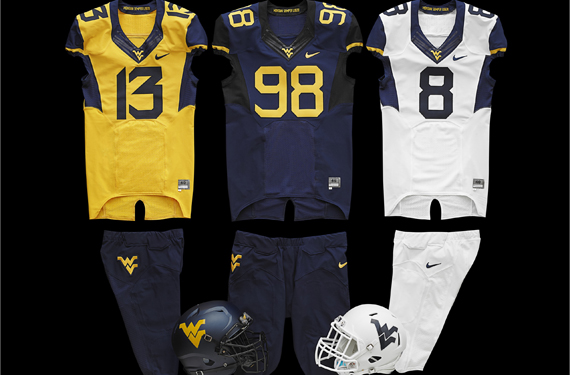 There's gold in the mountains. And canaries on the inside of the jerseys.
With West Virginia's latest football uniform update, the team now boasts 27 different options, with dark blue, white and gold options for helmets, jerseys and pants.
This marks the first time the Mountaineers have offered up a gold helmet since 1978 and the first time they've ponied up with a white option since 1979.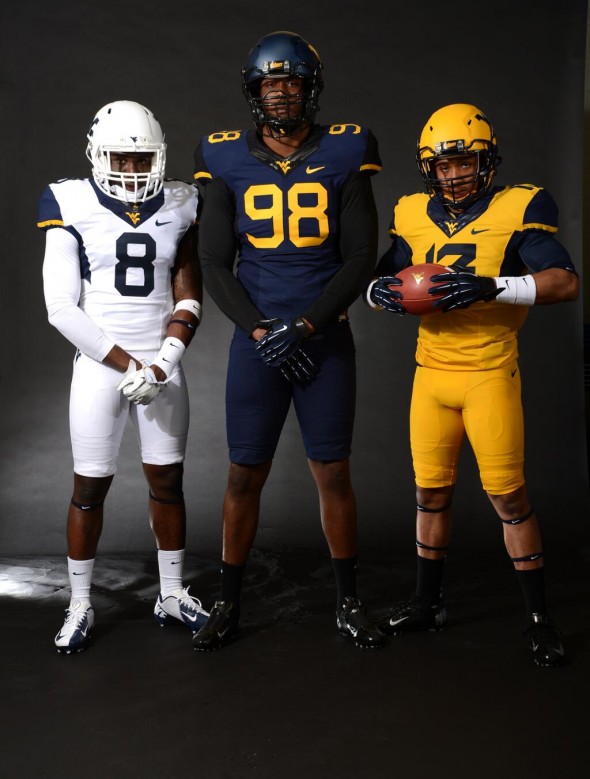 While the new trio of colors for all three portions of the uniform sit as the most prominent addition to the football look, the other visually striking piece comes in the form of a custom font. The new number font offers sharp points and edges, based, according to the design folks at Nike, on the sharpness of a miner's pickaxe.
To further pay homage to the mining heritage of West Virginia, a canary is stitched inside the front collar of the jersey.
The gold and white helmets both come from Mountaineer athletic history, especially the Bobby Bowden and Frank Cignetti eras of the 1970s. But the '70s mustard finish won't be making a comeback, instead traded in for the bright gold we've come to know from West Virginia.
All three helmets will feature the Flying WV symbol and come in a matte finish, also a departure from the West Virginia norm.
"Overall, I like our new look and I know our players do too," says West Virginia coach Dana Holgorsen. "It was time for a change and I am glad that we could incorporate a little of the state's pride and history in this set of uniforms. You can't even begin to put a value on how much uniforms and the look of your team plays in the recruiting game."