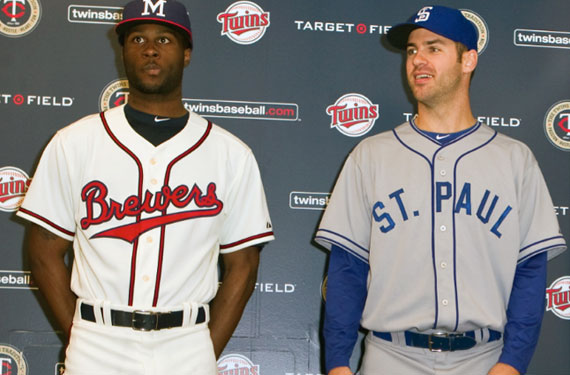 The Minnesota Twins and Milwaukee Brewers unveiled their Turn Back the Clock uniforms for their game at Target Field in Minneapolis on May 30th.
Both teams are paying tribute to the American Association (Triple-A level) teams that called their regions home 65 years ago during the 1948 season.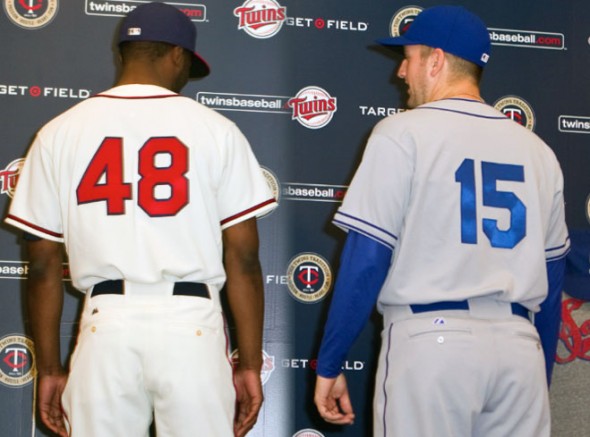 Despite being the home team for the May 30th throwback game, the Twins will be wearing the road uniforms of the 1948 St. Paul Saints.  This marks the second time this season that teams have done grey at home, white on the road for a game – the previous being a 1993 throwback game between the Colorado Rockies and New York Mets on April 16.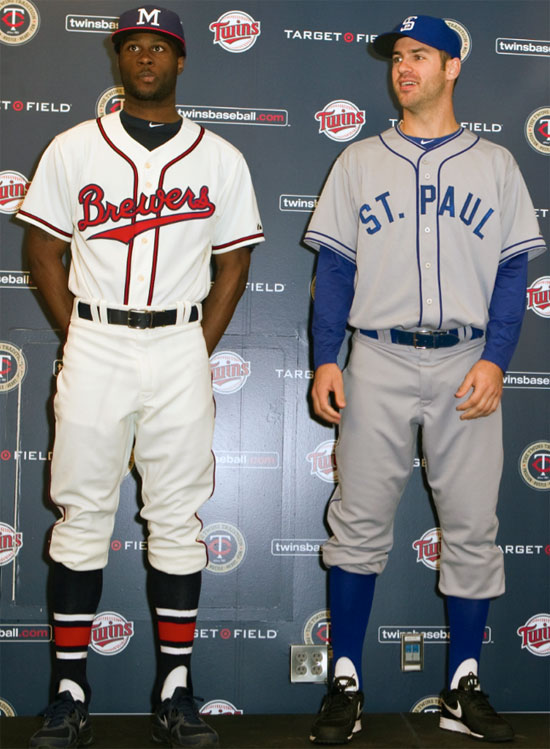 The 1948 St. Paul Saints were the Triple-A affiliate of the Brooklyn Dodgers and had a young up-and-comer on the roster by the name of Roy Campanella. They finished the season in third place with a record of 86-68, three games behind the second place…
Milwaukee Brewers who finished 89-65.  The Brewers were the Triple-A affiliate of the Boston Braves during that '48 season, a mere 5 seasons before the Braves relocated to Milwaukee themselves knocking the Brewers out of town.  The Brewers previously honoured their American Association namesakes earlier this season wearing the 1913 Brewers uniforms on May 5th.
While the Minnesota Twins look pretty spot-on with their Saints reproduction (except for that Nike logo on the undershirt!)…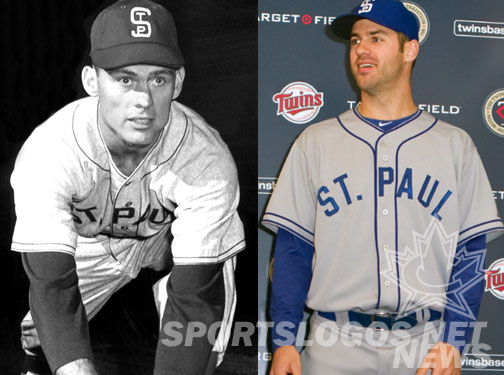 The Milwaukee Brewers did make a few small errors – I won't blame them for not going with the zipper-style jersey originally worn by the team but the piping could have been placed as if it were a zippered jersey instead of the current button-up style.  Plus the cap being worn looks to be more like the Milwaukee Braves MLB cap from the '50s than the thinner look of the '48 AA Milwaukee Brewers: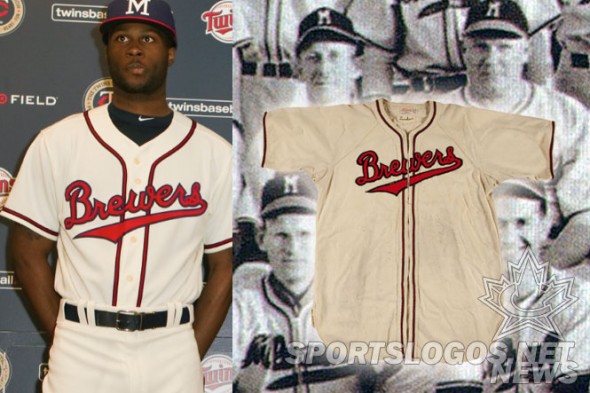 Regardless of those relatively minor inconsistencies mentioned above, the script logo across the front of the Brewers jersey looks exactly the same as the original, well done with that one Milwaukee!
This 1948 American Association throwback game will take place in two weeks, Thursday May 30th at Target Field in Minnesota.