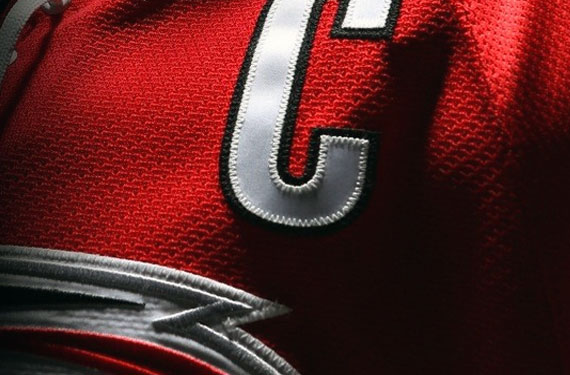 The Carolina Hurricanes have been posting teaser images of their new home and road uniforms, set to be unveiled tomorrow (Tuesday, June 4th) at noon ET, on their official team Instagram account.
Below is a screenshot of all the teaser images they have posted thus far: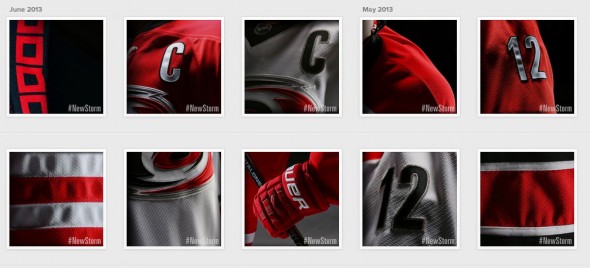 What we do know so far from the teaser graphics is that shoulder yolk the team has been using for the past 6 seasons has finally bit the dust; the Hurricanes' yolk was easily my least favourite NHL uniform feature in the new Reebok Edge era.  Good riddance.
The jersey collars are both black, there are white laces down from the collar on the home reds.  The font has changed and black has become the prominent secondary colour on the road whites, replacing red.  The storm warning flags (which have been there since season one) appear to have vanished from the shoulders and we're predicting they've landed on the inside collar.
Based on those photos and some time spent piecing them together, the guys here at SportsLogos.Net have come up with the following mockups of what we believe the new uniforms will look like: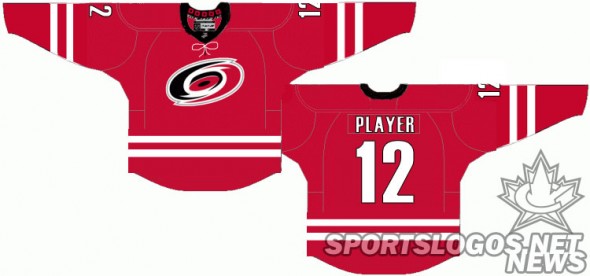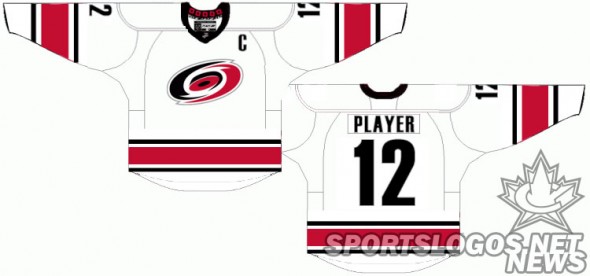 Again, we are basing this only off of the teaser graphics we've seen so far; I'm certain there are minor elements we've missed or even confused one for another.
To be honest, looking at that mockup we did above, all I can think of is the Team Canada hockey jerseys.
We'll get our first real look tomorrow at noon, we'll see how we did.
UPDATE (6/3/13 7:30pm): Thanks to a couple of eagle-eyed readers sending me tweets, it's quite clear that the road white jersey will have red shoulders.  See the brightened versions of the teaser photos the Hurricanes posted below: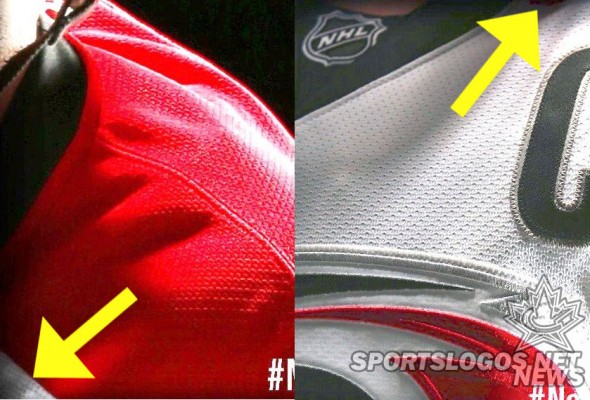 With this in mind, I have updated our official prediction of the road jersey (home jersey stays the same) to the following: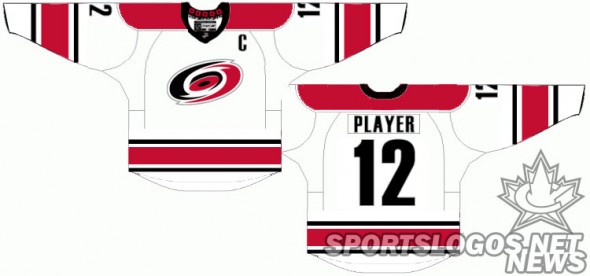 It now looks even more like Team Canada…