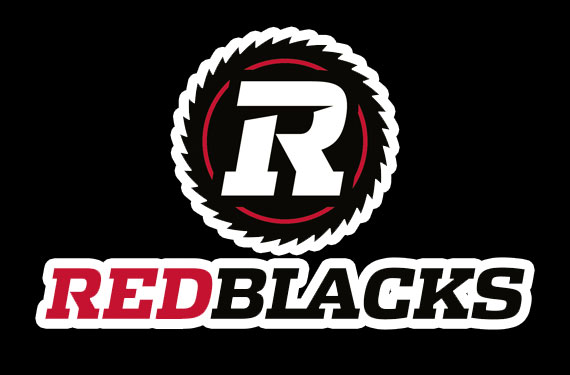 Last week we posted that the Ottawa CFL franchise had registered Ottawa RedBlacks (and Rouge-et-Noir) as well as a collection of logos with the Canadian Intellectual Property Office. Yesterday, the ownership group made it official confirming both the name and logos we posted were, in fact, what they will be using when they take the field in 2014.

"We are thrilled to confirm our team nick name and logo design and to finally be able to tell the story behind them, REDBLACKS represents Ottawa's sports history and pays tribute to the Ottawa men and women who serve our country.  From the original Rough Riders in the 1890's to the modern Ottawa Senators Hockey Club, red and black are the colours of Ottawa sport.  They are also the ceremonial colours of Ottawa's Cameron Highlanders, the Governor General's Foot Guards and the RCMP.  REDBLACKS gives us the opportunity to recognize our past and, at the same time, establish a fresh new identity for our team's future.  It's unique, maybe even a little edgy, and it's a brand that we think will stand the test of time." – Jeff Hunt, President of OSEG, owner of the RedBlacks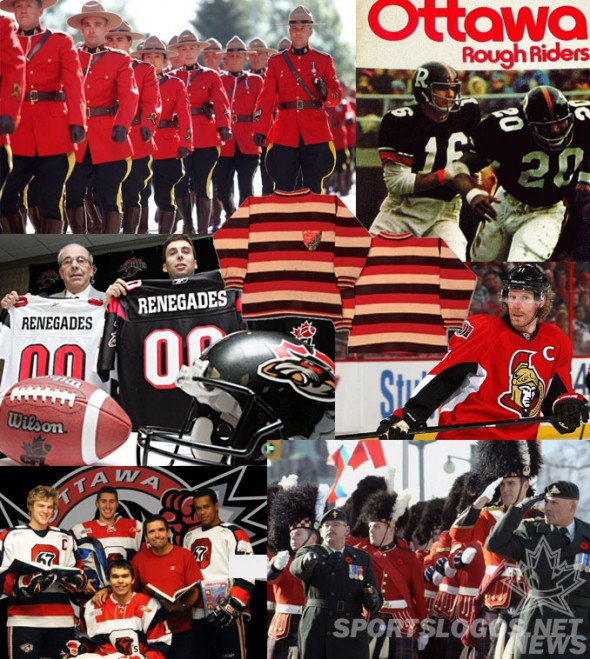 "The REDBLACKS logo design pays tribute to our Ottawa football past by reviving the traditional "R" of the Rough Riders with a slight difference.  The modern REDBLACKS "R" features two notches, which appear to have been cut with a saw, fused to a circular saw blade background.  The blade represents many of the characteristics we hope our players will demonstrate; speed, unstoppable  force, precision, balance, strong-as-steel and even dangerous.  It also has a relationship to Ottawa's founding as a lumber industry town." – John Ruddy, RedBlacks Governor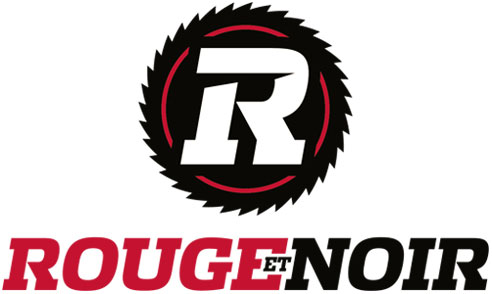 Ottawa becomes the first team in the bi-lingual Canadian Football League to create a completely separate branding for both it's French and English fans.  The French name of the team "Rouge-et-Noir", translates literally to "Red and Black" rather than RedBlacks ("Rougenoirs" was actually originally registered by the club in January but sits unused), perhaps the new style of French naming is a nod to popular Quebec-based college football teams like the Sherbrooke Vert-et-Or (Green and Gold), and  Laval Rouge-et-Or (Red and Gold)… and yes, you can go ahead and make your "Wow, do all Canadian football teams just copy each others names?" jokes.
I'm not a fan of the name, and I'm not a fan of the process of how they came to select the name.  Based on what we saw all online polls conducted by various media outlets had RedBlacks ranked near the bottom of groups including the other finalists: Nationals, Voyageurs, Rush, and Raftsmen, yet the club maintained they were basing their decision on the results of focus groups and  what the fans wanted.
We conducted our own poll on SportsLogos.Net in January and when RedBlacks fell to 5th place fast we noticed a sudden surge in voting put the name way in first place, an investigation showed that the votes were fraudulent, somebody (we don't know who for sure) had been trying to make the name sound more popular than it was.  What's up with that?
Look, I have no problem with an owner picking a name that he wants, it's his team and he can do as he damn well pleases, but don't give fans hope that their voice means anything, that their wishes matter.  If you want it to be called RedBlacks just flat-out say so, "this is the name and it's our name because I liked it".
A video presentation of the name and logo announcement is up on the official website ottawaredblacks.com as well as a press release.  The Ottawa RedBlacks will play their first game next Summer.  The team logos have been added to SportsLogos.Net where you can rate and comment on the new look – at the time of this posting the logo was sitting at a score of 6.1 out of 10.  If that jumps to a 10 out of 10 in the next 24 hours I wouldn't be surprised…