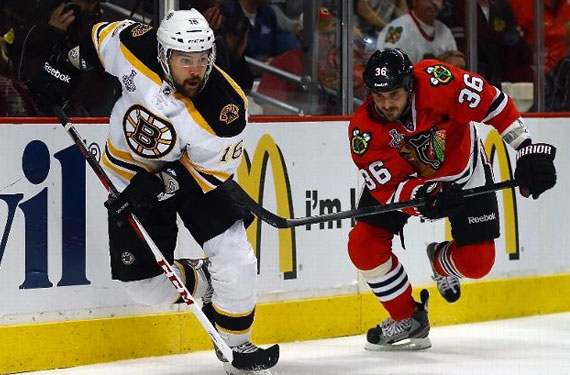 We're only one game into this years edition of the Stanley Cup Final and I'm already madly in love with the uniform matchup we've been blessed with.  What could be more visually appealing than two 80+ year old franchises and their equally classic outfits battling it out on hockey's biggest stage?  Fantastic!
I've made up mind, 2013 is by far the best Stanley Cup Final we've seen from a uniform point-of-view in a long time and I feel it's so obvious it doesn't even require an explanation.  Just look at that photo above.
Now, having gotten that off my chest, let's take a quick look at what I consider to be the other best uniform'd Stanley Cup Finals to have taken place in the past quarter-century, in no particular order:
1997, Detroit Red Wings vs Philadelphia Flyers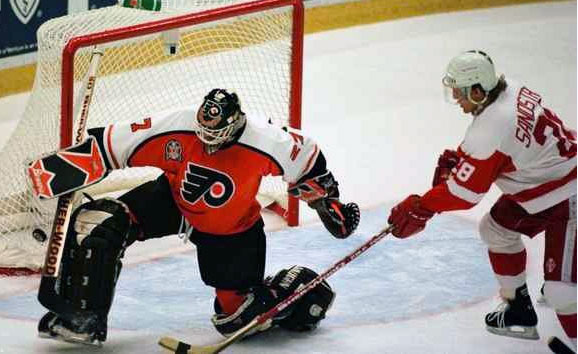 Detroit's white uniform is easily my favourite NHL uniform, it's no surprise to me that I'm including them in this list – the Flyers' were still wearing their modernized versions of their original uniforms in '97, the best look the club ever had.  A shame that Cup Final patch was a bit of a mess during this stretch (95-99)
1992, Pittsburgh Penguins vs Chicago Blackhawks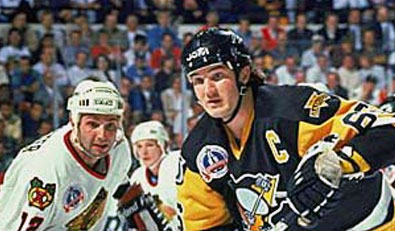 Just looking at this picture makes me really miss Pittsburgh's black and yellow look, easily their best.  Match it up with Chicago's always great uniform and including this in our top uniform matchups of the past 25 years is a no brainer.
1989, Calgary Flames vs Montreal Canadiens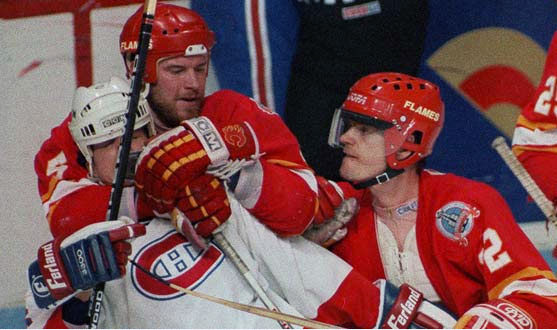 This one might be elevated to me simply because this is the first Stanley Cup I ever watched as a kid, I guess you could say it's what actually got me interested in hockey and, in turn, sports in general.  Montreal's uniform is a classic, Calgary's look was clean and simple but just doesn't survive the test of time in my opinion.  Still, a great looking matchup for 1989.  Fun fact, this was the first Stanley Cup where both teams wore Cup Final patches during the series – it's also the only time both teams wore them on their shoulder instead of jersey front (the Rangers, but not Canucks, also did this in '94)
2010, Chicago Blackhawks vs Philadelphia Flyers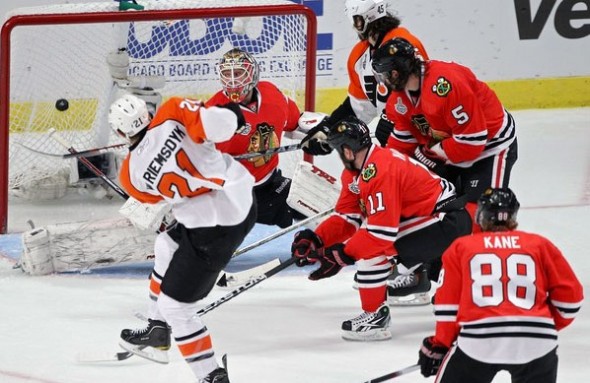 Even though the Flyers downgraded slightly with their 2010 uniform it's still a solid set. Chicago is Chicago.
2008 & 2009, Detroit Red Wings vs Pittsburgh Penguins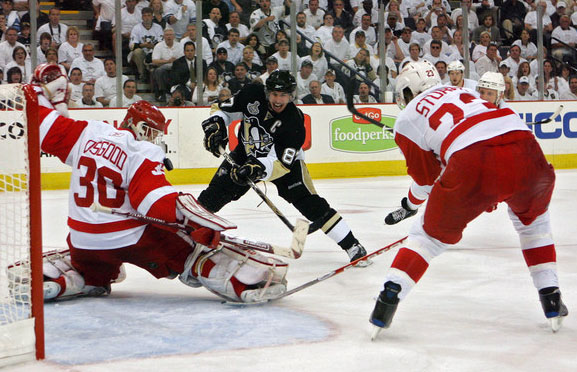 There's those beauty Red Wings jerseys again, if it wasn't for them being matched up with teams like Washington and Carolina their matchups probably would have swept my top 5 pre-2013.  I do prefer the Penguins look of the early '90s to what they wore in their two Cup Finals against Detroit but it's still a nice set.  Plus the only Stanley Cup Final game I've ever been to in person was the Game 7 between these two clubs in 2009, special memories.
2000, New Jersey Devils vs Dallas Stars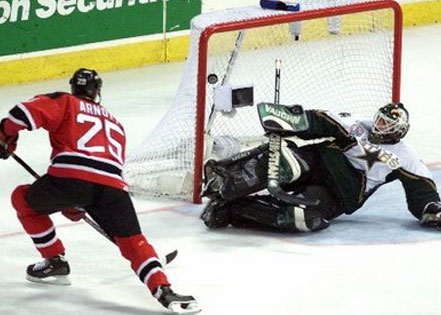 I had to include at least one non-classic matchup, you gotta give the Devils props for their modern classic (and sticking with it, sans alternate, all these years) and I was actually a fan of Dallas' NHL All-Star Game template, it worked well for them and their identity.
So,  what's the worst?  Well, that would be this matchup of very 1990's proportions…
1996, Colorado Avalanche vs Florida Panthers
Fuelled mostly by those horrid Colorado Avalanche jerseys.  Pittsburgh-Minnesota '91 was a close second.