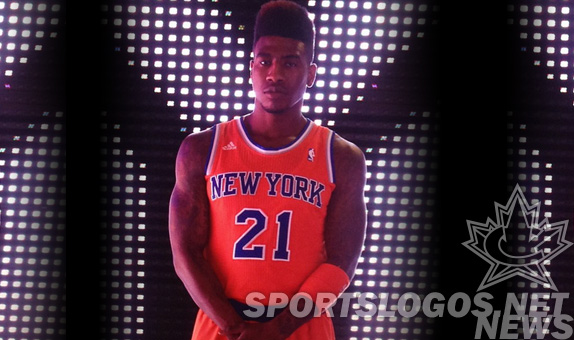 If you follow athletes on Instagram, then you've probably seen them post photos from photoshoots. Sometimes, they end up leaking new stuff before it's supposed to be unveiled. This was one of those cases, as New York Knicks PG and New Jack Swing Hairstyle Enthusiast Iman Shumpert leaked what is almost guaranteed to be the new Knicks alternate jersey.
The reason I said "almost guaranteed" is because adidas' logo is still on the jersey, which is something you would not see on an official on-court jersey. However, Shumpert deleted the photo, which could mean that he leaked this before adidas or the Knicks wanted to unveil it, which lends credence to this being the real deal.
Either way, we're in uncharted territory for the Knicks if this turns out to be their new alternate: This will be the first time that they've made orange a major part of their uniforms. Do you think that it's about time that they did this? Or is this just a little bit too orange for you? Let us know!