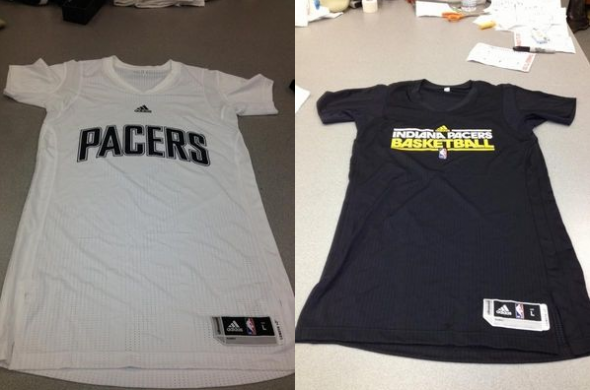 The wave of sleeved jerseys that is washing upon the NBA's shores will be making its way onto the court earlier than you thought, as Scott Agness of the Pacers' official blog is reporting that the Pacers will be wearing reversible short-sleeve jerseys for the upcoming Summer League.
One interesting part of this is that for the five-day league, the reversible jersey will be black & white. This is because navy was not available at the time of purchase. So, this seems to be experimental in every sense of the word.
Although what amounts to practice jerseys may not seem like the biggest deal, it does seem to indicate that the sleeved jerseys are here to stay. As noted in a previous article here on sportslogos.net, most players prefer to wear sleeves under their jerseys during practice. Even if the trend doesn't take off during actual games in the NBA, I wouldn't be surprised if you see more teams order sleeved practice jerseys like the Pacers have.
However, if you think that this means that the Pacers will be joining the Suns as one of the five teams to unveil official sleeved jerseys, this will not be the case. Agness made sure to note that the Pacers were "not expected" to be one of the teams who will have a sleeved alternate next season. So that eliminates one team. Feel free to speculate in the comment section about which five teams will be wearing the sleeved jerseys next season, though!