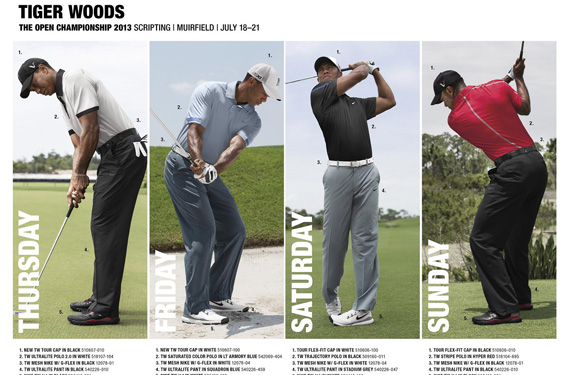 If you're a fan of jackets—or sweaters—in uniforms, then you must love The Open, set for July 18 at Muirfield in Scotland.
With an always-changing array of weather during the British Open each year, Nike's release of its looks for the four-day championship includes mixes of long-sleeve wear for its athletes.
Let's take a look at some of the key scripted outfits of the week.
Tiger Woods
What I like: At least he's not wearing those odd stripes he wore at the U.S. Open in June. But, really, the only thing all that new here is the Thursday shirt, a nice white and black mix with a cool gray vest option.
What I want to skip: There's just so much blandness about Tiger's wardrobe. I understand Nike pushing the classic looks, but let's find a little personality. Just not too much though, right?
Rory McIlroy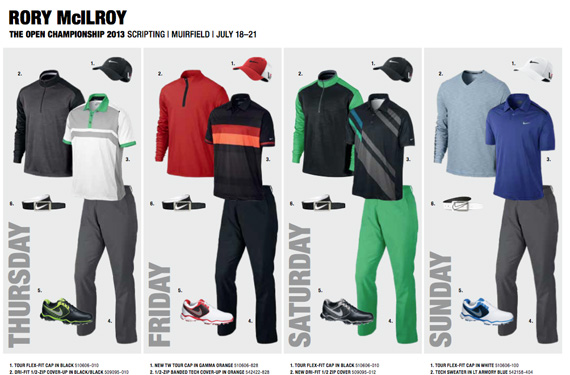 What I like: You have to appreciate the range here. I especially enjoy the Friday attempt, pairing orange with black and a fun orange pullover. It is also interesting to note that Rory's Sunday green has moved to Saturday, eliminating that "Tiger red" look some thought he was going for previously. Plus, those blues for Sunday look sharp.
What I want to skip: I appreciate the attempt, but that Saturday outfit just doesn't work for me, with those bold diagonal stripes and all. But, hey, maybe I just don't like stripes.
Charl Schwartzel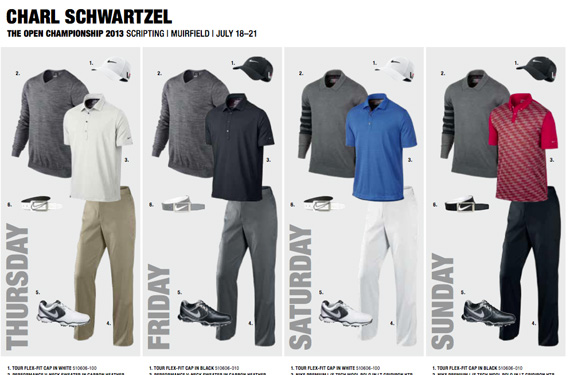 What I like: Hey, cool sweater, Charl. I could wear that sweater a lot of places other than the golf course, which is part of Nike's goal in featuring these clothes.
What I want to skip: Outside of the four days worth of cool sweaters, I'm going to move on to other outfits for a bit of personality.
Nick Watney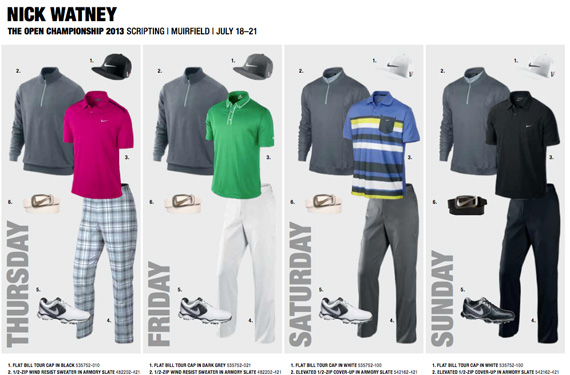 What I like: Plaid pants, gray pullovers and a wild Nike belt give Nick a bit of personality for the four-day event.
What I want to skip: For all the personality that Nick usually delivers, the all-black look for Sunday—note he even changes his belt and shoes to match—gives us a monotone look void of life.
Thorbjorn Olesen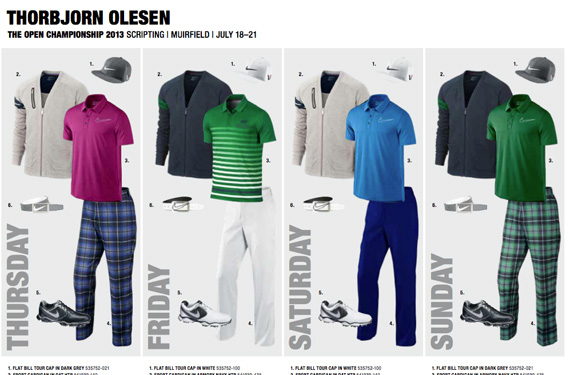 What I like: This is easily the best grouping of the Nike mix. Just look at that long-sleeve crew in "oat heather" offering a slightly more fashionable look on the course than we're accustomed to seeing. The long-sleeve crew comes in a darker color too. Plus, the plaid pants and the fresh take on a polo—full of color!—gives a total package.
What I want to skip: I think I'm all good on this, but reserve judgment on the all-blue Saturday look.
Oliver Fisher
What I like: The outerwear alone brings Oliver's look into the youthful and fresh range. The Sunday shirt adds some pizzazz, the Saturday combination makes even that bold stripe work for me and Thursday's pants offer something fun.
What I want to skip: By now you know how I feel about Friday's shirt.