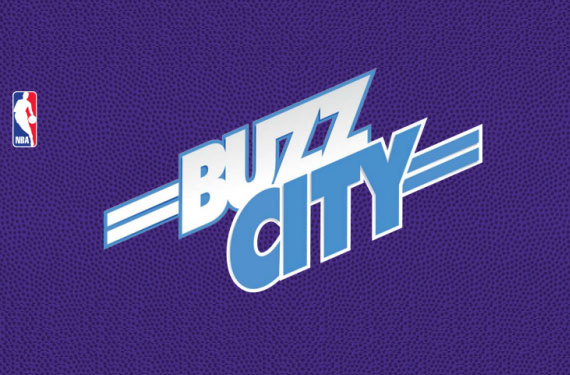 Yesterday, the (soon-to-be Charlotte Hornets) Charlotte Bobcats made it official: The Buzz is back! The Hornets nickname will be absent from the NBA for one season only, as the Bobcats will become the Hornets beginning in the 2014-15 season.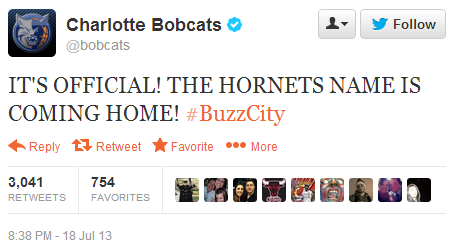 Now, we could go on & on about how they're going to figure out how to reconcile the history of the two franchises who have played under the nickname of "Hornets" in the NBA, but that's another story for another day. I'm sure that what you're reading this for is to celebrate the fact that one of the stronger identities in the league will not only be staying around, it'll be coming back "home" to Charlotte.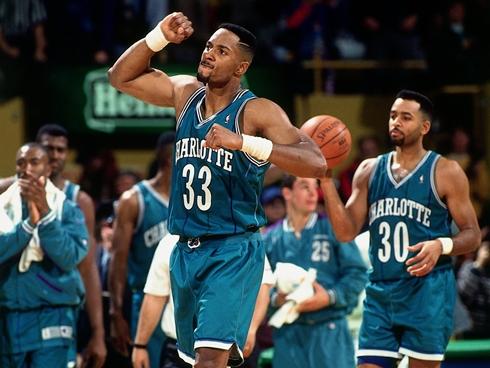 If the "Buzz City" 2014 season ticket push is indication, it appears that the Hornets will be going to a color scheme of teal, Carolina Blue, purple, and white, dropping the gold that was added when the original Hornets moved to New Orleans to create a bit of a Mardi Gras motif, which was fitting for the city. There's no word yet on whether or not the new logo will be similar to the ones used in the past, but I'd put good money on Hugo the Hornet being front & center. You can't really bring the Buzz back without bringing Hugo back.
Either way, it's good to see that this identity (and teal!) will live on in the NBA and in Charlotte and won't die an unceremonious death in New Orleans. Are you glad to see this coming back? Are you disappointed to see that the Bobcats will become a thing of the past in 2014? Let us know how you feel below!