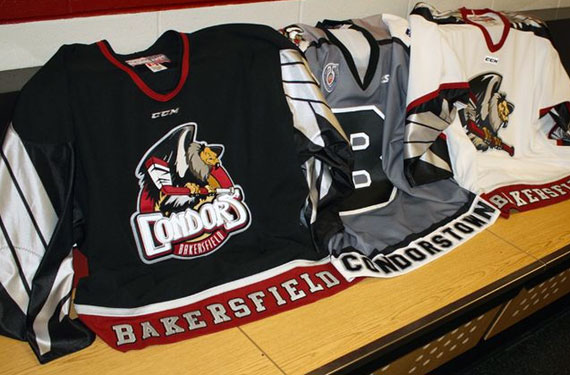 The Bakersfield Condors of the ECHL (Edmonton Oilers affiliate), most recently infamous for their on-ice promotion snafu which led to the visiting team being attacked by a real live condor just before puck drop, unveiled what they themselves are referring to as the "Greatest Jerseys in the World".
"We consider these to be the greatest jerseys in the world.  These are the most expensive game jerseys in the history of the ECHL and possibly all of hockey. We think our fans, players, and feathered friends will welcome them with open wings." – Bakersfield Condors President Matthew Riley
If you equate "most expensive" with "the greatest" then, sure, I guess he's right.  But then again the New York Yankees have had the most expensive roster in baseball over the past decade or so and have been anything but "the greatest" in that span.

The new look, designed by Reebok-CCM, features sublimated wing patterns down the sleeves of both the light and dark jerseys as well as "BAKERSFIELD" in silver on red along the waistline.  The grey jersey in the photos above is the alternate uniform, carried over from 2012-13.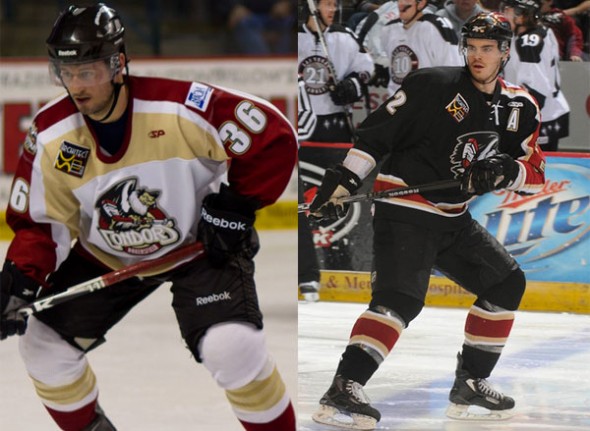 Gone are the Atlanta Thrasher-esque black jersey the club had been using for the better part of the last 6 seasons and sorta early-2000s San Jose Shark style white jerseys seen in the photos above.
Jerseys are available for pre-ordering now via the team's online shop.