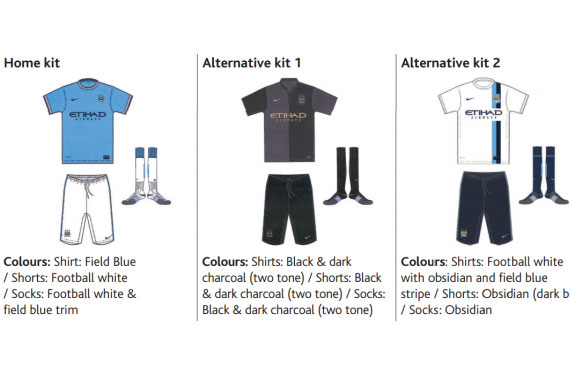 The Barclays Premier League has released its 2013-14 media handbook for public viewing. Although it's quite fascinating to read up on all of the information about rules, regulations, and inner workings of one of the biggest sports leagues in the world, if you are currently reading this then you are probably going through the handbook for one main reason: To see if any new kits leaked! I have good news: New kits DID leak (or at least the handbook confirmed that some jersey leaks were actually legitimate previews of new shirts coming out and not ham-handed photoshops or bootlegged knockoffs). Among the list of new additions to the BPL's kit range that have yet to be officially released:
Everton, Fulham, Tottenham: Their Third kit sections have been left blank with "To Be Advised," which could mean that a third kit is on the way.
 Manchester City
The above image has been floating on the internet. It is now confirmed by the handbook to be the new third kit for Man City.
Newcastle
West Ham