After what's been a fairly tough year for the city and people of Detroit, the Detroit Pistons have come up with a way for their fans to show some pride toward their town… no, it doesn't involve them moving home games back to Detroit.
Introducing the new "Motor City" alternate uniform, designed in consultation with adidas and the NBA to "celebrate the pride and character of metro Detroit while paying homage to the region's automotive roots."
"We are pleased to unveil our new Motor City uniforms and display our pride in the metro Detroit community.  When you say Motor City – no matter where you are in the world – everyone knows you are talking about Detroit. We are proud to represent Detroit and hope these uniforms will serve as a source of pride for our fans and this region." – Dennis Mannion, CEO of the Detroit Pistons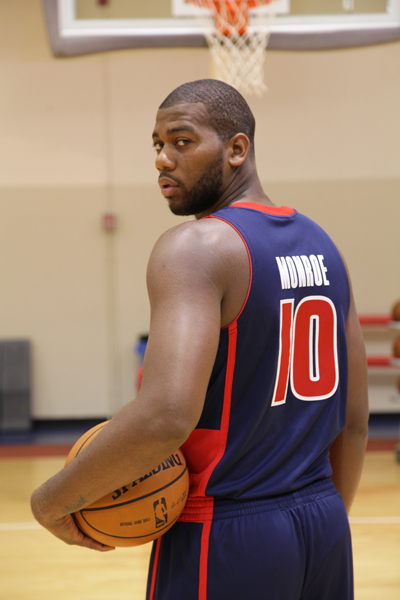 The new uniform is a darker shade of blue than what the Pistons currently wear, "MOTOR CITY" is arched across the front in white with red trim, player number below in the opposite – red with white trim.  Two red stripes go down either side of the jersey, the top half blue in the middle, the bottom red. This striping pattern continues down the side of the shorts.
These are the first alternate uniforms the Pistons have used since 2005-06 when they wore a red version of their current road blues.  They will be worn for 10 games (7 home, 3 away), every game will be on a Sunday.  Full schedule below:
Pistons vs. Celtics – Sunday, November 3
Pistons at Lakers – Sunday, November 17
Pistons vs. Lakers – Friday, November 29
Pistons vs. 76ers – Sunday, December 1
Pistons vs. Heat – Sunday, December 8
Pistons vs. Trail Blazers – Sunday, December 15
Pistons vs. Grizzlies – Sunday, January 5
Pistons at Mavericks – Sunday, January 26
Pistons at Celtics – Sunday, March 9
Pistons vs. Raptors – Sunday, April 13
The Pistons become the second team in the league to wear a jersey with a city nickname on the front, joining the Portland Trail Blazers with their "RipCity" alternate uniform.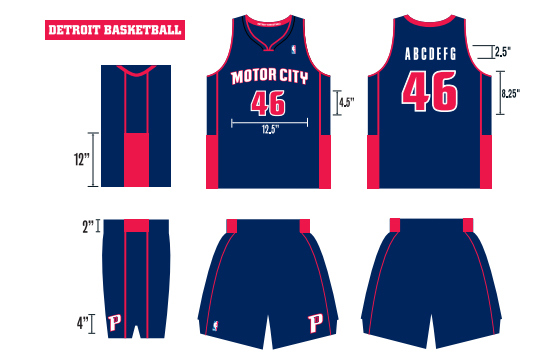 How do you like the use of nicknames? Is "Motor City" revving you up, or is it a ridiculous thing to have on the front of a jersey?