The Minnesota Wild played the teaser game and they lost.
The team had inadvertently uploaded both their future teaser images and the final unveil graphics a little early, caught by several sources, before pulling them back offline once caught and in time for the official unveiling of their new road uniform later today.
Moving onto the new look, as we saw in the article late last week, it's a white base with a green shoulder yoke, red collar with green laces.  Alternating green and white stripes on the arms and the waist.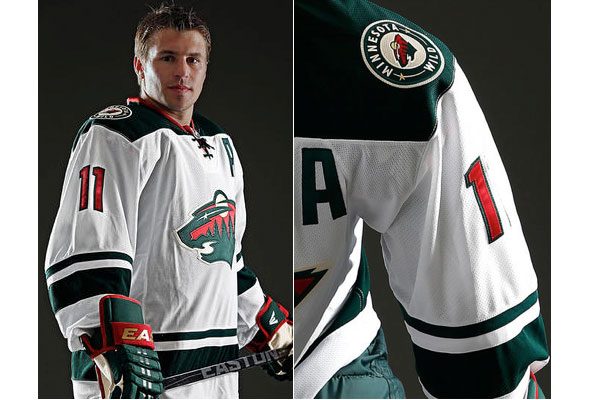 Numbers are red with green trim, player names as well as the captain/alternate captain designations are green.
The primary logo, a depiction of general Minnesota forest scenery, is on the chest while the alternate logo (which is currently on the chest of the home red jersey) is on the shoulder — the first time this logo has been used on the shoulder of a Wild jersey.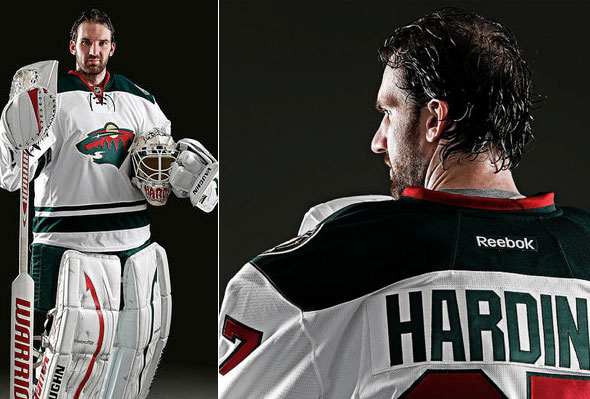 Comparing with last seasons road uniform (which wasn't a bad look, in my opinion) it's an upgrade.  It's nice to see the Wild wear a white uniform without green taking over the entire sleeve and traditional striping.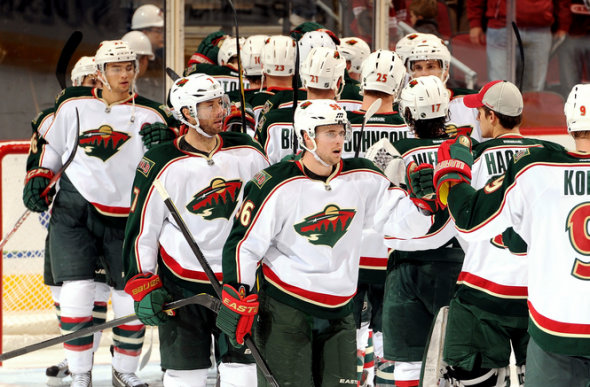 The official unveiling is scheduled for 12:30pm ET today, we'll likely just update this post with additional images and information when it's available than start a whole new one.  So check back later for that.
UPDATE (Sep 1/13 14:00 ET): As promised, the jerseys were officially unveiled at around 1pm ET… some quotes and additional information from the official release on the Minnesota Wild website.
"It was important for our organization to maintain the primary Wild mark on the new road sweater.  We feel the theme of the white jersey fits well into our family of jerseys and wanted this sweater to have a unique look instead of being a reverse of our existing red and green jerseys." – Wild VP of Brand Marketing John Maher
The uniform was designed by the Minnesota Wild Creative Services team with assistance from Reebok and the NHL. Season ticket holder feedback was used during the 18-month(!) long design process.