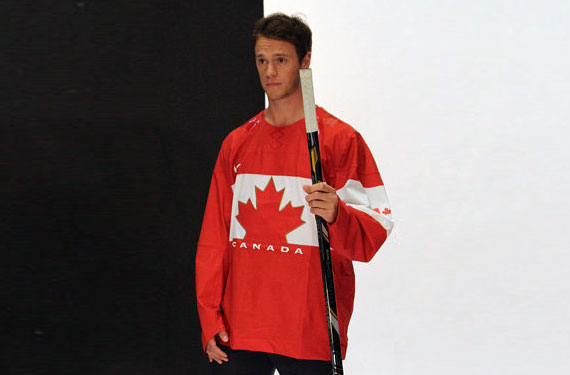 All signs point to "yes" on the new 2014 Team Canada Olympic hockey jersey being leaked a little early, earlier today via a posting on the Getty Images website.
Thanks to a post on Yahoo!'s PuckDaddy blog, we learn that the photograph of Jonathan Toews was taken earlier today during the 2013 NHL Player Media Tour in Newark, and – more importantly – that it was pulled off of the Getty website once the Yahoo post got some attention.
If this is the new Canada Olympic hockey uniform, it is a stark departure from what the team has worn the last few Olympic games, all that's carried over from the last games is the generic national logo the International Olympic Committee required all teams to switch to for for 2010, and even that has some alterations to it.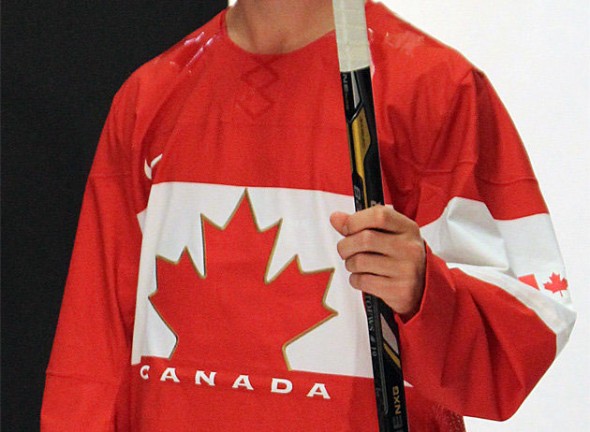 On the front of the jersey the maple leaf logo, now without the sublimated pattern, continues up from the red jersey base onto a white (or heritage white, hard to tell from the photo) horizontal stripe.  Creating a similar effect to seeing the red maple leaf on the white background of the Canadian flag.  The leaf is outlined in gold as has been the custom with all Canadian Olympic hockey jerseys since 2006.
On the shoulders is a shiny material, on the Team USA jerseys unveiled earlier this week this shiny material was a star pattern.  It might be safe to assume that these are shiny little maple leaves on this jersey.  The fake shiny laces coming down from the collar of the USA jerseys are also present on this one. Finally, a simple Canadian flag appears on the sleeve on a white horizontal band.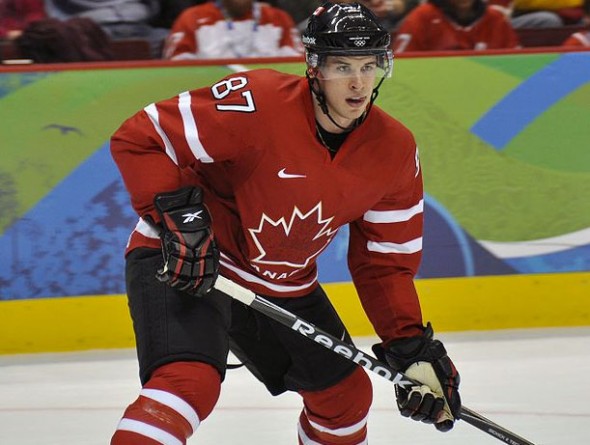 A source of a source is reporting that these are not the actual Team Canada uniforms, however I have a hard time believing it based on the evidence I've seen so far.  It's possible this source of a source got a glimpse of the white version of this design.  Personally, I'm on board with this leak being the real deal.
If this is indeed what Canada will be wearing in Sochi next February, are you a fan?  Share your thoughts in the comment section below.
—
UPDATE (Sep 6/13 13:51 ET): More reports coming in from my almost always reliable sources, now saying that what we're seeing here is, at most, an alternate jersey — but certainly not part of the primary set. We're also working on getting more details on what the actual primary jersey set looks like (if this is indeed an alternate) and we're actually starting to get some information that would suggest this is just an alternate after all.  Potentially good news there.
However, we here at SportsLogos.Net aren't comfortable enough at this point to 100% confirm these reports — so take it with a grain of salt at this point. As always we'll keep you posted as we get more and more details.