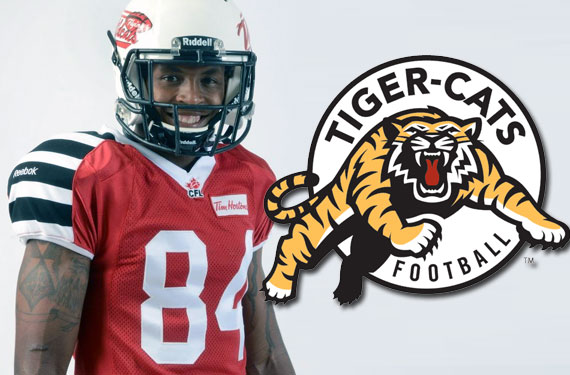 The Hamilton Tiger-Cats will kinda honour a bit of their franchise history this Saturday afternoon when they wear the uniforms of the 1943 Hamilton Flying Wildcats against the BC Lions.  The Flying Wildcats won the Grey Cup in '43 before changing their name to the Wildcats and eventually merging with the Tigers to form today's Hamilton Tiger-Cats… and now you know where that bizarre name came from.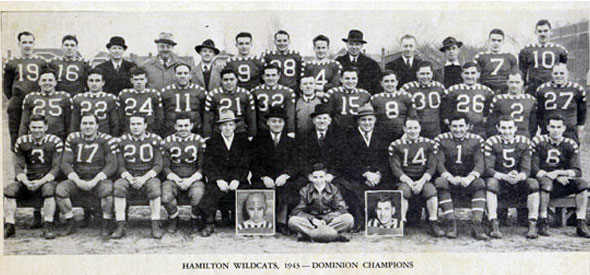 The uniform is red and white with a white helmet and black face mask.  On the jersey are alternating black and white stripes along the shoulders and arms.  That's black and white stripes, not the original blue and white worn by the '43 team.
Why, you ask?
While the Montreal Canadiens had no problem wearing a logo similar to that of their rivals in Toronto during their 100th anniversary celebrations in 2009, the Tiger Cats apparently do.  So even though the actual Flying Wildcats uniforms consisted of blue and white alternating stripes on the shoulders, the inclusion of blue – a colour worn by the rival Toronto Argonauts – was not something the team would ever consider wearing.
"Everyone's reaction to having blue in our jerseys – despite the fact that it would have been true to the original – wouldn't fly with our fan base, they said it was blasphemous." – Greg Dunnett, TiCats director of retail operations told Hamilton Spectator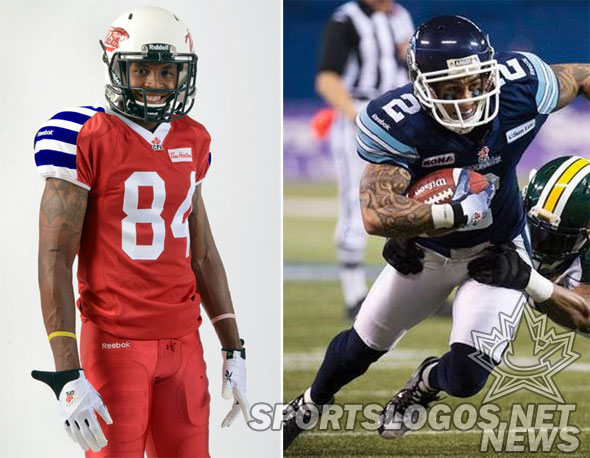 While I could see objections by the fan base if the uniform was primarily blue, an all-red top with all-red pants and a few blue stripes does not bring to mind the Toronto Argonauts, who do wear a blue uniform with a few light blue stripes added as trim, I personally would never have made the connection if the team hadn't said anything about it.  If the look is indeed similar to any team in the CFL, it would have to be the Montreal Alouettes, not the Argos.
The team worked with Reebok over the past 18 months (I notice all these Reebok designs take 18 months regardless of sport) to come up with this design, using an original game-worn jersey to base the design off of.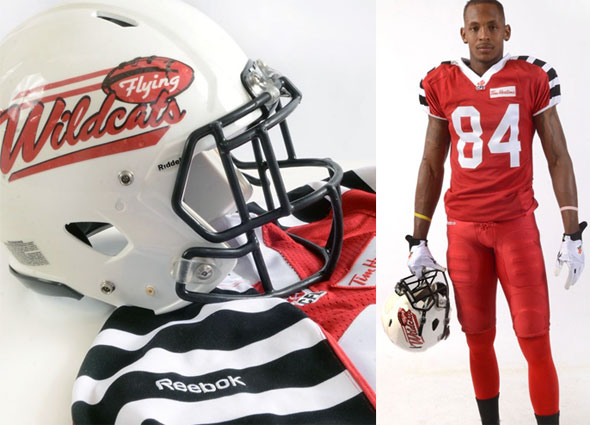 If you're into owning inaccurate uniforms, these game worn jerseys will be auctioned off closer to Canadian Thanksgiving (early October) on the official CFL website.