Thanks to a post on Reddit we've gotten a look at all three of the new 2014 Team Canada Olympic hockey jerseys two weeks early.
The photo appears to have been taken by an employee of a sports store and shows the red jersey we had all seen three weeks ago alongside a white version and a black alternate.
What we see are three jerseys, all with a horizontal stripe running through the center of the jersey.  An homage to the Montreal Canadiens?  I'd say it's probably more an homage to the 1920 gold-medal winning Team Canada Olympic hockey team.  From the horizontal stripe we see a maple leaf in the colour of the jersey base, contrasting with the stripe, outlined in gold (which Team Canada has done since 2002).  This instantly reminded me of the 1972 Summit Series jerseys which had a (much larger) maple leaf bursting from the bottom of the jersey toward the chest.
Here's what I'm talking about…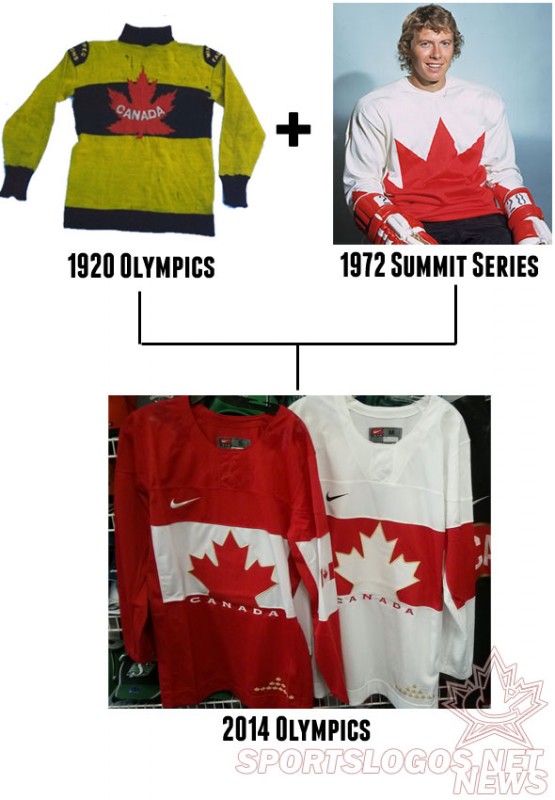 The jerseys also have a Canadian flag on the sleeve, a shiny material to form a fake lace-up design at the collar and maple leaves(?) on the shoulders.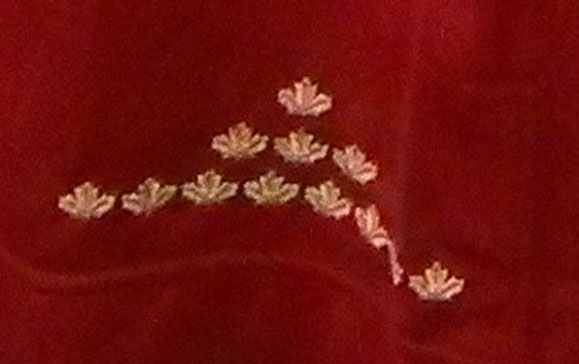 There's 12 golden maple leaves stacked like a pyramid in the bottom left…  One would think this is a reference to the amount of hockey gold medals Team Canada has won in the Olympics but they've only won 11 (8 mens, 3 womens).  Did they make a mistake in their count?  Are they adding a 12th knowing they're going to win in 2014?  Or does it represent something else?  One of those things we won't know until the official unveiling.
—
UPDATE, thanks to a Tweet from @Art_Mah, it appears the 12 gold leaves could represent all the gold medals won in the Olympics AND Paralympics.  Team Canada has won one sledge hockey gold medal in 2006
∴ 8 men's golds + 3 women's golds + 1 Paralympic gold = 12 gold leaves
—
With the black alternate, it features a red horizontal stripe like the others but trimmed in gold, on the stripe is "CANADA" in bold white letters.  Canada never wore a jersey like this, from what I can tell… it's a bit of a stretch but this could be a tribute to the backs of the 1972 Summit Series sweaters which had "CANADA" laid out similarly above the player's number: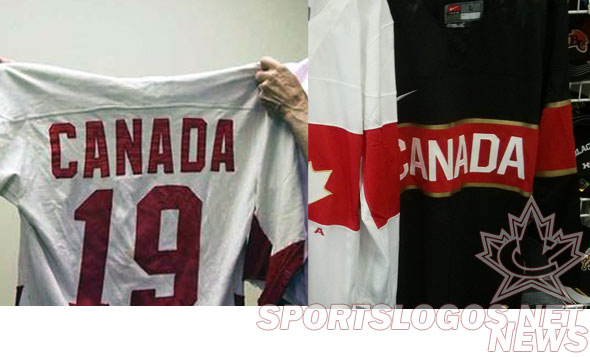 We'll wait to form our opinion until we see the full uniform with pants, helmet, player name and number — Hockey Canada will unveil the new look officially on October 8th.
A direct link to a much larger version of the photo of the three leaked uniforms is available here.