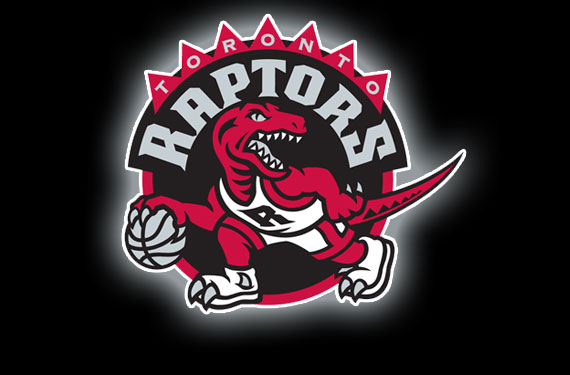 The Toronto Raptors held a press conference today primarily to announce that they will be hosting the 2016 NBA All-Star Game but it was later during this same conference that Raptors club president Tim Leiweke made another, much more relevant announcement for us here at SportsLogos.Net.
"Drake will be helping with the rebranding, the new logo, new colours.  NOT a new name… Raptors is here to stay." – Tim Leiweke
"We submitted this month, next month we begin in conjunction with the NBA on a timeline.  We're already working with a local Toronto firm and have taken some suggestions from fans into the process.  We'll definitely involve Drake with how our look should be"
"Essentially it's a two season process, we have licensees we have to register the new colours and marks with.  Process begins now, looking at the season after next for the Raptors to unveil their new look"
So… firstly, the Raptors name isn't going anywhere.  Say goodbye to any hopes you had for a return to the Toronto Huskies.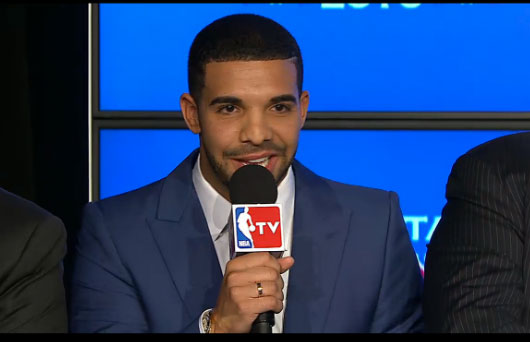 Secondly, the team is also borrowing a page out of the Brooklyn Nets playbook in bringing an influential artist on board to help both promote the team and aid in their rebranding efforts. Drake was also named as the official "Global Ambassador" for the Toronto Raptors at this news event.
Last season Jay-Z was heavily involved in the new logo, colours, and uniforms of the Nets.
In my opinion, this can only be a good thing for the Toronto Raptors.  Let's face it, the Raptors are a joke around the league, bringing on someone with a global influence such as Drake to be involved in any way possible is a plus.  Think of it this way, it can't get any worse for this team, can it?
At the press conference a Raptors coloured logo was used to promote the All-Star Game in Toronto, however in the official press release the logo was in red, white, and blue.  Whether this is a hint at the new team colours or simply just a generic NBA colour scheme remains to be seen.  At this point it's all we have, so we'll take it::

This will be the first major rebrand for the Raptors, previously they made a switch in their colour scheme from purple, black, silver, and red to red, black, and silver for the 2006/07 season, but the overall logos and branding remained the same during that transition.
It is expected that the new Raptors look will be unveiled in time for 2015-16, their 20th anniversary season.