Nike has unveiled the jerseys to be worn by the Czech Republic National Hockey Team at the upcoming 2014 Winter Olympic Games in Sochi, Russia.
They're interesting to say the least.  As a hardcore flag fan, I can't say I'm opposed to the idea of the jersey on the right, which is basically just having the players wear the Czech flag… what I do have an issue with in that design is they're essentially sewing the Nike logo onto a nation's flag.  You can't do that.  If you must have your corporate brand present on the jersey, then don't make the jersey itself a flag.
I'm looking forward to seeing how they look on the players and in action, it may not translate so well.
And of course, just like every other hockey design from Nike so far for this tournament, those cheap-looking fake laces are right there under the collar.
A side-by-side comparing the Czech jerseys from the 2010 Olympics to 2014: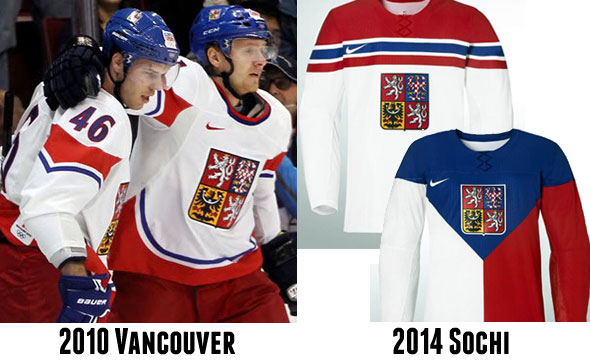 What do you think? Am I overreacting when it comes to sewing a swoosh onto a flag?  Let me know in the comments below.