The Cincinnati Cyclones, ECHL affiliate of the Florida Panthers and Nashville Predators, announced this past Monday that they will be wearing four specialty jerseys throughout the 2013-14 season.
November 15, 2013 – Star Wars Night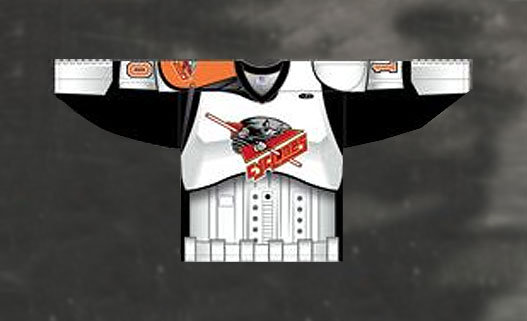 The Cyclones will wear these Storm Trooper inspired jerseys for their first-ever Star Wars jersey promotion; one which has been done quite a few times now around the minor league circuit including the Buffalo Bisons, who I did a piece about back in June.
January 4, 2014 – Throwback Night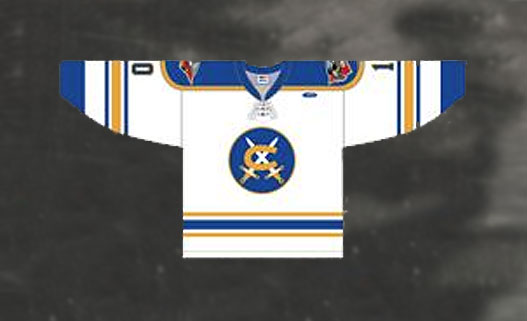 This one's my clear favourite, the Cyclones will be bringing back the awesomely retro uniforms of the Cincinnati Swords, an AHL team (try and guess their NHL affiliate at the time, I'll give you a hint — rhymes with "Buffalo Sabres") which played from 1971-72 through 1973-74. Yes, they only played three seasons, but won the AHL's Calder Cup Championship in one of them (1972-73).  The Swords folded when the World Hockey Association announced they'd be adding an expansion team to Cincinnati, the future Cincinnati Stingers.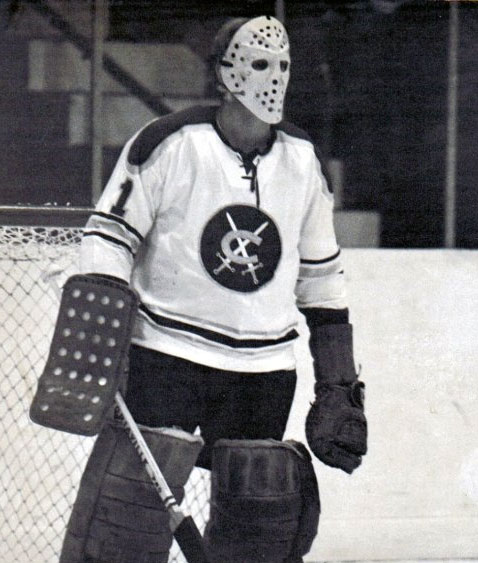 The Cyclones version of these jerseys will include current team patches on either shoulder (uh, I think that's what they are… they're a little blurry in the graphics we have), unfortunately, but it'll still be a treat to see this back on the ice one more time.
Super Hero/Military Night – February 1, 2014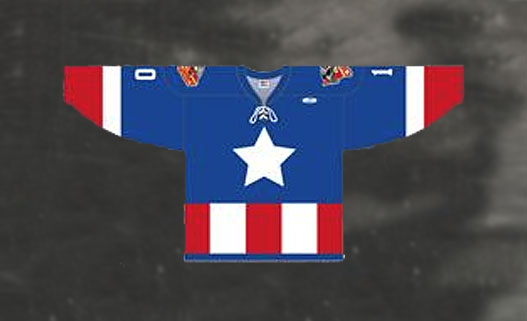 The Cyclones like to add a twist to their Military appreciation nights, rather than wear the standard old camouflage uniforms everyone else wears around sports, the 'Clones dress up like super heroes in order to honour their real-world super heroes. Fun idea! This year they will be wearing Captain America inspired jerseys while Iron Man entertains the kiddies in the crowd.
Pink in the Rink Night – March 1, 2014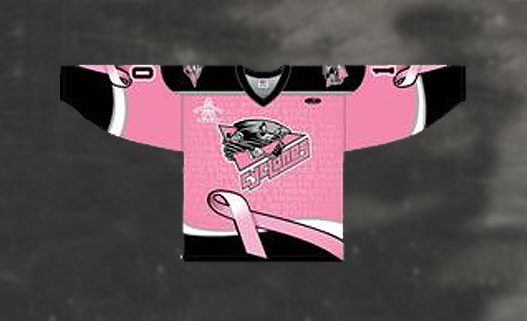 While the Cyclones broke the mould for their military tribute night, they toe the line when it comes to their breast cancer awareness jersey. Pink, pink, and more pink. Pink ribbons on either sleeve cuff, and another one on the front coming up from the waist. It wasn't mentioned in the release but it looks like there's writing all over the front of the jersey behind the logo, if those are names of local breast cancer victims/survivors that's a nice added touch by the team, for sure.
Each of these specialty jerseys will be auctioned off immediately after the games in which they're played with net proceeds benefiting various Cyclones charitable partners