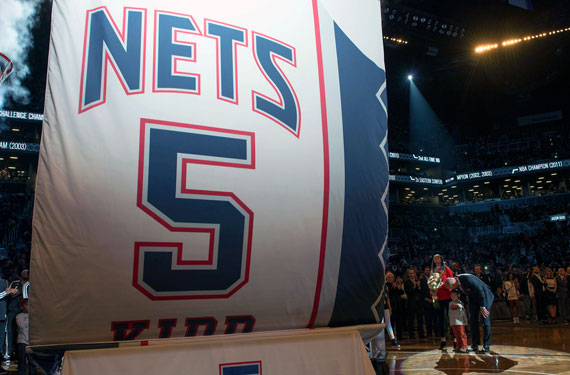 The Brooklyn Nets retired the jersey of former player, and current head coach, Jason Kidd before yesterday's pre-season game against Miami in Brooklyn. Kidd was a member of the franchise while they were known as the New Jersey Nets from 2001/02 to 2007/08.
The ceremony was held in the pre-season to not distract with Kidd's head coaching duties when the games actually count.
"I don't know if anyone's had their number retired and had to go to work. I'm a rookie coach, so this game being preseason is something I wanted. I wanted to get this over with as quickly as possible and then get back to my team." – Jason Kidd
The Nets have always done a good job with making their retired jersey banners appropriate to the era in which the player played. No fears of seeing Kidd's #5 up there in Brooklyn black-and-white, his banner incorporated the Nets jersey wordmark and even the basketball-net style pattern which was worn on the side of their uniforms in Kidd's day.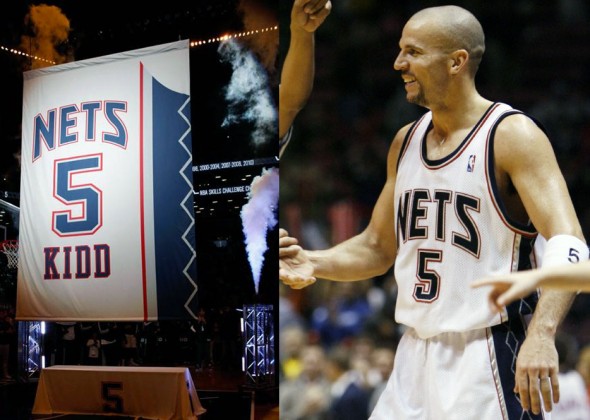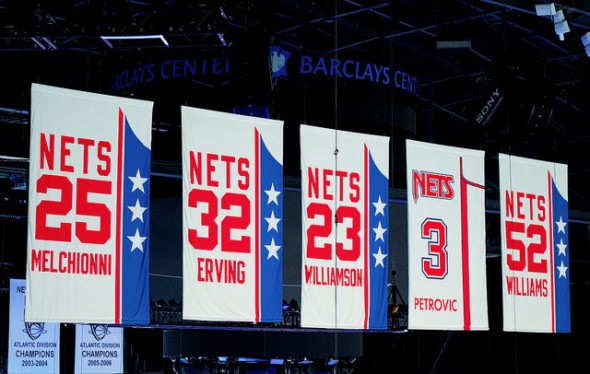 Jason played 7 seasons for the Nets, racking up 14.6 points, 9.1 assists, and 1.9 steals per game. Kidd played in the NBA All-Star Game in 5 of his 7 seasons with New Jersey.