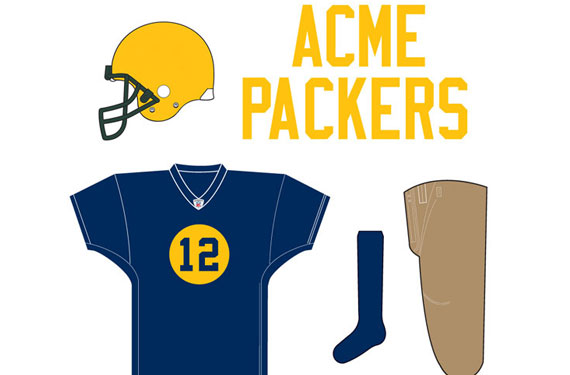 It's a week full of alternates and throwbacks in the NFL this weekend!
The Green Bay Packers are turning the clock back to 1929 and wearing the uniforms of the old ACME Packers for their game against the Cleveland Browns.
Tennessee is breaking out their navy blue alternate jerseys for the first time in 4 years! Jacksonville's new teal jerseys are making their debut, and Carolina is wearing their slick light blue jerseys.  A fun weekend for uniform fans.
Here's your full matchups, those that we know of so far, we'll try to update this as we can throughout the day but to be honest my wife has this thing she wants me to go to and well, I'll do my best:
Sunday, October 20, 2013
Tampa Bay Buccaneers (white) at Atlanta Falcons (red/white)
Cincinnati Bengals (white) at Detroit Lions (blue*)
Buffalo Bills (blue/white) at Miami Dolphins (white)
New England Patriots (white/blue) at New York Jets (green)
Dallas Cowboys (white*) at Philadelphia Eagles (green*)
Chicago Bears at Washington Redskins
St Louis Rams (white/white) at Carolina Panthers (light blue)
San Diego Chargers (blue) at Jacksonville Jaguars (teal/white)
San Francisco 49ers (white) at Tennessee Titans (navy blue)
Cleveland Browns (white) at Green Bay Packers (1929 blue throwbacks)
Houston Texans (white/blue) at Kansas City Chiefs (red)
Baltimore Ravens at Pittsburgh Steelers
Denver Broncos at Indianapolis Colts
Monday, October 21, 2013
Minnesota Vikings at New York Giants
Note: A (*) next to any colour indicates that this jersey colour information is not photo confirmed but expected