Templated sports uniforms have finally gotten to the point where the teams themselves are now calling it "awkward".
A "templated" sports uniform is when you take one design for a jersey or cap and apply it to multiple teams, the only change coming in the way of a logo and/or colours.
Yesterday we saw two Minor League Baseball teams unveil their special "Star Wars Day" uniforms, first up was the Durham Bulls and their R2D2 inspired design:
Which prompted the Sacramento River Cats to show off their own Star Wars Night design, and if you read the headline or preceding paragraphs, I'm sure you have an idea where this is headed…
Yup. Awkward.
Save for the placement of the team logo (chest for the Bulls, sleeve for the River Cats) they are identical. These things are bound to happen, with so many teams seemingly just pointing to one of 2 or 3 designs in a catalogue and calling it their new look.
It didn't stop there…
Later on, seeing the attention the Bulls jerseys were getting, the Kane County Cougars tweeted out their 2014 Star Wars jersey, and yeah, we thought they looked familiar:
I'm seein' double! Four Chewbacca jerseys!
Kane County was sure excited to get this news out there, but if you're going to just do the EXACT same design another team did just one year prior is it really worth making a big deal out of it?
"Look what we came up with! We put… our… logo… on someone else's thing, hrm, nevermind, let's come up with something else" — this is how every meeting among the marketing staff on these teams should go.
Want a good example? Look to the Buffalo Bisons, they use a new design created by a local design team every season. It's a look which is unique to them and unique to that season: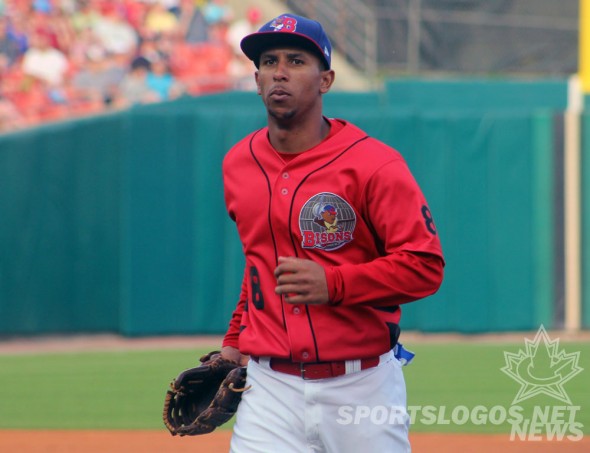 It's a crazy concept, right? Why can't other teams do this??
Continuing on…
Earlier in the minor league hockey season we saw teams using "Ugly Sweater" jerseys, everyone lost their heads in the "wow, what an awesome idea!" sense when we first saw the Reading Royals jersey in the top left of the photo below.
Guess what happened after that.
A near-exact replica by the Tulsa Oilers (difference being on the shoulders). That was followed by the Toledo Walleye and Knoxville Ice Bears went similar and ended up copying each others design.
When it comes to a one-game-only uniform, sports jersey geeks are usually quite fond of a creative design. What they (we?) can't stand is when that creative design gets carbon copied out across multiple teams. It instantly goes from "hey, that's kinda neat!" to "ugh, let's be done with this already".
Minor League teams aren't the only offenders of this, not even close.
The first time I can recall being extra annoyed with a templated uniform design was during Major League Baseball's "Turn Ahead the Clock" promotion back in the 1999 season.
This is just a sample of four jerseys but a good majority of the teams who took part in the promotion used the same design, one giant team logo on the front. Sometimes they'd get really creative and angle it slightly in one direction, look out fellas, designers working.
MLB kept it up after this, eventually taking batting practice designs away from the teams and rolling out a common look, as you can see in this collage of photos from spring training 2003:
It happens to the caps too, here's a look at spring training 2012:
The templatization of MLB batting practice uniforms continues today, before the 2014 season the league and Majestic launched new looks for all 30 teams — every team using one of two designs. It's kinda sad.
The NHL finally waded into this by using a template for their St. Patrick's Day pre-game warmup jerseys earlier this month:
It's long been a fixture of the hockey teams in the Winter Olympics, 2014 may have been the worst with some games so templated that you couldn't even easily tell one team from the other:
That's a problem!
Fortunately we haven't seen this creep into any full-time regular season uniforms other than one-day-only holiday designs worn on Memorial Day, Independence Day in baseball, and Christmas Day and "Noche Latina" in the NBA.
It used to be a lot more fun to see what team was going to do for any given holiday (especially when the majority of teams did nothing at all).
This may shock our younger readers but there was a time when teams who wore something special for a game they used their own custom design, it was made by the team for the team. Take the Oakland Athletics for example, back before MLB mandated league-wide special cap designs, the A's would wear their own red-white-and-blue design on the 4th in 1999 and again in 2001.
The Toronto Blue Jays are really the only team to still do their *own thing* on a holiday, wearing red on Canada Day. A tradition which started back in 1996 and has continued off-and-on ever since. More please!
All I'm pining for is a day when teams were more involved in their designs, all of them, the full-time home and road sets, the practice jerseys, the special holiday uniforms. These brands are extremely important to these teams, they should be the only ones in charge of how that brand is applied when their team takes the field, court, or ice.
To the teams out there who may be reading this — there's a lot of creative designers working for every single one of your teams. Let them do their thing. They're good at it! I promise you will not be disappointed with the results and I assure you your fans (who love buying these things) will appreciate wearing their own team design, not one shared with several other rivals.