The Dallas Mavericks have become "the first team to crowd source an in-game jersey".
Their new alternate uniform, designed by Mavs fan Geoff Case, was unveiled earlier today at a fan event in Dallas. The new jersey will not be worn until the 2015-16 season.
It's navy blue and features a silver Dallas skyline, extremely reminiscent of the Denver Nuggets alternate uniform. Below the skyline is a light blue stripe with "DALLAS" across it in navy blue. A silver star shines above the skyline and the player number is below, also in silver.
Mavs owner Mark Cuban said the club received over one thousand entries and after narrowing it down to their favourites had to still vet them with NBA jersey maker Adidas.
For his troubles designer Geoff Case got to take part in the unveiling, was awarded a cheque for $1000 and received Mavericks season tickets.
Case also designed a white version and a blue-and-green version of this uniform, the Mavs have initially chosen to just wear the navy blue version for 2015-16 with the possibility of also wearing the other two versions in 2016-17. One fan took to the mic stating his love for "the green one".
During the voting process we posted an article pointing out this entry was awfully similar to the Nuggets uniform of the 80s and their current yellow alternate: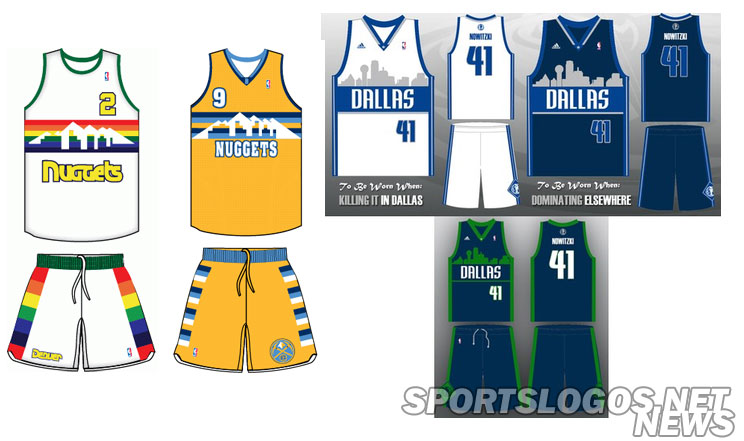 Designer Geoff Case stated during the press event he wanted "to see [new Mavs centre] Tyson Chandler dunk over Tim Duncan and while a baby San Antonio Spurs fan cries in the audience, Chandler lifts up his jersey and points to the skyline on the chest."
The Mavs do press conferences differently than most.