As we get set to enter the year of hover boards, self-lacing sneakers, and a Chicago Cubs World Series Championship we must first look back on the current year… 2014, which was my 18th running SportsLogos.Net.
Overall 2014 was a rather uneventful year when it came to major re-brandings in the big four. The Cleveland Indians and Pittsburgh Pirates "re-designated" their primary logos (one of those resulted in significantly more uproar than the other) but left the uniforms untouched while in the National Hockey League, the Anaheim Ducks and St. Louis Blues did the complete opposite – new uniforms, logos in tact.
The good: The Charlotte Hornets returned to life in the NBA, bringing teal and purple back.
The bad: We saw a radically redesigned Tampa Bay Buccaneers uniform debut in the NFL.
The ugly: Camouflage uniforms are taking over MLB's National League… fast.
But that was just the big North American leagues, as anyone who has gotten lost on this site can tell you, there's so much more out there! There's Europe, Asia, not to mention the NCAA or Minor Leagues across all sports who seem to present us with both the highest of highs and lowest of lows in sports design (not much of a middle ground there). On one side you've got the El Paso Chihuahuas, Murray State Racers, and Bloomington Thunder. On the other there are whiffs like the Oklahoma City Blue and Keystone Ice Miners among a whole host of others.
The Awards
For the past few years we've been asking our readers to rate each and every logo we've added to SportsLogos.Net on a scale from one to ten, since we've launched this feature we've received nearly 5 million votes, incredible! We've gone through all these votes and ranked both the highest and lowest rated logos to make their in-game debut during the 2014 calendar year, giving us, essentially, the 2014 SportsLogos.Net Readers' Choice Award winners for the best and worst logos of the year!
Things to note: Only logos which made their first in-game appearance between January 1 and December 31, 2014 are eligible… so a future year new logo such as the 2015 Daytona Tortugas, 2015 NHL Winter Classic (even though it's this Thursday it's still not in 2014), or the 2015-16 Toronto Raptors will not appear on this list, they'll be seen next year, if they make it.
Alright, enough of my babbling, here are the 2014 SportsLogos.Net Readers' Choice Award Winners!
The winner of Best New Primary Team Logo of 2014 is…
BEST NEW PRIMARY TEAM LOGO 2014
FIRST PLACE
Amur Khabarovsk (Хоккейный клуб Амур)
Kontinental Hockey League
Rating: 8.67/10
Our first-ever non-North American based logo of the year winner is Amur Khabarovsk of the mostly Russian-based KHL. Khabarovsk unveiled this brand new tiger head logo over the summer after allowing fans to vote for their favourite new look (good job fans, I'd say). The logo made its on-ice debut in October 2014.
The logo and uniforms are a *vast* improvement over what the 48-year-old Eastern Russian team had worn in the past, see for yourself:
Simplified, traditional, (not to mention practically ad-free), this isn't a new uniform design you'd expect to see debut the Eastern half of the world in 2014, maybe that's part and parcel why it was rated so highly by the readers of SportsLogos.Net
In June fans were presented with eight options in a vote for the new logo:
As you can see, most logos retained the "bear" design the club had used previously, two of them made reference to the river after which the team is named, and one (bottom right) is straight up from Fraser Davidson's portfolio site. Huh.
Either way the winning logo was the strongest of the bunch, in my opinion, and based on the ratings it received on here you all agree.
Congratulations to Amur Khabarovsk on winning the SportsLogos.Net Readers' Choice Award for Best New Primary Team logo of 2014!
***
The Runner-Ups
BEST NEW PRIMARY TEAM LOGO 2014
SECOND PLACE
Omaha Mammoths
Fall Experimental Football League
Designer: Gridiron Labs
Rating: 8.38/10
The Fall Experimental Football League was launched this year with the hopes of one-day becoming a true minor league to the NFL. Part of their plan is to experiment with new rules designed to improve the game, apparently that also extends to brand design – it's not too often you'll get an entire league without a single bad look in the (albeit tiny) bunch, they just look great right across the board:
All four team logos and the main FXFL league logo were designed by Gridiron Labs, and each of the teams would have all have likely ranked near the top of our 2014 best logo lists had they met the minimum amount of votes to qualify. Omaha met the threshold and here they are, the second best new primary team logo of the year.
"The [Mammoths] brand is built on symmetry and a nested mascot in the "O" screams tradition and pays homage to the underrated but never underwhelming midwest football territory." – Gridiron Labs
Unfortunately the league stopped their schedule a little early this year, cancelling the final regular season game and the championship. They do still plan on being back in 2015, hopefully with all these fantastic brands returning.
***
BEST NEW PRIMARY TEAM LOGO 2014
THIRD PLACE
Murray State Racers
National Collegiate Athletic Association
Designer: Joe Bosack & Co.
Rating: 7.55/10
Coming in third place for Best New Primary Team Logo of 2014 is the Murray State Racers who gave us a clean, modern take on a classic look as well as an entire new set of alternate marks to compliment their new primary logo.
The updated look and all of the secondary logos were created by Joe Bosack who is the man behind several other great 2014 NCAA rebrands such as Austin Peay and Cal State Northridge, both of which also found their way onto our Top 20 new logos of the year list.
As mentioned, in addition to the new primary mark, Bosack and Murray State came out with a fresh series of secondary logos – some of which are shown in the graphic above.
"The updated primary logo, supported by a complete identity system, embody the proud history of the Murray State Racers as well as the values and aspirations of today's teams and athletes… The original 'Racer M' logo designed by Richard McClintock was great inspiration for building a complete identity system that is inspired by the visual richness and athleticism associated with the sport of Thoroughbred racing." – Joe Bosack
Congratulations to Murray State and Joe Bosack & Co. on taking home the bronze for best new primary logo in 2014.
***
Top 20 New Primary Team Logos of 2014
A strong year in hockey design — six of the top eight new primary brands of 2014 all coming from the ice. The Kontinental Hockey League the strongest of that group with three new looks in the top six. An impressive showing by the junior league USHL as well with both the Bloomington Thunder (#4) and Madison Capitols (#8) finishing in the top ten.
Sacramento Republic FC is your preferred soccer rebrand of 2014, the Wilmington Sharks of the collegiate Coastal Plain League is tops for baseball, and Aaron Masik's Austin Spurs design is the number one rated new primary logo on the hardcourt.
In addition to the update we saw earlier with Murray State's new logo, we see similar changes appearing on the Top 20 list at #5 with Sibir Novosibirsk's tweak and promotion of an old alternate logo to primary, the Adirondack Flames at #12 are using a touched up 1970s Atlanta Flames logo, and of course the Tampa Bay Buccaneers and Florida State Seminoles gave us a couple of nice modernizations of their primary logos in the Sunshine State.
***
These days primary logos are such a small part of the overall design package, this is why we've decided to give the secondary and alternate marks their own special category in 2014.
Your favourite new secondary logo this year…
BEST NEW SECONDARY TEAM LOGO 2014
FIRST PLACE
Philadelphia 76ers
National Basketball Association
Rating: 8.09/10
Ben Franklin dribbling a basketball, oh very yes.
The Philadelphia 76ers may have gotten off to the worst start in the history of the NBA this season but they did so with the best new secondary logo in the world by their side.
Philadelphia front office types have denied that this logo is an official secondary logo ("we were exploring using it, but decided against it… it will appear on t-shirts") it is listed in the team style guides and obviously is being used on team apparel… therefore, it's very much an official secondary logo despite what they claim.
It should be noted that this logo isn't 100% *entirely* new, although it is new to the 76ers. This graphic was actually originally created in 1999, with some slight differences, to be used as a secondary logo for the Philadelphia-hosted NBA All-Star Game that year. The game was cancelled due to the lockout and Benny was brought back when Philly got their makeup All-Star Game in 2002.
The combination of it both being a new logo for the team *and* a slightly different design made this logo eligible in our eyes as a new logo for 2014.
***
Top 20 New Secondary Team Logos of 2014
The first thing that jumps out at me is the abundance of NBA team logos on this list and the lack of any NBA representation on the primary list. Especially with RARE Designs new Charlotte Hornets set, their new primary mark failed to crack that top 20 list yet their new secondary and mascot marks appear four times in this list (and the rest of their secondary set were knocking on the door). The 76ers are number one with the Hawks very popular update of a long missed 1980s gem coming in a close second, Boston's new alternate and the Toronto Raptors' 20th anniversary logo all joining the Hornets as NBA teams who took up a big chunk of this list.
Tampa Bay's updated pirate ship secondary logo vastly outranked their new primary mark coming in at #4 on the secondary list, and the Lehigh Valley IronPigs infamous strip of bacon cap logo made it into the Top 10 placing 9th.
The Steel City likes their throwback logos, updated versions of the Pittsburgh Penguins classic 80s logo (now appearing on an alternate jersey) and the Pirates 70s primary logo (on an alternate batting practice cap) both making an appearance. The USHL, bolstered by two quality rebrands in Bloomington and Madison, got both those teams on this list and the primary chart.
***
Taking a break from team designs for a second, let's look at the top new league logo for 2014
BEST NEW LEAGUE EVENT LOGO 2014
FIRST PLACE
2014 NBA All-Star Game – New Orleans, LA (Alternate Logo)
National Basketball Association
Rating: 8.39/10
There's the NBA again with one of their secondary logos taking home the top prize. This time it's for their annual All-Star Game, held in New Orleans, LA this past February. The logo here borrowing heavily from the recently re-branded New Orleans Pelicans set as a pelican is featured, in the official team colours of the team, inside a gold star.
All three logos from the NBA All-Star package in 2014 made it into our Top 20 New League Logos list, it was certainly a favourite amongst our readers this year.
***
The patch honouring the 75th anniversary Lou Gehrig's famous speech, worn by every Major League Baseball team who played on July 4th, came in second while the Portland-hosted MLS All-Star Game finished third.
The primary World Series logo was shunned by most (scoring only a 5.2) but their slightly altered alternate mark rated nicely, placing 12th on this list. Canadian Interuniversity Sport (Canada's NCAA) makes their first ever appearance on any of our best lists with the 2014 Vanier Cup logo (the national football championship game) coming in 19th.
***
There it is, the best new logos from all around the world of sports according to you, the loyal SportsLogos.Net reader. But we can't stop there, can we? As fans of logo critique we have to take the good with the bad, so, without much fanfare, I'll present to you the three worst new logos according to your ratings this year. We'll start with #3 and work our way up to the worst.
WORST NEW PRIMARY TEAM LOGO 2014
THIRD PLACE
Orange County Blues FC
USL Professional Divsion
Rating: 3.7/10
We kick things off with the Orange County Blues of the USL Pro Division. What makes this mark so bad? It's just an amateur design in general, relying heavily on Photoshop filters and layer effects (and based off the graphics you've seen me make I should know, right? yeah… pretty much). It tries hard to get in on the European-style naming fad, tacking on the "FC" to the end of their name, and also putting their logo into a shield, but the rest just fails so very much. Simplify, drop the effects, and you'll be on the right path to a decent logo, Orange County.
Like most minor leagues the USL Pro league is pretty hit or miss when it comes to good design, take this example:
Two of these logos stick out like a sore, poorly designed thumb.
***
WORST NEW PRIMARY TEAM LOGO 2014
SECOND PLACE
Oklahoma City Blue
NBA Developmental League
Rating: 3.3/10
So we get the Blues as third worst and now the Blue as number two? Well, I can't argue against their name being one-spot worse than the previous team. Also, fun to note, up until this year our previous two "best logos of the year" both had "Blue" in their name (Toronto Blue Jays 2012, Creighton Bluejays 2013). Something about that colour brings out extremes in people.
Anyways, the Oklahoma City Blue, you'd have a hard time arguing that this logo is a poorer design than the Orange County Blues. It simply isn't. So why did our readers rate this logo so low? A victim of their parent-club is my guess. Sure, this logo isn't that great, but the Oklahoma City Thunder logo is so bland (and literally was created to work with any name they ended up using… seriously) that it's now rubbed off on the poor OKC Blue. Heck, they should have just used the Thunder logo and used "Blue" in its place.
I mean, they practically did anyways.
Is the fact that their minor league club is now using this logo a sign that the Thunder are planning on keeping their current mark that much longer? That alone would be an acceptable reason to take out your frustrations on the Blue logo and rate it so low. Way to drive the point home.
And now… the worst logo of the year.
***
 WORST NEW PRIMARY TEAM LOGO 2014
FIRST PLACE
Southwest Pennsylvania Magic
Federal Hockey League
Rating: 2.6/10
Goodnight everybody!
She's a real beaut eh? The Southwest Pennsylvania Magic, or the SWPA Magic, of the independent Federal Hockey League got off to a rough start… and then they disbanded.
Yup.
They lasted *one* game, a 10-3 loss back in October (So… you're saying this award is the ONLY thing they ever won in team history? Congrats guys!). I've written more paragraphs about them here, right now, than games they played before they went extinct. The Magic lived up to their name and POOF… disappeared. The logo alone should have been a sign to the FHL that this club was not being run properly… HEY! Red flags, everybody!
We did manage to find the uniform the team wore in their one game (courtesy their long un-updated Twitter account):
About as good as you'd expect them to be, I guess.
What's most surprising is their alternate logo wasn't that bad, a keystone (representing Pennsylvania, the "Keystone State") with a star, top hat, and two crossed hockey sticks. Why not just make that the logo?? The alternate ended up nearly registering a 6/10 score by our users, which was close to earning it a place on our Top 20 Secondary Logos list for the year. Scary.
So long Magic, we'd have missed you if we didn't realize you were gone until several months after the fact.
***
Hey, want to have a say in the rankings for 2015? Start voting! It's super simple, just click the stars to the left on any team logo page on the site — like the graphic shows below: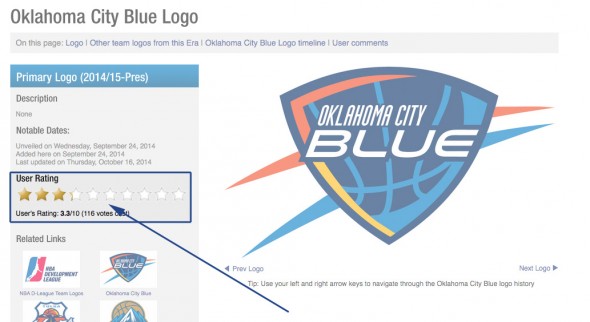 So easy, right? Get voting!
Alright, there you have it folks, the best and worst of new sports logos for 2014. We look forward to having you all along for another go 'round the sun in 2015, thanks for all of your votes throughout the year! Happy New Year!
***
Enjoy awards? Check out our awards of years past! Here's the best and worst of 2012 and here's last year's winners in 2013. And if you fancy a look at what the Internet was like back in the stone ages, we managed to excavate our best and worst lists from 1997! Our first year as a site.