It's been a pretty good week for baseball's Turn Back the Clock series. Earlier this week, we had four games on one day that were of the TBTC variety, and we'll be having another one tonight in St. Louis when the Cardinals host the Dodgers.
Both teams will be wearing throwbacks from 1956, which means that we'll get to see the Dodgers break out the famous old hats with the "B" on them. Meanwhile, the Cardinals are going to be wearing some extremely unique throwbacks of their own — ones that should be jarring to fans of the Cardinals and their uniform history:
In 1922, the Cardinals began their tradition of wearing their famous "bird-on-bat" design. However, for some reason, the team broke tradition in 1956 and wore these particular uniforms with a standard script and no birds on the chest.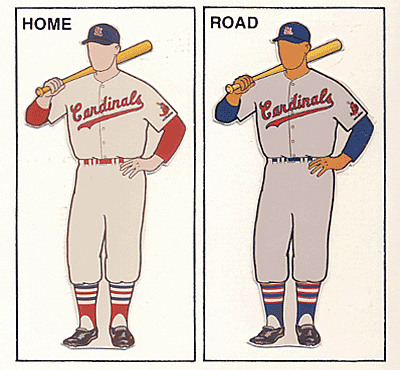 Credit to the Baseball Hall of Fame's Dressed to the Nines uniform database
I'd imagine that these particular uniforms weren't very popular, and the evidence is in the fact that the team immediately brought back the "bird-on-bat" look for their next season, and the 1957 design is the basis of what the modern Cardinals uniform looks like today.
Either way, it's an extremely interesting look, and it's rare to see teams go as deep into their uniform catalog as the Cardinals just have. What do you guys make of it?