The minor league baseball team in Hartford, Connecticut, will pay homage to the city's beloved, defunct hockey team, the Hartford Whalers, with special uniforms later this summer.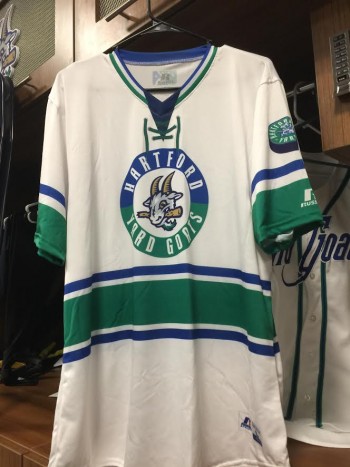 The Double-A Hartford Yard Goats, who after an entire season on the road in 2016 are playing their first season with actual home games this year, will take to the field in the baseball sweaters for games July 14-16.
In anticipation of the Whalers weekend, the Yard Goats have been selling merchandise featuring their logo tweaked to include a hockey stick instead of a baseball bat.
✨Now presenting ✨

Whalers Alumni Weeknd Jerseys 👀🔥 pic.twitter.com/ICj6IWFFBN

— GoatsCommunity (@GoYardGoats) May 25, 2017
The Yard Goats, an affiliate of the Colorado Rockies, don't have to change colors for the promotion, since their color scheme is actually based on that of the Whalers. The baseball team has another connection to the erstwhile hockey team—their first game in Hartford was played April 13, 2017, exactly 20 years to the day after the final game the Whalers played in Hartford.
The alumni weekend will feature appearances by Whalers players, highlights, and according to the team's media relations director Jeff Dooley, frequent playings of Brass Bonanza.