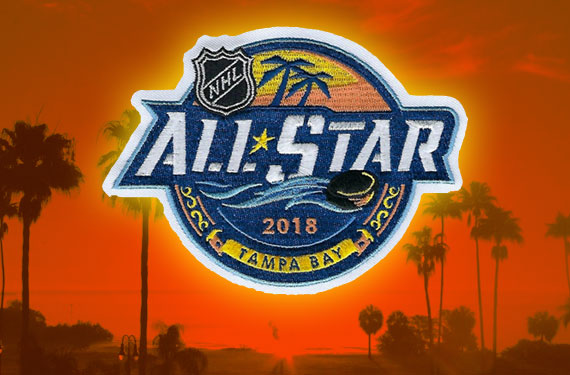 It's the Tampa Bay region, not the Tampa Bay Lightning, featured as the main focus in the 2018 NHL All-Star logo. The logo for the game to be played in Tampa, Florida on January 28th, hasn't yet been officially unveiled by the league but popped up on an online patch shop earlier this week.
Palm trees and waves, a sunset and a puck… the only lightning bolt looks to be on the bottom left corner of the star (hard to tell if that's part of the design or an embroidery issue, we'll have to wait for the official release). It's the second consecutive NHL All-Star logo to feature palm trees.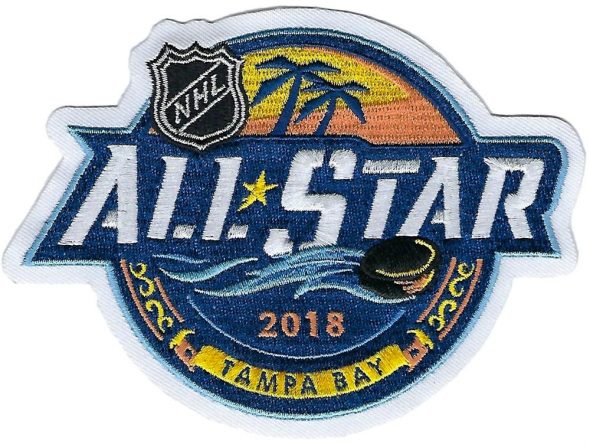 Along the bottom of the circle is a pattern which could be in reference to Tampa's annual Gasparilla Pirate Festival which is taking place concurrent to the All-Star festivities. NHL Commissioner Bettman and the league made numerous references to this festival during the announcement of Tampa getting the game earlier this summer so it's not much of a stretch to see some of that influence in the branding.
This will be the second time Tampa and the Amalie Arena/Ice Palace has hosted an NHL All-Star Game, the first this century. The previous game in 1999 was notable for being Wayne Gretzky's last All-Star appearance before retiring and using the North America vs. World format.
A look back at the past thirty years of NHL All-Star Game logos, back to the 1988 game in St. Louis up through January's game in Tampa.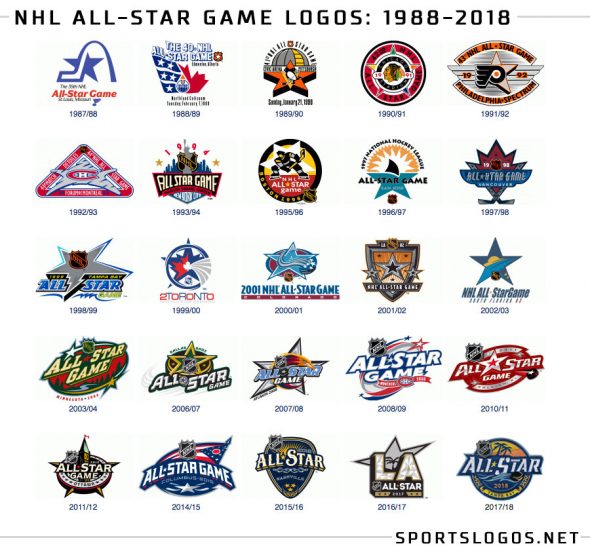 Stick tap to Twitter user @JMisercolaDBSF for the heads up about this patch appearing online!