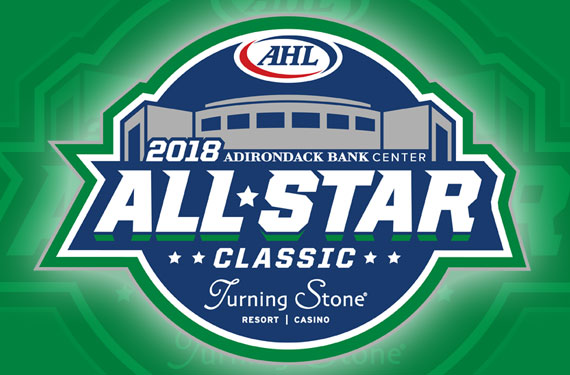 Once again the City of Utica and Upstate New York will be playing host to the top minor league hockey players on the planet.  Oh, and they also unveiled the logo.
The Utica Comets (AHL affiliate of the Vancouver Canucks) were announced as the host of the "2018 AHL All-Star Classic Presented by Turning Stone Resort Casino", as it's officially known, earlier today by the league. It's the second time the Comets will have hosted the game within three years (2015, 2018).
"Our focus for this year's design was highlighting the structure of our home arena, the Adirondack Bank Center, currently undergoing a 10-million dollar renovation", Eric Kowiatek, Comets VP of Creative Services and designer of the logo told SportsLogos.Net. Kowiatek added that maintaining the Comets' colour scheme as well as their branding elements was also a priority.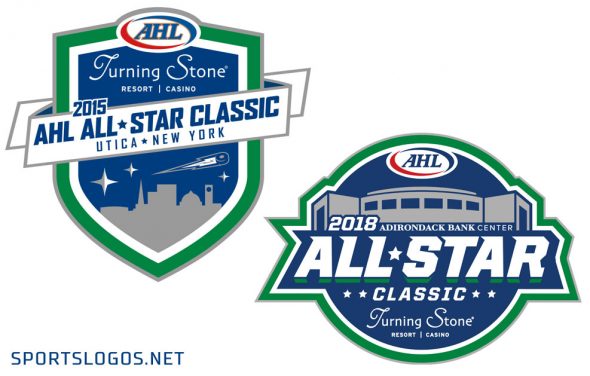 As mentioned earlier Utica previously hosted the AHL All-Star Classic in 2015, the logo for that game also designed by Mr. Kowiatek, that logo used the shield from Comets primary logo while incorporating the Utica skyline.
The 2018 AHL All-Star Classic will be played at the freshly named Adirondack Bank Center on January 29th with the skills competition taking place one day prior.