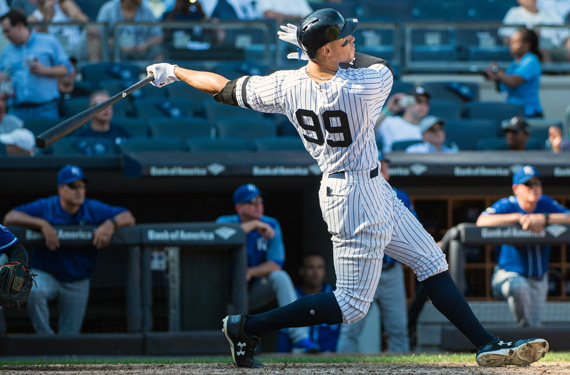 Rookie of the Year? Definitely. Most Valuable Player? Maybe. Most Popular Jersey? Clinched.
It's been a season to remember for New York Yankees rookie Aaron Judge, All-Star, fifty-plus home runs, a trip to the postseason, and clearly baseball fans wanted to be a part of it however they could. Judge today was announced as holding the top spot on MLBShop.com's annual Player Jersey Sales rankings for the 2017 regular season.
Judge finished ahead of Chicago Cubs' Kris Bryant (who had his own Judge-like season just a couple of years ago) coming in second, followed by a couple of his World Series winning teammates – Anthony Rizzo at number three and Javier Baez in tenth. Los Angeles Dodgers ace Clayton Kershaw took fourth spot while Bryce Harper from the Washington Nationals rounds out the top five. All of the players in the top five are on their way to the 2017 Postseason.
Here's the top ten list: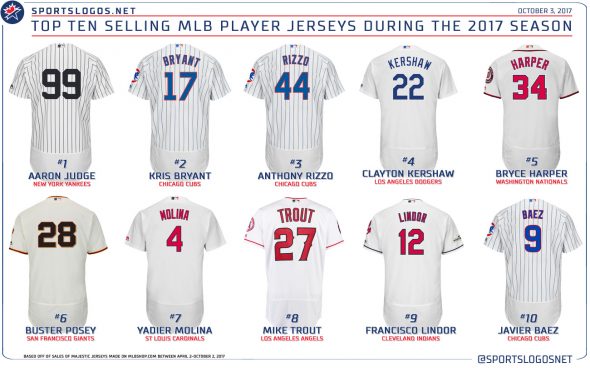 And the rest…
Worth pointing out that these are just sales from MLBShop.com, they do not include any in-stadium or other retail sales. You'll never see a Blue Jay on this list as Canadian customers typically wouldn't use the U.S.-based MLBShop.com.
Feeling nostalgic? You can check out prior rankings of MLB top player jerseys from 2015. Spoiler alert: Kershaw's still fourth. Hey, the man's consistent.
Featured photo © Gregory Fisher-USA TODAY Sports