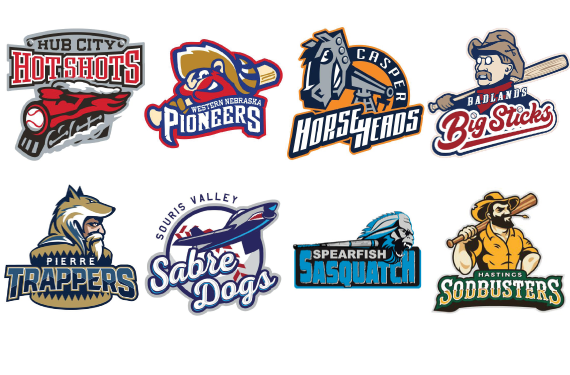 The brand-new wood-bat collegiate summer Expedition League, based in Rapid City, South Dakota, will debut in May 2018. The league's teams have been unveiling their identities the last few weeks, and we have them collected for you here.
The Hub City Hot Shots' name and logo pay homage to the area's railroad history. The team will play in Aberdeen, South Dakota.
https://twitter.com/HotshotsHC/status/912643157334069249
The Western Nebraska Pioneers of Gering, Nebraska, play off the area's expansionist history.
Here are our logos! The main logo with the name, the other two will be on our hats and jerseys. pic.twitter.com/P1hy9QlkgD

— WN Pioneers (@WNPioneers) September 26, 2017
Casper, Wyoming's Horseheads are so named because team owner Chuck Heeman thought the area's oil and gas drills looked like horses.
Well, it appears the Horsehead is out of the bag, the name is already out there, so why wait? We present… your Casper Horseheads! pic.twitter.com/8jqQf9XCSc

— Casper Horseheads⚾️ (@CASHorseheads) October 4, 2017
The Souris Valley Sabre Dogs of Minot, North Dakota, pay tribute to their town's association with the US Air Force.
*Attention Minot baseball fans*
We are excited to announce the Souris Valley Sabre Dogs as YOUR hometown team! @Corey21Thompson pic.twitter.com/ia8HFgfphH

— Sabre Dogs (@SVSabreDogs) October 16, 2017
The Pierre Trappers' identity plays off South Dakota's fur-trading history.
https://twitter.com/PierreTrappers/status/920005938475659265
Spearfish, South Dakota, is not necessarily known to be home to mythical humanoids, but team owners Heidi and Kevin Bybee chose the name Sasquatch to be unique and fun.
We are proud reveal the new logo and to announce the team name as the Spearfish Sasquatch! #baseball #logo #Sasquatch #spearfishsasquatch pic.twitter.com/6bpicJL7bK

— Spearfish Sasquatch ⚾️ (@sprfshsasquatch) October 17, 2017
North Dakota is home to Theodore Roosevelt National Park, and the Badlands Big Sticks hope to carry a big stick just like Teddy did.
We are excited to finally announce our team name and logo! Dickinson, welcome your new hometown team, the Badlands Big Sticks! pic.twitter.com/DTSHYX7C4D

— Badlands Big Sticks 🏆'19⚾️ (@BadlandsBigStix) October 20, 2017
Finally, the Hastings Sodbusters pay homage to the Nebraska's farming community.
The City of Hastings Proudly Presents… The Sodbusters.#GoBusters
Season Tickets: https://t.co/n7HZZxOtlK
Music: https://t.co/Cy402XFpi4 pic.twitter.com/YFUiFgrXPT

— Hastings Sodbusters (@GoSodbusters) October 22, 2017
The league did not identify the designers of all of the logos, but we know that Keith Flynn of Flynnagain Productions created the brands for the Hub City Hot Shots, Western Nebraska Pioneers, and Casper Horseheads. Ross Johnson of Ross Johnson Design Company is responsible for the Souris Valley Sabre Dogs.