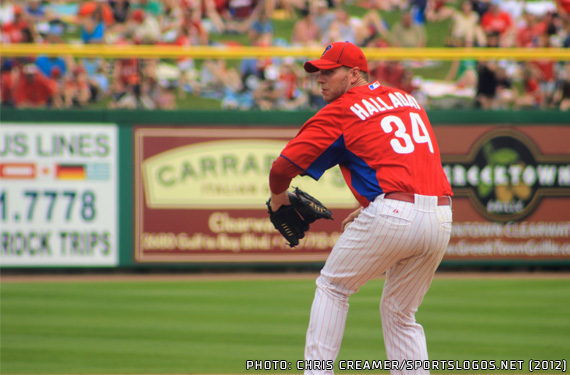 A terrible human being has been caught stealing a jersey left at a makeshift memorial to former Major League Baseball star pitcher Roy Halladay.
Jerseys as well as other memorabilia had been left outside Citizens Bank Park in Philadelphia, where Halladay played his final four seasons with the Phillies. The man reportedly was spotted sticking one of the jerseys under his jacket, chased down by mourning fans and police officers, and then taken into custody.
According to Philadelphia's CBS News affiliate, the man was not charged as the actual owner of the jersey could not be determined; instead he was cited for disorderly conduct and released.
Certainly a huge talker tonight. Someone tried stealing a jersey from the Halladay memorial. An officer chased him down. @NBCPhiladelphia pic.twitter.com/j5VddKjL47

— Aaron Baskerville (@ABaskerville10) November 10, 2017
Roy Halladay was an eight-time All-Star and two-time Cy Young Award winner during his 16-season career, he started with the Toronto Blue Jays in 1998 playing there until 2009 before being dealt to the Phillies where he would throw two no-hitters – one in the postseason and one a perfect game – during his first season with the team. Halladay would end up signing with the Blue Jays in December 2013 before immediately announcing his retirement, choosing to end his career with the team he began it with.
Halladay died Tuesday following a plane crash in Florida at the age of 40.
—
Featured photo taken by yours truly during a Blue Jays-Phillies Spring Training game in 2012.