As the year starts to wind down it's time for us to take a look back and remember the best that happened in the world of sports logos over these past twelve months.
Today we're announcing the finalists for the 2017 Creamer Awards, our 6th annual recognition of the year's best new sports logos (check out our 2016 Creamer Awards winners post). The winners will be revealed later this month, to be voted on by a panel of sports writers and media personalities who have graciously volunteered their time to be a part of this project.
This year there will be four categories to be voted on, the best primary team logo, the best league logo, the best alternate team logo, and the best anniversary logo. For a logo to be eligible it had to have made its in-game debut during the 2017 calendar year (note: our new "anniversary logos" category has a slightly more confusing criteria which is explained in their section near the end of this post).
Not a single logo from the football or soccer world made the cut this year, hockey leads the way with 17, basketball gets 10, baseball 9, college 3, and yes, even a single nominee from the world of auto racing.
Let's start with the nominees for the 2017 Creamer Awards Best Primary Logo of the Year:
2017 NOMINEES – PRIMARY LOGO OF THE YEAR
Minnesota Timberwolves (NBA), RARE Design
Memphis Redbirds, (PCL Triple-A), Studio Simon
Lynchburg Hillcats (CRL Single-A), Brandiose
Kootenay Ice (WHL), Fanbrandz
Edmundston Blizzard (MJHL), Productions Rouj
Boston Pride (NWHL), M Style Marketing
Portland Trail Blazers (NBA), Nike
Norfolk Admirals (ECHL)
Killer 3s (BIG3), Todd Radom
Fayetteville Marksmen (SPHL)
The NBA is the only league to see more than one team get nominated with the Minnesota Timberwolves grabbing the highest user rating overall this year. Hockey makes up most of the list with five of the ten primary logos of the year coming from teams scattered throughout five different levels of the game including the new Edmundston (New Brunswick) Blizzard of the Maritime Jr. A League and the massive upgrade we saw by the NWHL's Boston Pride. Minor League Baseball, which saw numerous redesigns across its many leagues nabbed two nominations with the Memphis Redbirds and Lynchburg Hillcats. Ice Cube's new BIG3 summer three-on-three basketball league, with all of their teams designed by Todd Radom, gets one of their clubs in there too with the Killer 3s.
Previous winners of this award:
2016 Toronto Maple Leafs, 2015 Milwaukee Admirals, 2014 Amur Khabarovsk,
2013 Creighton Bluejays, 2012 Toronto Blue Jays
***
2017 NOMINEES – LEAGUE LOGO OF THE YEAR
MLB World Series, MLB Creative Services
NCAA Div II Sunshine State Conference, Joe Bosack
NCAA Men's Final Four Phoenix, Joe Bosack
CPL All-Star Game Holly Springs, Skye Design Studios
BIG3 Basketball, Todd Radom
KHL All-Star Game Ufa, Denis Davydov
NHL Centennial, Fanbrandz
NASCAR, RARE Design
NHL Winter Classic St Louis, Fanbrandz
Northwest-Pioneer League All-Star Game Hillsboro
It was the first time the World Series logo included their trophy in gold and it nabbed them the top spot in the category with our readers, leading the nominations. Two of Joe Bosack's many NCAA designs gets in there as well in the final year they will be using this style of logo for the Men's Final Four; also with two nominations are the design team at Fanbrandz who did the NHL Centennial logo and the 2017 Winter Classic logo (among others…). Todd Radom's design for the BIG3 basketball league joins the Killer 3's of the team category giving the new league two nominations overall in 2017. Three All-Star Game logos make the cut from the Kontinental Hockey League, Northwest League, and the Coastal Plain League as well as the new NASCAR logo from RARE Design.
Worth noting the logos used for Major League Baseball's LCS and LDS rounds also rated very highly and would have been nominees based on their score alone however we deemed them too similar to the World Series logo to be included here.
Previous winners of this award:
2016 NHL All-Star Game in Nashville, 2015 NHL Draft in Florida, 2014 NBA All-Star Game in New Orleans
***
2017 NOMINEES – ALTERNATE LOGO OF THE YEAR
Rice Owls (NCAA), Torch Creative
Memphis Hustle, (NBA G-League), Memphis Grizzlies/Bryan Rumfola
Cleveland Cavaliers (NBA), Nike Design
Florida Fire Frogs (FSL), Brandiose
South Bay Lakers (NBA G-League), J Alexander Diaz/Erica Rodriguez
Binghamton Devils (AHL), Ben Douglass
Indiana Pacers (NBA), Indiana Pacers 
Memphis Redbirds (PCL), Studio Simon
Iowa Wolves (NBA G-League), RARE Design
Bismarck Larks (Northwoods League)
Half of the nominees from the Alternate Logo of the Year category in 2017 are from the hardwood, six if you include Torch Creative's Rice Owls from the NCAA, with the G-League (former NBA D-League) leading the way with three. Brandiose, who won this category last year with the Great Lakes Loons is back with the Florida Fire Frogs joining Studio Simon's Memphis Redbirds from Minor League Baseball. While hockey may have dominated the primary logo category it only sees one nomination in the alternates, the AHL's new Binghamton Devils looking to join their Upstate New York rivals in Utica who won this award in 2015.
Previous winners of this award:
2016 Great Lakes Loons, 2015 Utica Comets, 2014 Philadelphia 76ers
***
2017 NOMINEES – ANNIVERSARY LOGO OF THE YEAR
Toronto Maple Leafs (NHL), 100th
Los Angeles Kings (NHL), 50th
Brandon Wheat Kings (WHL), 50th
New York Knicks (NBA), 70th
Niagara IceDogs (OHL), 10th
Red Deer Rebels (WHL), 25th
Pittsburgh Penguins (NHL), 50th
Albuquerque Isotopes (PCL), 15th
Philadelphia Flyers (NHL), 50th
Sault Ste. Marie Greyhounds (OHL), 45th
Previous winners of this award:
None! New category
The "Anniversary Logo of the Year" category uses a slightly different (and needlessly complicated) criteria: logos are eligible for the anniversary year shown on the logo (the Penguins 50th for example debuted in October 2016 but the logo shows "1967-2017", so it's good for 2017); in the event a logo does not have a calendar year written on it, it is eligible for the season in which it was worn (Knicks 70th, worn for 2016-17 or what I'd consider to be the "2017" season). This means a logo like the Dallas Stars 25th from 2017-18 will be eligible for 2018 as it has no year written directly on the logo.
***
The ten finalists you see for each category were the ten highest rated logos by those used the "Rate This Logo" feature while visiting SportsLogos.Net and which were first used in a game between in 2017. Each logo could be rated on a scale of 1 to 10 stars, anybody can take part in this and rate as many logos as they like but can only rate each logo just once. If you're upset about these decisions, well, you should've voted.
An example of where to vote shown below: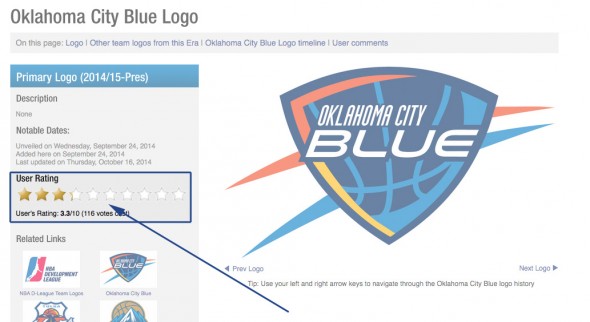 Our 15 judges will be receiving their ballots later this week and our 2017 Creamer Award winners will be announced during the week of December 18-22. Best of luck to all teams, leagues, and designers who were nominated. Check back in two weeks to see the lucky winners.