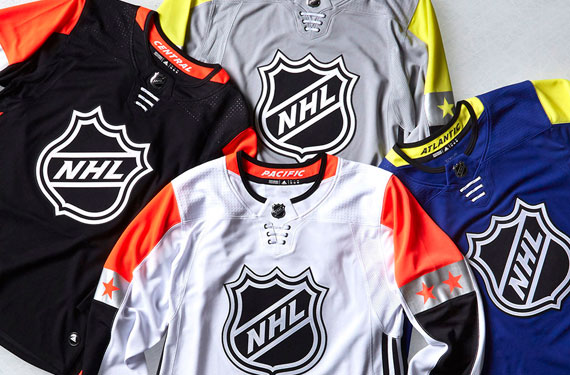 The National Hockey League and adidas today unveiled the four uniforms to be worn at the upcoming 2018 NHL All-Star Game(s). The annual showcase of the league's best and most popular players will held in Tampa, Florida on Sunday, January 28th.
As has been the case for the past two years, the NHL All-Star Game will actually be a series of games – a mini-tournament between the four divisions. The two from the East and West facing off in "semi-final" rounds before the winners meet in the final.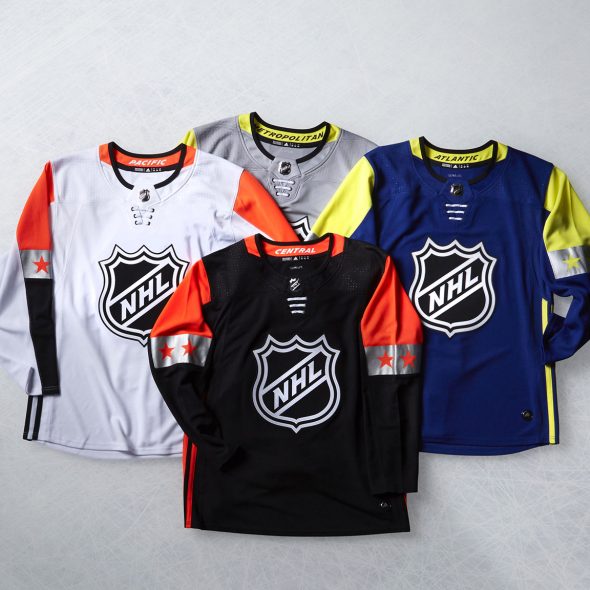 As far as uniforms are concerned, this tournament poses a wrinkle in that each uniform needs to be designed uniquely enough that they can be worn against any of the other three designs without appearing too similar — this goes beyond the simple white vs dark. The four uniforms are black (Central Division), white (Pacific Division), royal blue (Atlantic Division), and grey (Metropolitan Division); any of those combinations can work when paired against another.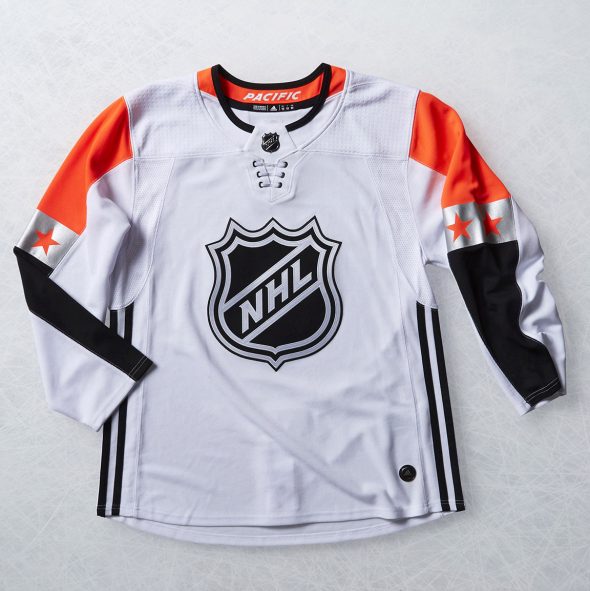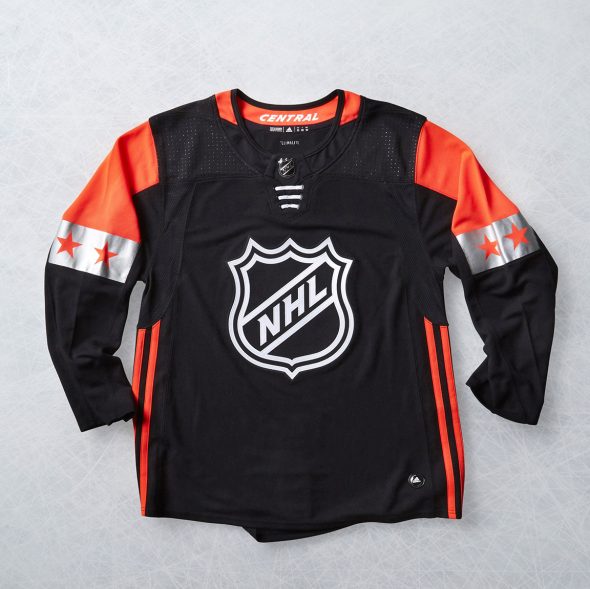 The press release says the uniform designs are inspired by the state of Florida while also paying homage to the history of the league. The uniforms do carry a bit of a retro all-star game feel, especially the inclusion of orange on two of the division designs — the row of four stars (one for each division) around each arm certainly doesn't hurt. The colour scheme is a combination of those worn presently and previously by the host Tampa Bay Lightning (blue, white, black, silver) as well those one would normally associate with the Tampa Bay area – "UV yellow" and "sunset red".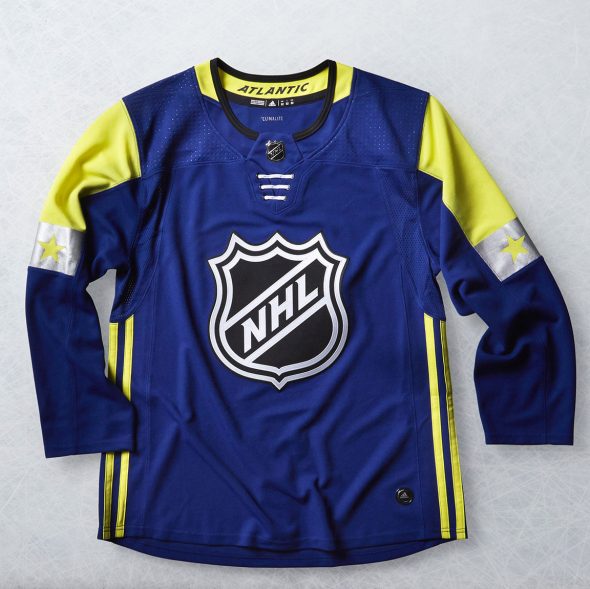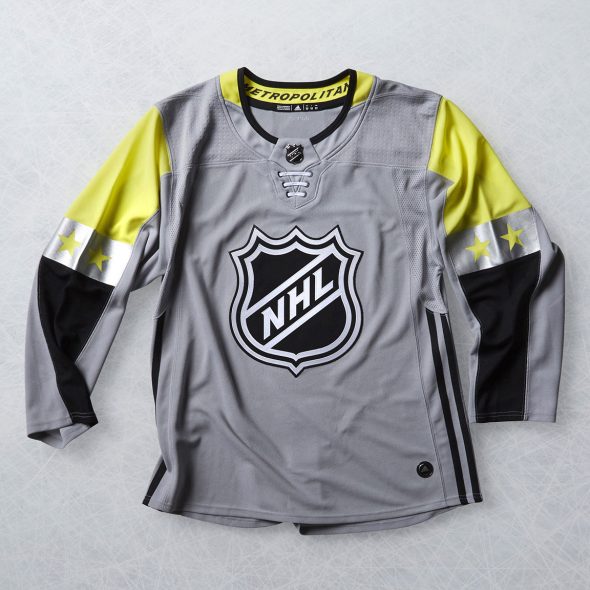 Regional architecture plays a role in the design as well, within the player numbers worn on the back of each jersey is a pattern showing the Sunshine Skyway Bridge — the massive cable-stayed bridge spans Tampa Bay near the City of St. Petersburg.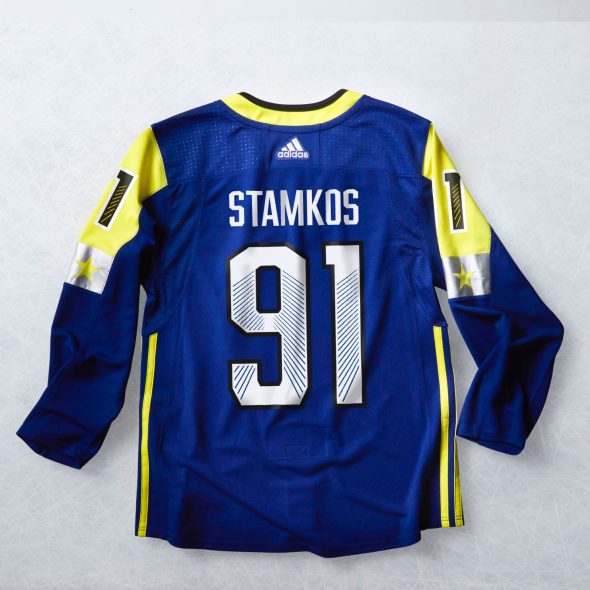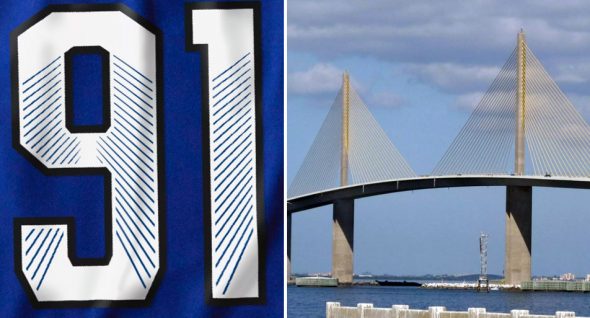 Despite not being shown in the photos throughout this post, each player will indeed wear their current NHL team logo patch in full colour on the left shoulder, the logo for the 2018 NHL All-Star Game will be worn on the right.
This year marks Adidas' first turn at doing the NHL All-Star Game, the uniforms for the event had been previously designed and produced by Reebok for every game held since 2006; a look back at Reebok's design for last year's game:
Adidas adizero "Authentic Pro" jerseys for the 2018 game will retail for $190 US / $210 Canadian with the Fanatics replica editions slightly cheaper. You can buy your 2018 NHL All-Star Game jerseys here in the US or here if you're in Canada.