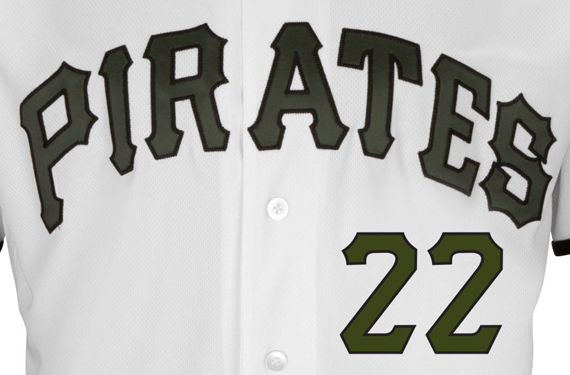 The Pittsburgh Pirates will once again be saluting the troops during the 2018 season, but they'll do so in a slightly different (and much improved) getup.
Joining the Cincinnati Reds, the Pirates are dropping their camouflage-base jersey in favour of a white one with camo green wordmarks, piping, and patches; much like the Reds the jersey is the same design as those worn by all thirty MLB clubs last season for Memorial Day weekend. The cap is olive green with a camo bill, the Pirates logo on the front.
The Pirates did not make any announcement to accompany this release, the jersey and cap both simply appeared as new items on the official MLB Shop.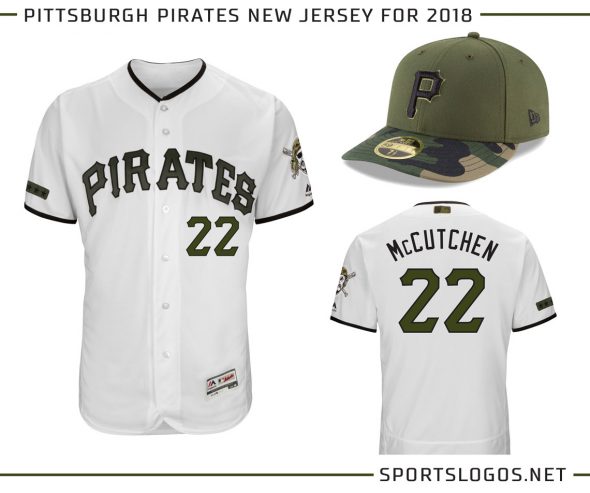 It's certainly a cleaner look, I've never been much of a fan of seeing camouflage dominating the design on sports uniforms so this feels like a step in the right direction for the Pirates (and Reds too). Why are both teams moving away from the camo base? Makes you wonder if it has to do with the league-wide switch to Under Armour as on-field uniform provider in 2019, perhaps UA can't replicate that pattern the same way Majestic could? Perhaps they don't want the camo base interfering with the UA logo which will be slapped right on the front of the jersey? Just some theories based on nothing more than my own personal "maybe because of this?"'s.
For a reminder, here's how the Pirates looked wearing the camo in 2017…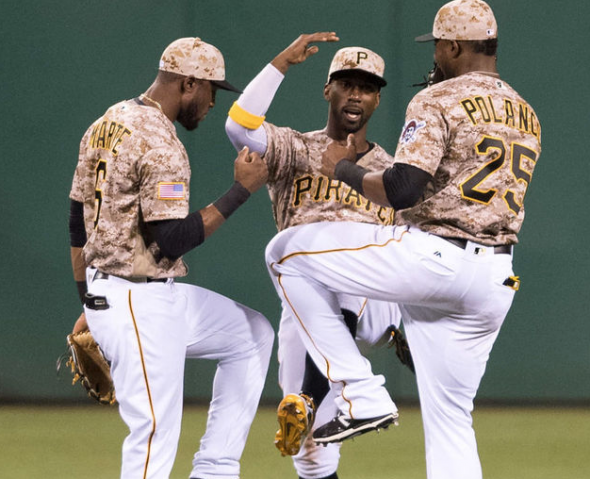 See? It's too much. The new look limits the camo to just the bill of the cap, very good.
The new Pirates jersey is available now here; or get the new cap here.
The Pirates are the third team to show off a new look jersey for 2018, the Cincinnati Reds showed us their new camo jersey last week and the Washington Nationals introduced an all new blue alternate uniform back in December.
---
Hat tip to @GuitaristRobDog on Twitter for the heads up