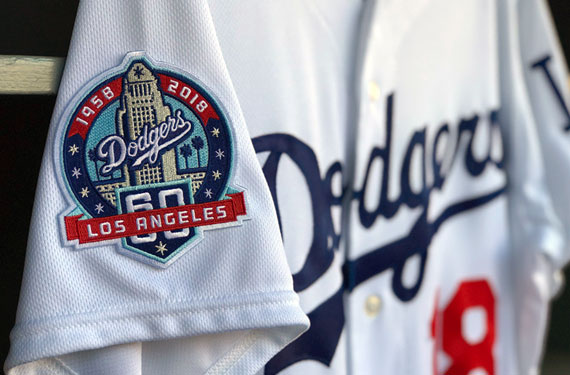 The Los Angeles Dodgers today unveiled the special patch in commemoration of the 60th anniversary of their first season in Los Angeles;  the team will wear the patch throughout the upcoming 2018 season on the right sleeve of their jersey.
At the center of the logo is a depiction of Los Angeles City Hall, surrounding the building are ten stars — five white and five silver — the stars represent the Dodgers ten National League pennants won since playing in Los Angeles, the five grey note those pennants which resulted in World Championships. Each star has six points, one for each decade.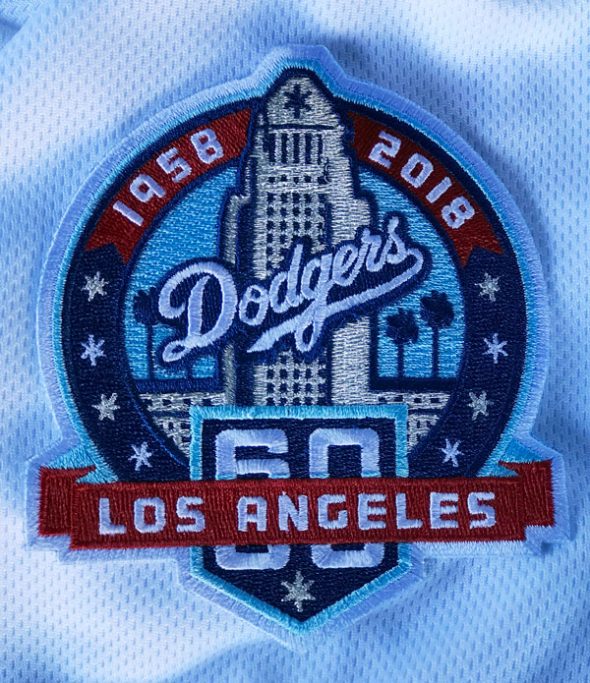 The Dodgers relocated to Los Angeles, California in the off-season leading up to the 1958 season following 67 years playing in Brooklyn under various names but most famously as the Dodgers. The Dodgers brought immediate success to the west coast winning the World Series in just their second season there; winning three in their first eight after the move.
Los Angeles has worn numerous anniversary patches in the past celebrating the arrival to Los Angeles, their home ballpark Dodger Stadium, and the overall age of the franchise including the Brooklyn years. Here's a look at the patches in the past worn to celebrate the team itself: