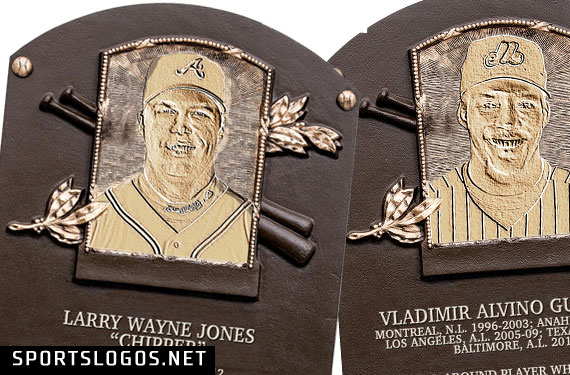 The National Baseball Hall of Fame and Museum announced the fortunate few who will join the legends of the game and receive their plaque in Cooperstown later this Summer.
Chipper Jones, Jim Thome, Vladimir Guerrero, and Trevor Hoffman join Jack Morris and Alan Trammell in making up the Class of 2018.
We focus on logos and uniforms here, obviously, so our first question every year the Baseball Hall of Famers are revealed is "What cap are they going to wear?"
Some years are easier than others, this is one of the easier years. Take Chipper Jones and Alan Trammell for example: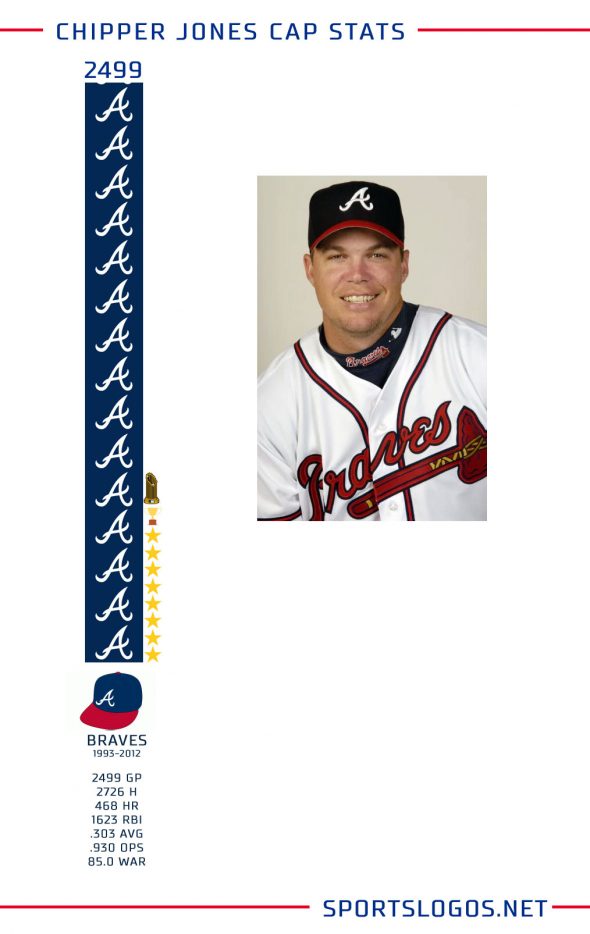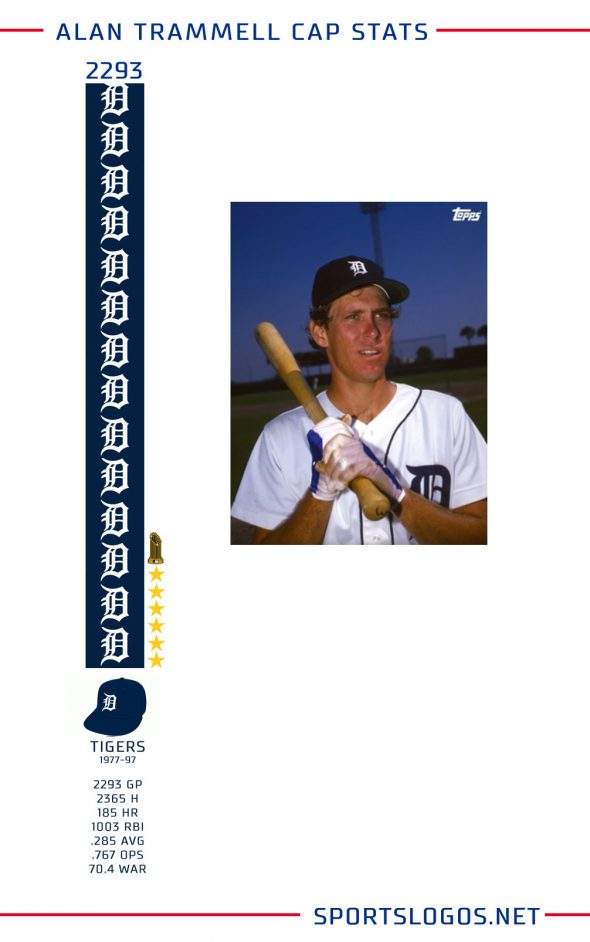 Each only played for one team and only wore one primary cap design during their time with that club. So naturally, Chipper will wear the standard Braves cap, Trammell the Tigers' classic "D".
Others played for multiple teams but clearly spent a majority of their time with one franchise and design: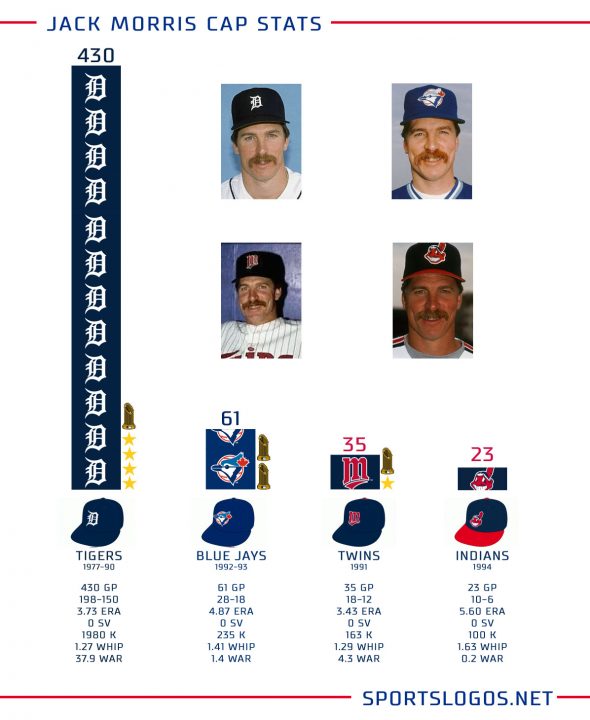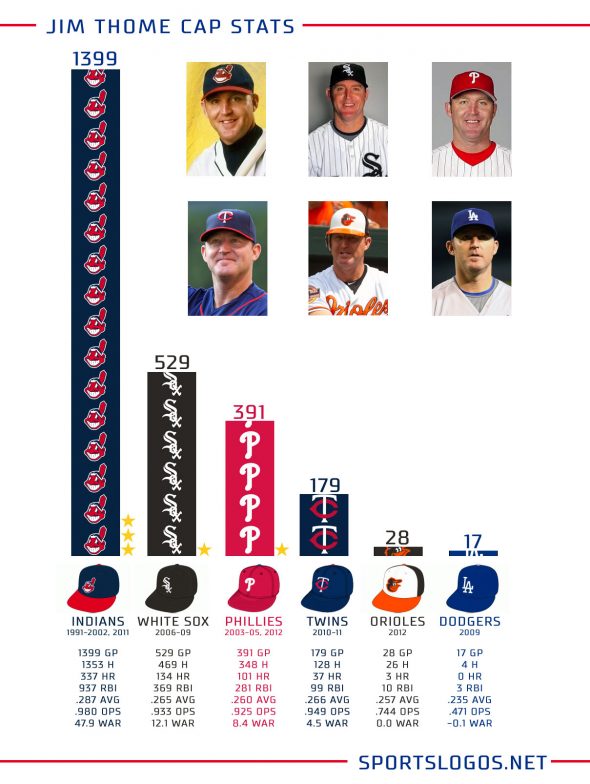 Jack Morris despite winning most of his rings with the Blue Jays, and another with the Twins, is definitely going in with the Tigers (not even close); while Jim Thome will have six teams listed on his plaque but will be, of course, be wearing Chief Wahoo for all eternity.
***
And then you have Trevor Hoffman, his team is obvious but which cap logo from that team? He wore more than one logo from the Padres: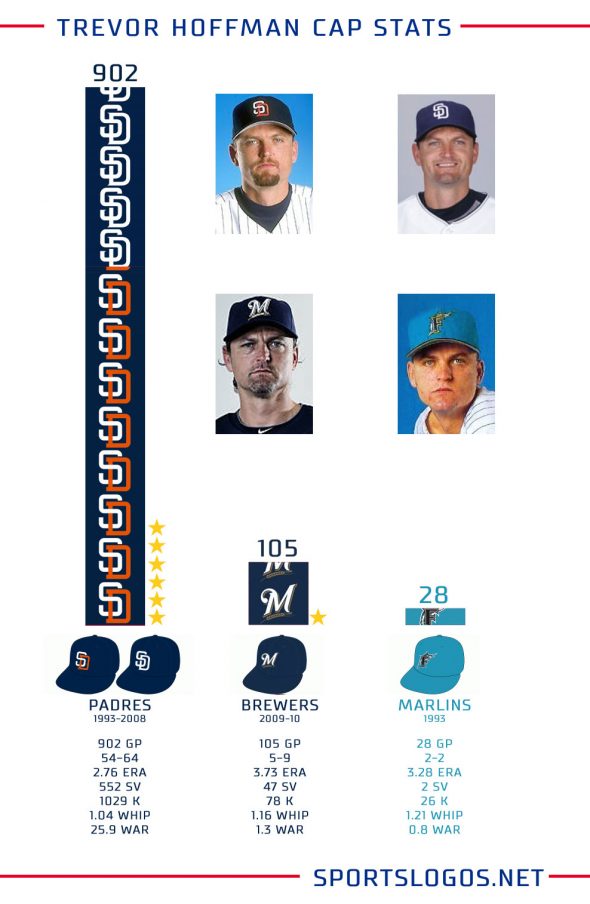 ***
Of course, there is a potential debate to be had in 2018 and, as always, it involves a former Montreal Expo. Gary Carter and Andre Dawson, are two past examples of players who were inducted with the Expos cap on to the displeasure of many, mostly fans of National League clubs in New York and Chicago.
So let's take a look at Vladimir Guerrero's caps and the statistical breakdown, especially between Montreal and the various Angels: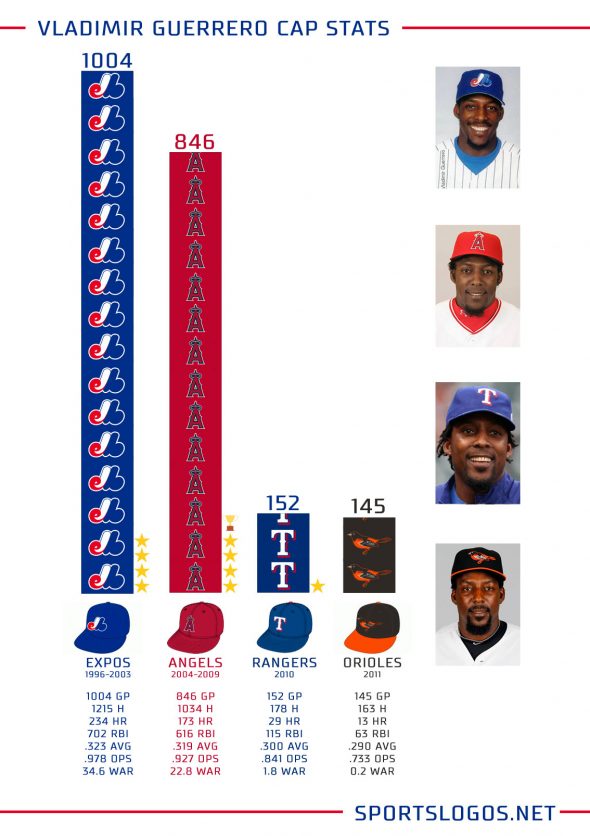 No, Orioles fans will not be miffed (they shouldn't anyways)… but I'm sure we'll hear a few saying he should be going in as an Anaheim/Los Angeles Angel of Anaheim. His time with the Angels has two advantages over Montreal: an MVP award in 2004 and a few appearances in the ALDS and ALCS; Montreal however should get the nod due to longevity (more seasons and games played) as well as performance (more hits, homers, RBIs; higher BA, OPS, WAR).
In 2016, Guerrero polled his Twitter followers to decide what cap he should wear, the Expos won with 81% of the vote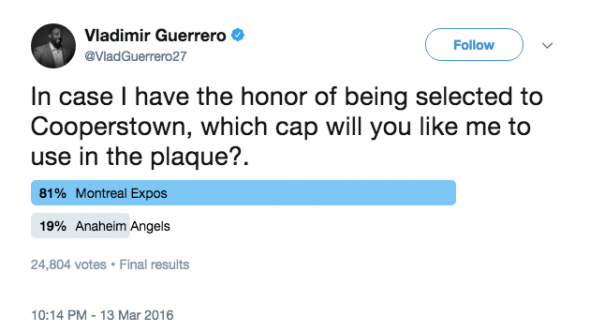 That should seal it, right?
Honestly I get the feeling even if Guerrero requests an Angels cap that the Hall will ignore the wish and put an Expos cap on him anyways, they did the same to both Carter and Dawson who requested the Mets and Cubs lids respectively. Seems like the Expos would be the way to go.
[poll id="8″]
Guerrero's election raises another question; he's the first player to play for both the Anaheim Angels *and* Los Angeles Angels of Anaheim to be elected, will his plaque make note of the name change to the team? Plaques always list the teams an inductee played for using the city name and league, if we follow that style it *should* read: "MONTREAL N.L. 1996-2003, ANAHEIM A.L. 2004, LOS ANGELES A.L. 2005-09, TEXAS A.L. 2010, BALTIMORE A.L. 2011", but I wouldn't be surprised if they end up just choosing one or the other (I would be disappointed, however).
***
To summarize my cap choices (again, 90% of these are obvious but CONTENT!)
Vladimir Guerrero: MONTREAL
Chipper Jones: ATLANTA
Jack Morris: DETROIT
Jim Thome: CLEVELAND
Alan Trammell: DETROIT
***
The 2018 induction ceremony will take place in Cooperstown on Sunday, July 29.
No, those plaques at the top of the post aren't real. Just some fun with Photoshop earlier today.