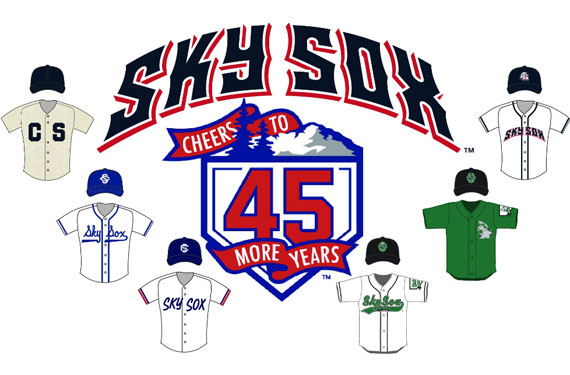 The Colorado Springs Sky Sox are a franchise facing substantial changes in the near future, so it seems that their 2018 "Cheers to 45 More Years" promotion is as much a way to put fans at ease as it is a celebration of the team's history. The Sky Sox will play one more season as the Triple-A affiliate of the Milwaukee Brewers, after which the franchise is bound for San Antonio, Texas. The baseball void in Colorado Springs will be filled in 2019 by the short-season class-A Helena Brewers, who will move to the city and assume the mantle of Sky Sox.
For the 2018 promotion, the Sky Sox will wear uniforms spanning 45 seasons of historic Colorado Springs baseball. Those 45 seasons are spread out over the decades, including teams in the early 1900s, 1950s, and the current franchise that debuted in 1988.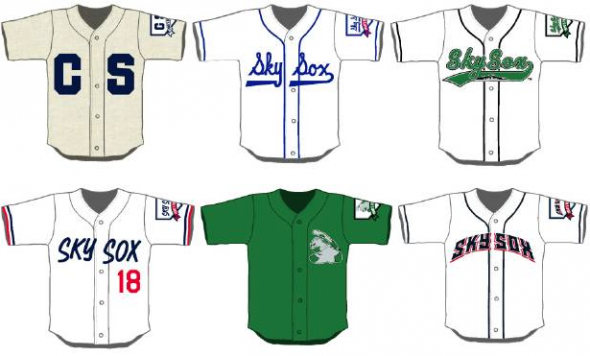 "We haven't always been the Sky Sox, and we've had so many different levels of play, different identities, different affiliates, different uniforms, and even different stadiums over the course of our long history,"said Sky Sox President and General Manager Tony Ensor on MiLB.com. "The only thing that has remained constant, other than change itself, is Colorado Springs and professional baseball. This campaign will recognize this great past and display the evolution of baseball in the Springs."
The Sky Sox will wear the throwbacks on for Friday home games, switching eras each month. In April, they'll sport uniforms worn by the early-1900s Colorado Springs Millionaires. In May it will be jerseys from the team's days as a White Sox affiliate in the 1950s, the Indians-affiliate look in June, 1990s Rockies in July, green "Socko" jerseys in August, and in September the current uniform. The jerseys will be auctioned off at the end of each month.