The Washington Redskins aren't changing a thing. Not anytime soon, anyways.
While Major League Baseball and the Cleveland Indians announced yesterday that their Chief Wahoo logo was being removed from the team uniforms in 2019, NFL commissioner Roger Goodell today said the Redskins name was going to be sticking around.
During an appearance on ESPN Radio's Golie & Wingo Show this morning, Goodell said of Redskins owner Dan Snyder (who has been very clear that he would not change the name of the team), "I don't see him changing that perspective."
Goodell continued, "The interesting thing is that Dan Snyder has really worked in the Native American community to understand better their perspective, and it's reflected mostly in a Washington Post poll that said nine out of ten Native Americans do not take that in a negative fashion, the Redskins logo or name, and they support it."
The poll to which Goodell is referring was conducted between December 2015 and April 2016 with the results released a month later, over 500 people who identified as Native Americans were polled over the phone with 90% saying the "Redskins" name did not bother them.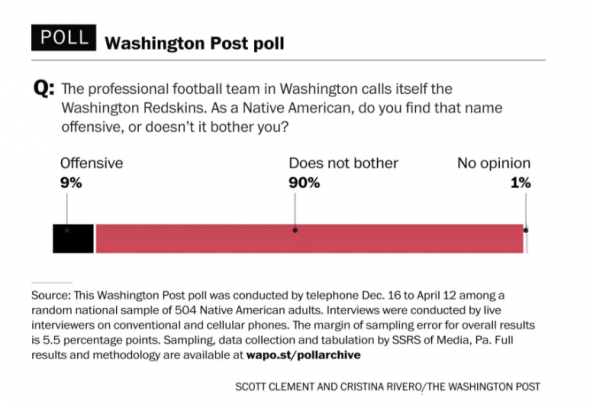 "The Washington Redskins team, fans, and community have always believed our name represents honour, respect, and pride," Snyder said following the release of the results of this poll. "We are gratified by this overwhelming support from the Native American community, and the team will proudly carry the Redskins name."
Last month, Rising Hearts a native activist group, released a series of articles and press releases masquerading as legitimate on social media announcing that the team had changed their name from Redskins to Washington Redhawks; the intention, they say, was to show just how easy a name change would be.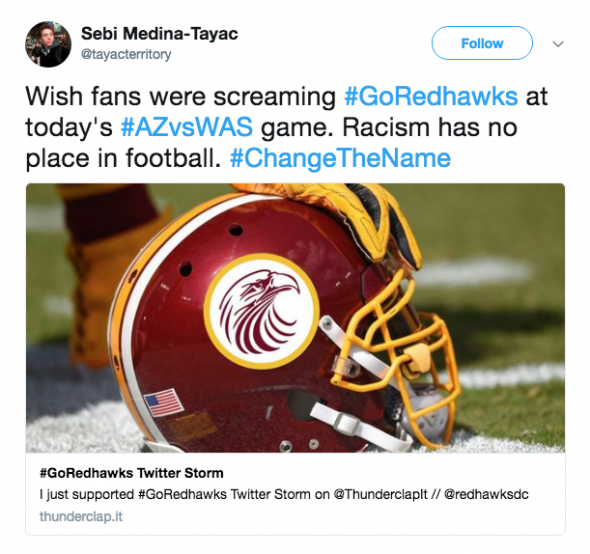 "As a native person that grew up in Washington, seeing that mascot was deeply offensive. We had to get the issue back in the news.," said Sebi Medina-Tayac a filmmaker of Piscataway heritage who reportedly helped organize the hoax. "People were overwhelmingly excited [for the name change]."
The Redskins name dates back to 1933 when the NFL's Boston Braves changed their name to "Boston Redskins", either to avoid confusion with their baseball playing roommates at Fenway Park (while maintaining the general theme of the previous name) or in honour of head coach William Dietz who at the time claimed Native ancestry. The team relocated to Washington in 1937 taking the moniker with them.
As it stands it would appear the Washington Redskins name will exist at least as long as Snyder owns the team; neither Snyder nor the National Football League seem too eager in changing anything.