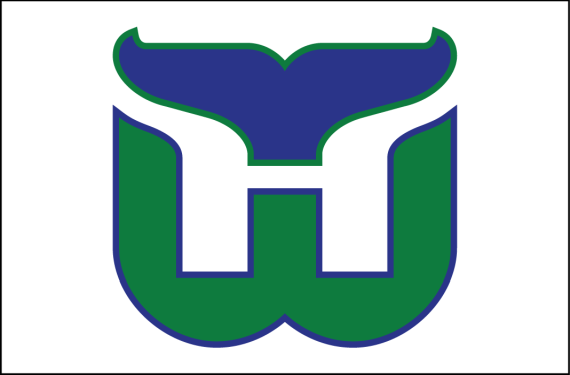 When it comes to teams who relocate, it's really interesting to see how the relocating franchise treats their past history. Sometimes you have teams like the Los Angeles Lakers who fully acknowledge the fact that they used to play in Minneapolis and even wear throwbacks with their old city's name on them. Then you have teams like the Baltimore Ravens, who are obviously the former Cleveland Browns but due to a special agreement, the current Cleveland Browns got to "inherit" the old Browns history and everybody involved just accepted it.
Then we have the Carolina Hurricanes. They were an example of a team who, while they did indeed accept the history of the Hartford Whalers, their previous ownership did their best to make sure that you forgot about it. This post from the Detroit Free Press has a quote from former Hurricanes owner Peter Karmanos which sums up the bad feelings he felt towards the Whalers
I don't know why the people there [in Hartford] are so upset. The team hadn't ever won a thing. They had a celebration for a first-round playoff loss."
It's safe to say that the former Hurricanes owner couldn't care any less about the team's history in Hartford. With that being said, Karmanos recently sold the team to Tom Dundon and he's wiling to embrace what Karmanos was trying to shun. As seen in this post from Deadspin, the Hurricanes have actually started playing the old "Brass Bonanza" theme — hockey fan or not, that tune is just the absolute best.
However, the most important part of this story for us in particular is the fact that Dundon told the local ESPN radio affiliate that he'd be interested in seeing the Hurricanes don Whalers throwbacks in the future. Here's the quote:
"I think that's an unbelievably good look. I love it. I think we should have a store that sells that Whalers merchandise online. I think we should explore playing games in that jersey and selling that gear. It's part of the legacy," Dundon told ESPN 99.9 The Fan in Raleigh.
Personally, I'd love to see the predominately green-and-white look that the team wore before adopting a mostly navy-and-silver look in their final days in Hartford. With that being said, I'd just be happy to see the Whalers identity back on the ice in general. Even if the logistics of keeping the team alive in such a small-yet-crowded market were legit reasons to move the team, that logo is just too good to leave by the wayside. The team's history deserves to be honored and that logo deserves to see the lights of a hockey arena once again.
What do you all think of this news, though? Do you think the Hurricanes should wear Whalers stuff in the future? Should they let the past stay in the past?