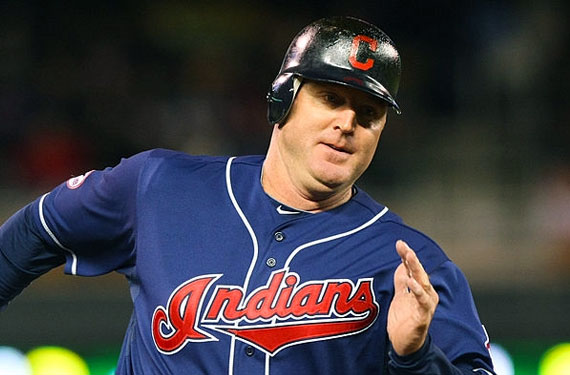 Players typically get to play a role as to what team goes on their Baseball Hall of Fame cap, sometimes the Hall will overrule their choice (Wade Boggs chose the Tampa Bay Devil Rays afterall) but in the case of a guy like Vladimir Guerrero where it's more of a toss-up (Expos vs Angels) they'll typically go with the player's preference; which in Vladdy's case was the Angels. ?
What we don't know is what, if any, say a player has on what actual logo goes on their cap; Craig Biggio for example played his entire career with the Houston Astros but wore three different cap logos during his time there. Did Biggio play a role in that? Or did they just go with whatever logo was on the cap of the photo they chose as the model?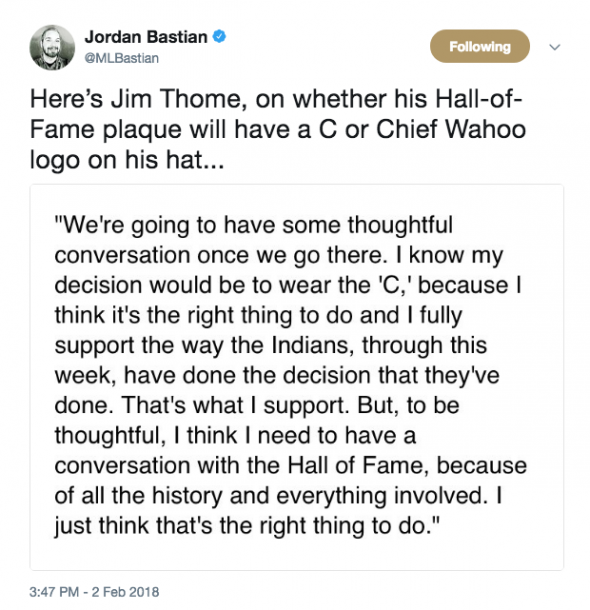 Via a quote shared by MLB's Jordan Bastian we learned that Jim Thome is testing those cap logo decision-makers, whoever they may be, by requesting that his Hall of Fame plaque wear a cap featuring the Cleveland Indians block-C logo rather than Chief Wahoo. Thome wore Chief Wahoo and no other cap logo during his first stint with the Cleveland Indians when he played 1,377 games with the team from 1991-2002; he then came back to the Indians for 22 games in 2011 when the Indians wore the block "C" on the road and occasionally at home as an alternate red cap.
Yeah, I can't stop there, I had to know just how many times Thome wore the "C".
Thome returned to the Indians lineup on August 26, 2011; he played 22 games from that point on through the end of the season, 21 games exclusively at the DH position – so we'll primarily have to count by what he wears on his helmet.
In the 22 games Thome played with Cleveland in 2011, he wore Wahoo on his batting helmet in 13 of those and the "C" in the other nine, he made an in-game appearance wearing a "C" cap so in total Thome appeared in ten games wearing the block "C" and about 1,400 wearing "Chief Wahoo".
If we're going by cap only, Thome wore the block "C" cap for just one inning. Just one, the last inning he ever played at Jacobs Field in Cleveland. Here's a photo of that single appearance: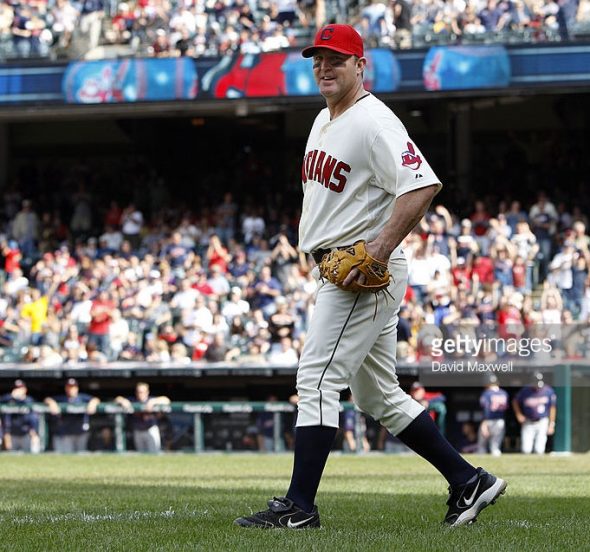 In his full quote Thome acknowledges the history in wearing Chief Wahoo and that he'll have to have a discussion with the Hall about it but he finishes his thought by saying "I think [wearing the "C"] is the right thing to do".
While I've never been a fan of the Chief Wahoo logo, I'm someone who believes things should be as historically accurate as possible, especially when we're talking about a museum — if we're talking in a purely historical sense then Chief Wahoo would be the obvious logo to use, but Thome should have some say in this too, it's his likeness afterall.
A tough call. I'm glad I don't have to make it.