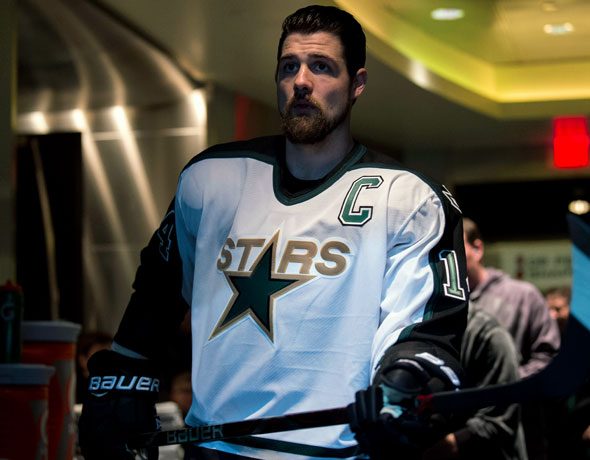 Last night the Dallas Stars turned the clock back to 1993 when they wore uniforms based off of their original inaugural season design during a pre-game warm-up skate against the Minnesota Wild (of all the teams, guys). The uniforms were brought back for "Retro Night", held in recognition of the 25th anniversary of their relocation from Minnesota to Dallas.
The jerseys were fairly accurate, they correctly omitted the "DALLAS" wordmark from above the logo (which didn't appear on the uniform until season two), name/number colouring was proper, the only issue that was reported to me had to do with the shade of green (too dark for their 1993-94 uniform) and the thickness of the waist stripes.
It's just about the same uniform the team wore for their final two seasons in Minnesota as the North Stars, the only difference being the addition of a State of Texas shoulder patch.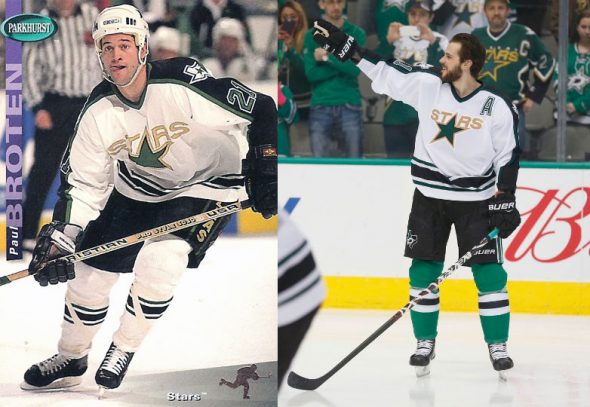 Unfortunately as these jerseys were only worn pre-game (why????) they were paired with the modern green socks and home black helmets which didn't help the overall look but hey we'll take what we can get… It is what it is.
The jerseys themselves appeared to be a hit with the players, Tyler Seguin was asked what he thought of "retro night" after the game, "I loved it, I thought the jerseys were awesome. You know, I even said before the game 'we need something like that for a third jersey next year' so hopefully the front office is listening right now".
I like the way Seguin thinks but it's probably a bit too late in the process to do a 180 for next season. We'll see!
Some more photos from the pre-game warm-up: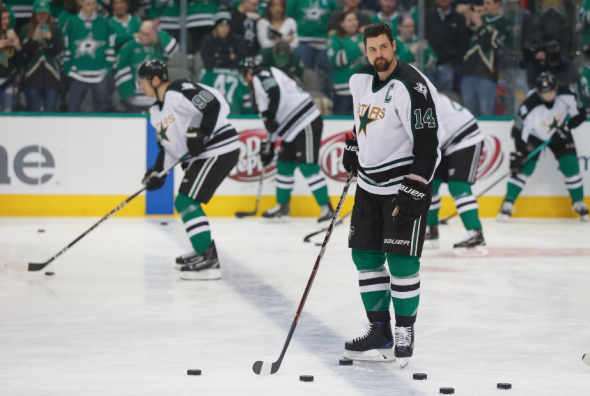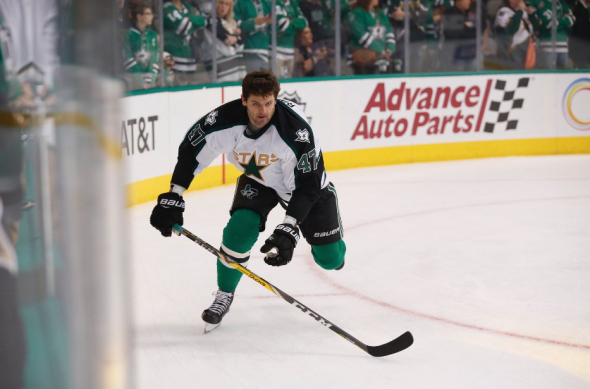 The Stars official Twitter account (which is where the three photos above were originally found) had some fun with the retro theme as well, tweeting out game updates using retro-themed graphics: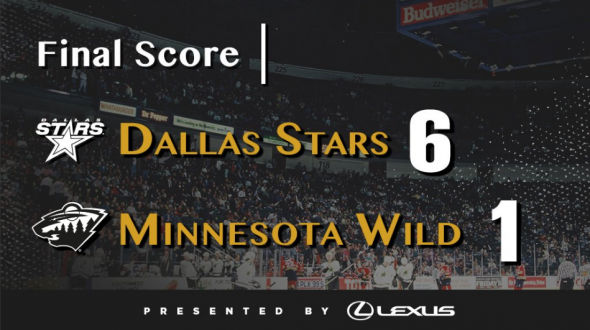 And even sharing a photo of Stars player Jason Spezza as a kid showing off his amazing (based on the logos, circa 1988-89) NHL blankets: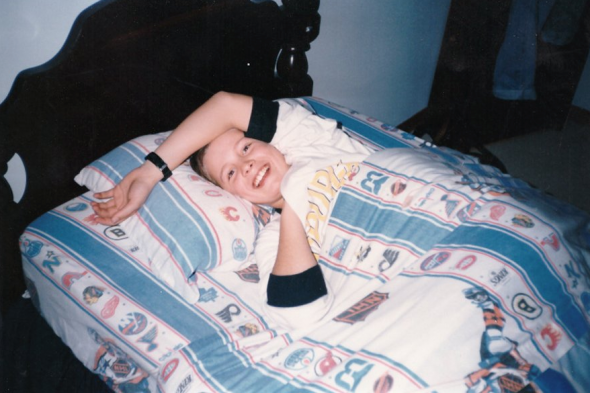 The Stars franchise wore this uniform design (with minor modifications) starting with their days in Minnesota in 1991-92, surviving the move to Dallas in 1993, and then right up through 1998-99; it was replaced immediately following the team winning the Stanley Cup in 1999. No better way to go out!
—
Featured photo (C) Jerome Miron-USA TODAY Sports; all other photos via Twitter/@DallasStars