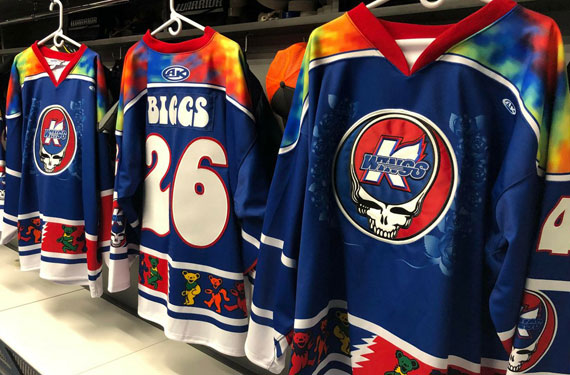 The ECHL's Kalamazoo Wings, an affiliate of the Vancouver Canucks, will wear jerseys featuring iconic imagery of the Grateful Dead February 10. Design elements found on the jerseys include the dancing bears from the 1973 album Grateful Dead, Volume One (Bear's Choice); the lightning skull logo from the 1976 album Steal Your Face; and a tie-dye pattern typical of the era. Player names and numbers are set in a hippie-esque typeface that hearkens back to the days of the Dead's origins in 1965.
Jerseys that Jerry would be proud of.@GratefulDead night is this Saturday! pic.twitter.com/aN6UMLZ0eZ

— Kalamazoo Wings (@KalamazooWings) February 5, 2018
According to the team, "The Kalamazoo Wings is the first team in minor-pro hockey to host a Grateful Dead night, which features the music and good vibes of a Dead show."
The jerseys will be auctioned off after the game.