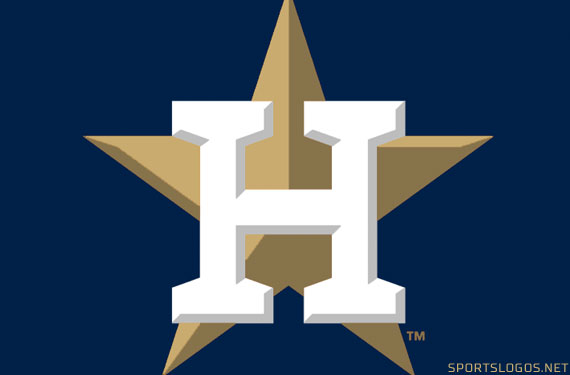 The Houston Astros will open the 2018 season by wearing gold-trimmed uniforms for their first two home games of the season.
Using the usual Astros home jersey template, the special World Champions jersey replaces the blue in the arched "ASTROS" wordmark with gold, the orange which typically trims this wordmark has been replaced with blue; the player name and numbers also see this blue-for-gold swap. The orange piping down the front and around each sleeve remains. On the right sleeve is a 2017 World Series Champions patch, this patch will be worn on all of the Astros jerseys this season.
Check out the #Championship #Gold on the #Astros new #uniforms! #NeverSettle #uniwatch pic.twitter.com/w9KJARibum

— Ricky Cardenas (@emelbee24) February 7, 2018
Caps get a new look as well for the two games, they'll remain navy blue but the star on the Astros famous cap logo will now be gold instead of orange; the pill on the top of the cap is also gold. The cap features a gold 2017 World Series Champions patch on the right side.
The Astros will wear these uniforms for their games on April 2 and April 3, both of which are against the Baltimore Orioles.
More #Gold views. #Astros #uniform #uniwatch pic.twitter.com/fp8LJ4vNyG

— Ricky Cardenas (@emelbee24) February 7, 2018
Now an annual tradition in Major League Baseball, the World Series champion has worn gold jerseys and caps for at least one game during their first home series the following season. The 2007 St Louis Cardinals were the first to wear them in a game, originally just to mark the team receiving their World Series rings. The Philadelphia Phillies continued the tradition two years later and (aside from the 2010 New York Yankees) they've been worn every year since. The 2016 Kansas City Royals are the only team to continue wearing them throughout the season, they later made them an official alternate uniform and will continue to wear them heading into 2018.