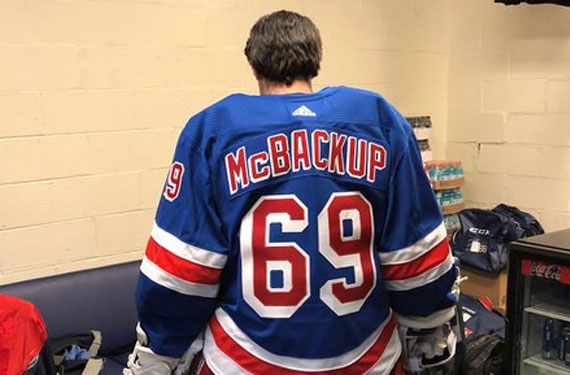 The number 69 gets a lot of attention on social media. Every time it's mentioned, it seems to garner a big response. As well it should. The number suggests teamwork and cooperation and mutually shared goals—perfect for a sports jersey. It's a number that makes everyone feel good, a real win-win.
So when the New York Rangers prepared jerseys for their emergency backup goalie, whose real name is Andrew Margolin, it's no wonder they chose the happiest number to accompany the generic name "McBACKUP."
My roommate is the emergency backup goalie for the @NYRangers and this is the jersey they stick him with 😂 pic.twitter.com/UzTGNvToFe

— Adam Kaiser (@akaiser) February 10, 2018
The number is not currently claimed by an NHL player, and that continues to be the case, as #69 McBackup (first name Backy?) is likely never to see time on the ice.
The mere mention of the emergency backup is an indication of what an issue the Rangers' goalie situation has been all season. After an injury to yesterday's starter Ondřej Pavelec (who boringly wears #31), the team will rely on Henrik Lundqvist (#30), who has battled inconsistency all season. The Rangers today recalled Alex Georgiev (#90) from the Hartford Wolf Pack. So the chances that we'll see #69 Andrew "McBackup" Margolin on the ice are basically nil.
Still, it's nice to know that the number 69 brought so much joy to so many people, even if it didn't last very long.