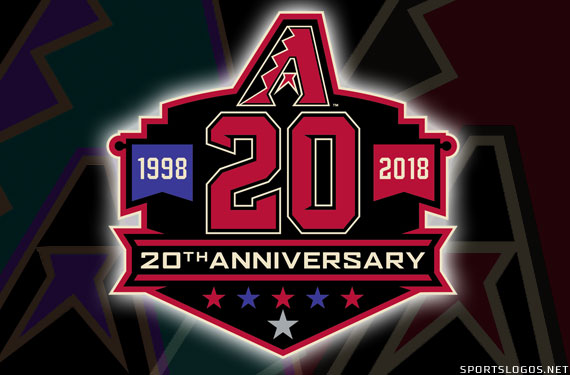 The Arizona Diamondbacks today revealed the party plans for their big 20th anniversary celebration to take part throughout the upcoming 2018 season.
Playing their first game on March 31, 1998; Major League Baseball's youngest franchise will mark hitting the big 2-0 by wearing a commemorative patch on the sleeve of their jersey as well as a series of throwback uniform games and other events involving their alumni.
"We are fortunate to already have a rich history of success both on and off the field that connects us deeply with our fans", said Derrick Hall, President & CEO of the D-backs. "We look forward to sharing these memories and creating new ones in 2018."
The 20th anniversary patch features the team's familiar A+snakehead logo in their current colour scheme of Sedona red, sand, and black; below the logo is "20" in red with a banner on either side showing their first and the current season, the "1998" banner is purple commemorating their original primary colour.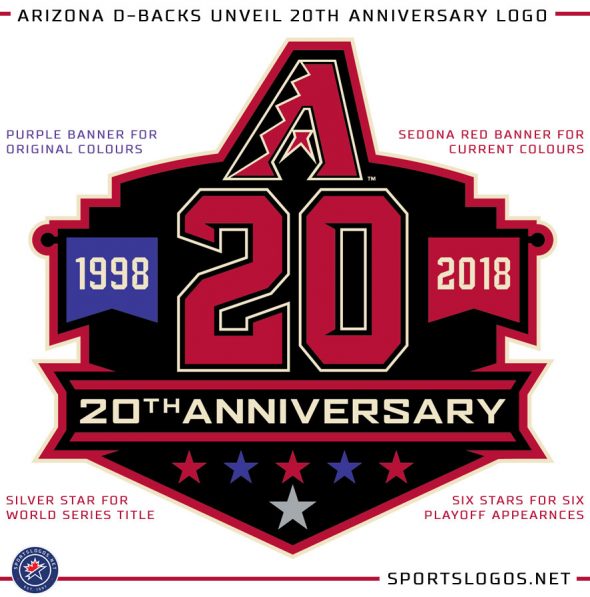 At the bottom of the logo we see five purple and red stars with a large silver star beneath the five, these note the six playoff appearances of the team with the silver star marking their World Series title in 2001.
The six playoff appearances will play a big role in the throwback uniforms the team will be wearing during the season; each of those six years (1999, 2001, 2002, 2007, 2011, 2017) as well as the inaugural 1998 season will be honoured and represented with a corresponding retro uniform for a game.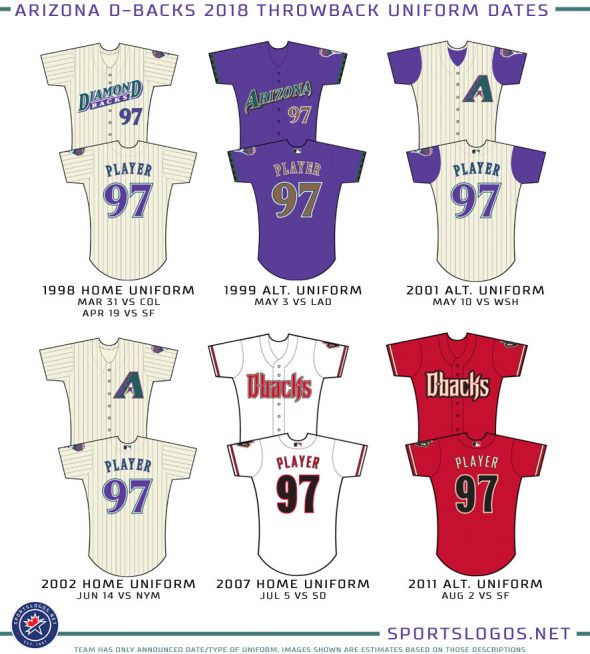 Yes, the team will also be honouring last year's 2017 team on September 6th, this team wore the same uniforms the team wears now so we did not include it on the graphic.
During their first homestand (March 29 – April 4) the D-backs will include the 20th anniversary patch on the side of their cap, the patch will remain on the jersey sleeve throughout the 2018 season.
A Spanish-language version of the logo was also released, I imagine they'll wear this with their Los D-backs alternate jersey – would certainly make sense but I'm not sure (Update, they're not)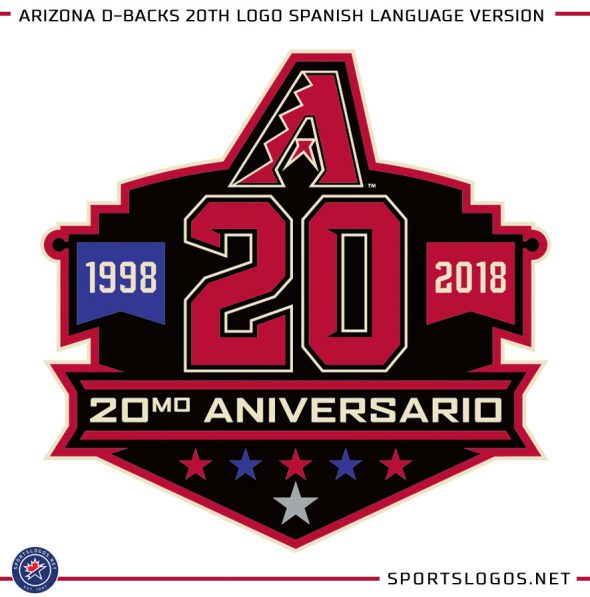 The game worn throwback jerseys will be auctioned off as part of Throwback Thursdays throughout the season, Section 134 at the stadium or via the D-backs online auction site.
There are other non-uniform related events planned for the season as well including the voting on of the D-backs All-Time Team, a "20th Anniversary Experience" at Chase Field, and a special ceremony prior to both their home opener on March 29th and the 20th anniversary of their first game on March 31st.