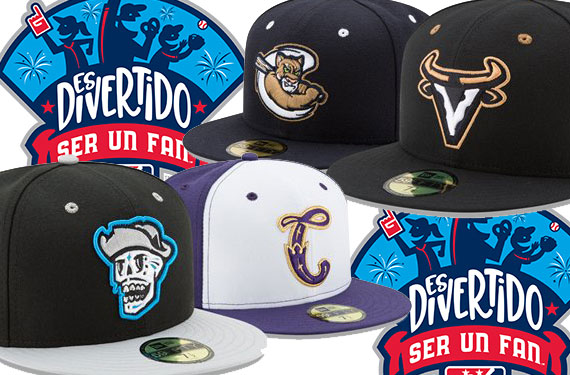 Minor League Baseball teams in 33 cities will adopt Spanish-language promotional identities throughout the upcoming season as part of the league's "Copa de la Diversión" ("Fun Cup") initiative. MiLB introduced the program in four markets late last season, when the Triple-A Las Vegas 51s played as the Reyes de Plata (Silver Kings, a reference to mining in the area), the Single-A Visalia Rawhide became the Toros (Bulls), the Single-A Kane County Cougars switched to Los Cougars ("The" Cougars), and the Triple-A Charlotte Knights played as the Caballeros (a direct translation of "Knights").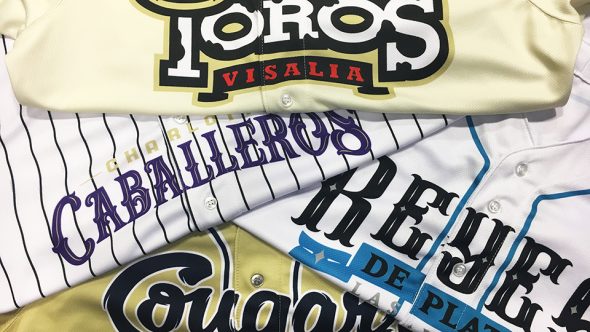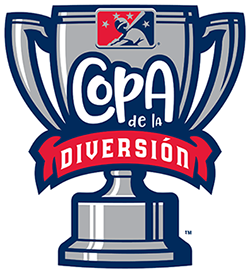 This year, the program will encompass 160 games over the entire season, with an actual three-foot-tall "Fun Cup" traveling to each of the 33 cities.
In announcing the program, MiLB said, "To distinctively launch this new initiative, and visually celebrate the diversity that defines MiLB communities nationwide, MiLB and each participating team will create culturally relevant on-field personas that honor the local U.S. Hispanic/Latino communities."
The participating teams are the Albuquerque Isotopes, Bowie Baysox, Brooklyn Cyclones, Charlotte Knights, Corpus Christi Hooks, Daytona Tortugas, Durham Bulls, El Paso Chihuahuas, Eugene Emeralds, Everett AquaSox, Greenville Drive, Hartford Yard Goats, Hillsboro Hops, Inland Empire 66ers of San Bernardino, Kane County Cougars, Kannapolis Intimidators, Lake Elsinore Storm, Las Vegas 51s, Lehigh Valley IronPigs, Memphis Redbirds, Oklahoma City Dodgers, Omaha Storm Chasers, Pawtucket Red Sox, Rancho Cucamonga Quakes, Round Rock Express, Sacramento River Cats, Salt Lake Bees, San Antonio Missions, San Jose Giants, Stockton Ports, Tulsa Drillers, Visalia Rawhide, and Winston-Salem Dash. The alternate brands themselves will be unveiled March 20.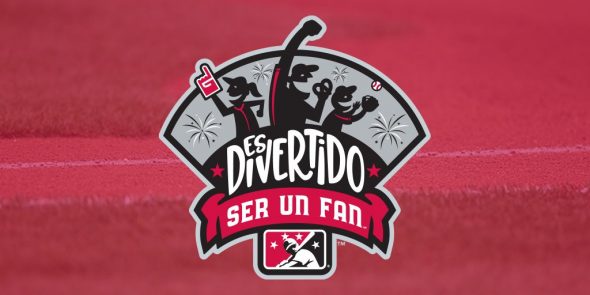 Below is the complete schedule of "Fun Cup" games:
April 8: Memphis at Round Rock
April 10: Buffalo at Pawtucket
April 13: Las Vegas at El Paso
April 17: Fresno at Las Vegas
April 23: Lake Elsinore at San Jose
April 24: Toledo at Pawtucket
May 1: Sacramento at Las Vegas
May 1: Rochester at Pawtucket
May 3: Lake Elsinore at Inland Empire
May 4: Las Vegas at Salt Lake
May 4: Rancho Cucamonga at Visalia
May 5: El Paso at Albuquerque
May 5: Las Vegas at Salt Lake
May 5: Corpus Christi at San Antonio
May 5: Rancho Cucamonga at Visalia
May 6: Rancho Cucamonga at Visalia
May 6: Buies Creek at Winston-Salem
May 8: Fresno at Las Vegas
May 8: Salt Lake at Sacramento
May 10: New Orleans at Round Rock
May 10: Frisco at San Antonio
May 12: Lancaster at San Jose
May 15: Albuquerque at Las Vegas
May 15: Buffalo at Pawtucket
May 18: Dunedin at Daytona
May 18: Fresno at El Paso
May 19: Dunedin at Daytona
May 20: Dunedin at Daytona
May 22: Scranton/Wilkes-Barre at Pawtucket
May 22: Las Vegas at Sacramento
May 23: Rochester at Lehigh Valley
May 24: Rochester at Lehigh Valley
May 24: Tulsa at San Antonio
May 29: Tacoma at Las Vegas
May 31: Omaha at Oklahoma City
June 1: Pawtucket at Durham
June 1: Inland Empire at Lake Elsinore
June 1: Omaha at Oklahoma City
June 2: Inland Empire at Lake Elsinore
June 2: Omaha at Oklahoma City
June 2: Altoona at Hartford
June 3: Inland Empire at Lake Elsinore
June 3: Omaha at Oklahoma City
June 3: Carolina at Winston-Salem
June 5: Round Rock at Las Vegas
June 5: Louisville at Pawtucket
June 5: Oklahoma City at Sacramento
June 6: Tacoma at Memphis
June 7: Lake Elsinore at Inland Empire
June 7: El Paso at Omaha
June 7: Midland at San Antonio
June 10: Inland Empire at Rancho Cucamonga
June 10: New Orleans at Salt Lake
June 11: New Orleans at Salt Lake
June 14: Lancaster at Inland Empire
June 15: Greensboro at Kannapolis
June 17: Fresno at Round Rock
June 19: Vancouver at Eugene
June 19: Buffalo at Pawtucket
June 19: Springfield at Tulsa
June 21: Florida at Daytona
June 21: Oklahoma City at Omaha
June 21: Midland at San Antonio
June 21: Modesto at Stockton
June 22: Florida at Daytona
June 22: Modesto at Stockton
June 23: Toledo at Charlotte
June 23: Florida at Daytona
June 23: Modesto at Stockton
June 23: Asheville at Greenville
June 24: Toledo at Charlotte
June 24: Florida at Daytona
June 24: Tri-City at Everett
June 24: San Jose at Rancho Cucamonga
June 24: Modesto at Stockton
June 24: Down East at Winston-Salem
June 25: Salem-Keizer at Hillsboro
June 26: Sacramento at Albuquerque
June 28: Akron at Bowie
June 28: Visalia at Inland Empire
June 29: Albuquerque at El Paso
July 1: Inland Empire at Rancho Cucamonga
July 3: Everett at Eugene
July 5: Stockton at Inland Empire
July 5: Hickory at Kannapolis
July 5: Arkansas at Corpus Christi
July 6: Harrisburg at Bowie
July 6: Vancouver at Everett
July 6: Northwest Arkansas at San Antonio
July 6: Arkansas at Corpus Christi
July 7: Norfolk at Durham
July 7: Northwest Arkansas at Corpus Christi
July 8: Down East at Winston-Salem
July 8: Northwest Arkansas at Corpus Christi
July 12: Tri-City at Hillsboro
July 13: Rome at Greenville
July 14: Visalia at San Jose
July 17: Salem-Keizer at Eugene
July 17: Boise at Hillsboro
July 17: Arkansas at Tulsa
July 17: Reading at Hartford
July 20: Fresno at Albuquerque
July 20: Sacramento at El Paso
July 21: Round Rock at Omaha
July 22: Modesto at Rancho Cucamonga
July 24: Salem-Keizer at Eugene
July 24: Nashville at Las Vegas
July 24: Columbus at Pawtucket
July 24: Omaha at Sacramento
July 24: Springfield at Tulsa
July 25: West Virginia Power at Kannapolis
July 26: Visalia at Inland Empire
July 26: Corpus Christi at San Antonio
July 27: El Paso at Oklahoma City
July 28: El Paso at Oklahoma City
July 29: El Paso at Oklahoma City
July 29: Reno at Round Rock
July 30: El Paso at Oklahoma City
July 31: San Jose at Visalia
August 1: Vancouver at Hillsboro
August 1: San Jose at Visalia
August 2: Boise at Everett
August 2: Lancaster at Inland Empire
August 2: Las Vegas at Omaha
August 2: San Jose at Visalia
August 3: Stockton at Visalia
August 3: Sacramento at Memphis
August 4: Lake Elsinore at San Jose
August 4: Stockton at Visalia
August 4: Rome at Greenville
August 5: Stockton at Visalia
August 8: Connecticut at Brooklyn
August 9: Connecticut at Brooklyn
August 9: Columbus at Durham
August 9: Springfield at San Antonio
August 10: Connecticut at Brooklyn
August 10: Peoria at Kane County
August 11: Burlington at Kane County
August 12: Burlington at Kane County
August 12: Lancaster at Rancho Cucamonga
August 12: Potomac at Winston-Salem
August 14: Hillsboro at Eugene
August 14: Norfolk at Pawtucket
August 14: Corpus Christi at Tulsa
August 19: Louisville at Charlotte
August 19: Sacramento at Albuquerque
August 19: Greensboro at Kannapolis
August 21: Salt Lake at Las Vegas
August 22: Eugene at Hillsboro
August 23: Frisco at San Antonio
August 24: Trenton at Hartford
August 25: Las Vegas at Sacramento
August 26: New Orleans at Round Rock
August 26: Nashville at Memphis
August 28: Tacoma at Las Vegas
August 28: Lehigh Valley at Pawtucket
August 28: Northwest Arkansas at Tulsa
August 30: Lake Elsinore at Inland Empire
August 31: Altoona at Bowie
August 31: Tacoma at El Paso
August 31: Lexington at Greenville
September 1: Tri-City at Everett
September 1: Salem-Keizer at Hillsboro
September 2: May Inland Empire at Rancho Cucamonga