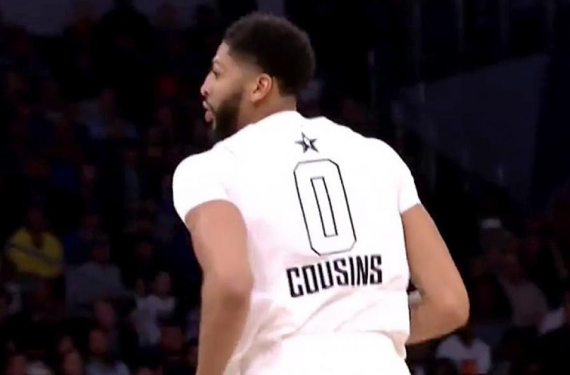 During Sunday night's NBA All-Star Game, we saw an interesting uniform quirk (aside from the fact that the uniforms themselves were unlike anything we've seen in NBA All-Star history). New Orleans Pelicans stars Anthony Davis and DeMarcus Cousins are not only teammates for the Pelicans but they were also set to be teammates on Team LeBron during the All-Star Game.
Unfortunately, Cousins suffered a ruptured left Achilles tendon and will be out for the rest of this current season. It was obviously a huge bummer for the league to see one of its best players lose out on a season and an All-Star appearance due to injury, but Anthony Davis wanted to make sure that his teammate's presence wouldn't be forgotten in the league's mid-season showcase.
As such, Davis initially took to the court wearing Cousins' jersey. At first glance you could've figured that he was still wearing his normal jersey since the front would have been identical with the Pelicans logo in white-and-black.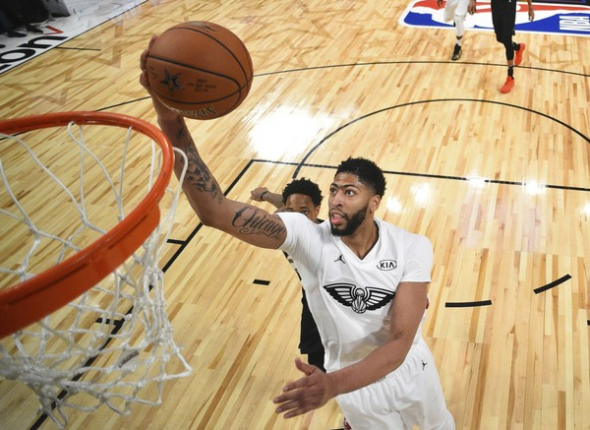 However, the back of the jersey made it clear that he was paying tribute to his injured teammate.
My brother! 🙏🏿 @AntDavis23 pic.twitter.com/FNY9hESIs0

— DeMarcus Cousins (@boogiecousins) February 19, 2018
We probably won't see something like this in an actual game anytime soon, but it was still pretty cool to see one teammate making sure that an injured teammate received recognition, even if he couldn't be on the floor.