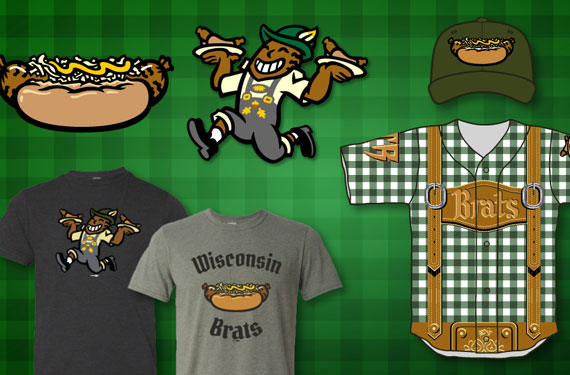 The Wisconsin Timber Rattlers, Single-A affiliate of the nearby Milwaukee Brewers, will play a game as the Wisconsin Brats June 9, joining an increasingly long list of minor league teams taking on promotional identities based on local food specialties.
Brats, short for the German "brätwurst," which translates to "finely chopped meat sausage," have their origins in 14th-century Germany. It stands to reason that the encased meat product is popular in the Timber Rattlers' homes state. According to the website Statistical Atlas, Wisconsin has more than 2.4 million Germans within its borders, accounting for 42 percent of the state's population.
We will be changing our name to the Wisconsin Brats for Bratoberfest on June 9! #TRatNation & #TBratNation See the details, uniforms, & merchandise at the link! https://t.co/wYq3FcPZ7I pic.twitter.com/2qLGwY9Ahe

— Wisconsin Timber Rattlers (@TimberRattlers) February 26, 2018
The team will wear the hats and jerseys, with logos designed by Brandiose, in a game against the Cedar Rapids Kernels. Some jerseys will be auctioned off to benefit the Wisconsin Timber Rattlers Charity Fund.