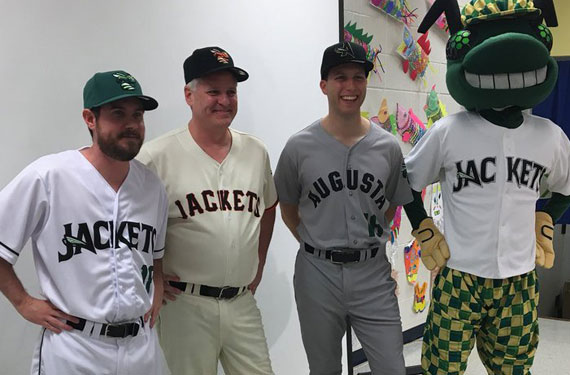 The Augusta GreenJackets, fresh off a plaid-splashed rebrand during the offseason, have unveiled a new mascot and suite of understated new uniforms for the 2018 season.
Fuego Giants Sunday Hats 🔥🔥🔥

🛒: https://t.co/OgcpGgx7Ho pic.twitter.com/ZRiapOg0gx

— Augusta GreenJackets (@GreenJackets) February 28, 2018
The new look, which comes from Brandiose, features classic home whites, road grays, and a cream-colored alternate, which includes a new orange cap logo to be worn on Sundays (appropriate because the team is a Giants affiliate). The home uniforms feature the shortened name "Jackets," while the road grays highlight the team's hometown Augusta.
Just Unveiled! The @GreenJackets will be rocking CUSTOM PLAID socks with their home unis this season. 👀 Oh and Auggie got a facelift with matching plaid! pic.twitter.com/cO2PWTITbm

— Brandiose (@Brandiose) February 28, 2018
Consistent with the team's rebrand, the uniforms feature plaid socks (because golf—Augusta is where The Masters is played), which are unquestionably awesome.
Auggie with his biggest fans #WeRuleTheRiver pic.twitter.com/SmGCVDtF58

— Augusta GreenJackets (@GreenJackets) February 28, 2018
The new Auggie doubles down on the golf plaid theme, featuring the distinctive pattern on his pants and cap.
The GreenJackets will open the season April 5 in their new road grays, on the road against the Columbia Fireflies.