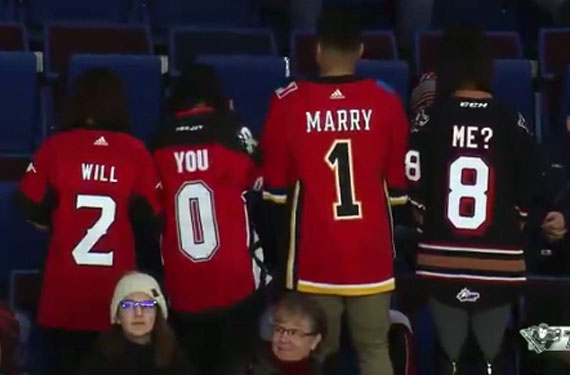 A hockey jersey wedding proposal? Now why didn't *I* think of that?
At the Calgary Hitmen (Western Hockey League) game last night, one fan proposed to his girlfriend using a unique method.
During a "Newlywed Game" style promotion, which the Hitmen called the "Couple's Challenge", during a stoppage in play boyfriend Vince was asked to try and match girlfriend Charlene's answers.
One question was, "What one thing would she say you have too much of?" resulted in a great matched answer. "Jerseys".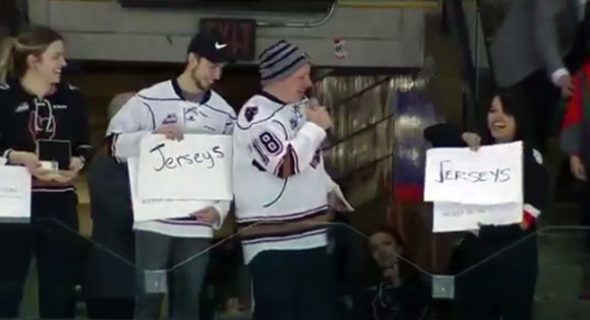 Without looking at the evidence, I'm going to say she's incorrect here… but that's just me. Either way, perhaps some foreshadowing for what was to come?
For the next question Vince simply answered "Turn Around", when Charlene obliged she saw: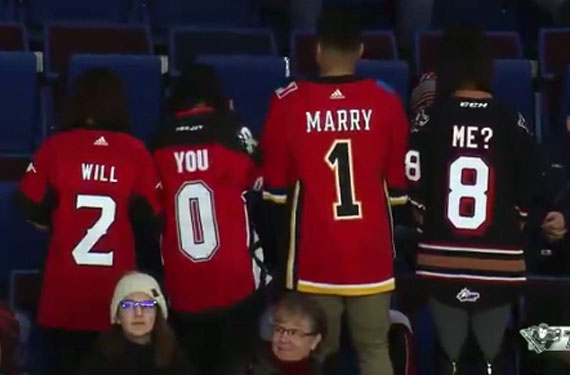 Clever!
And also showing some local pride there, those are four different Calgary team jerseys (L-R: Stampeders CFL, Roughnecks NLL, Flames NHL, and Hitmen WHL). Perhaps Charlene was somewhat right in her earlier answer about the jerseys.
Anyways, spoiler alert? She said yes!
Now that's how you do a proposal!! 💍

Check out this special proposal that happened during tonight's game! pic.twitter.com/E6AsCWkX0I

— Calgary Hitmen (@WHLHitmen) March 4, 2018
I'm curious to see the outfit Vince wears for the wedding… perhaps some sort of Frankenstein-style tux made of all the different Calgary sports uniforms; which also reduces your jersey collection, that's two birds, one stone Vince!
What a great idea for a proposal, well done and congratulations to these two.